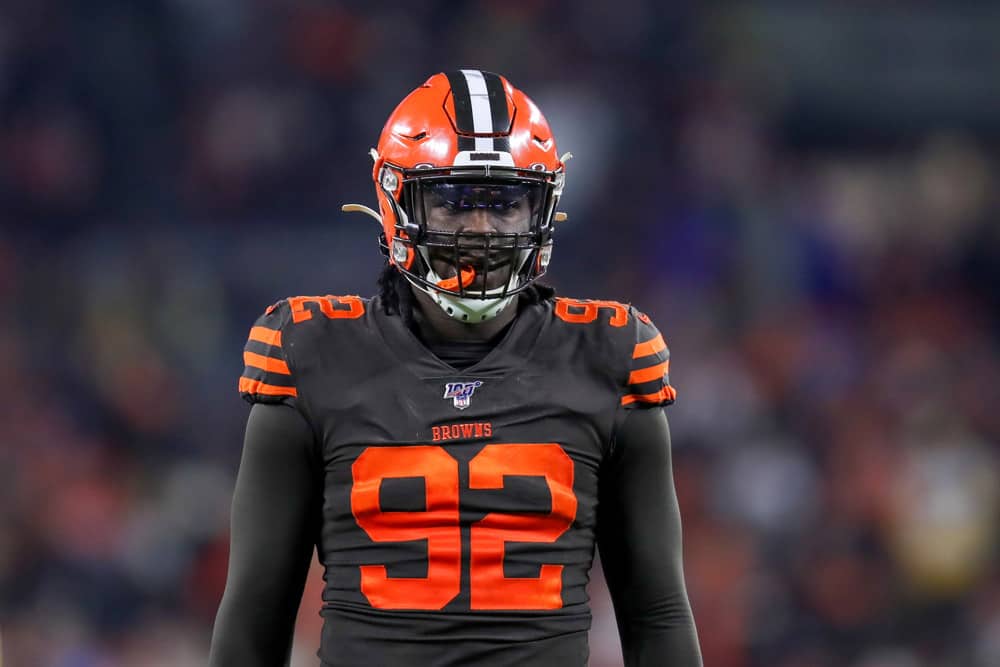 Chad Thomas is getting an opportunity and he is making the most of it.
With Myles Garrett and Oliver Vernon starting on the defensive line for most of the year, playing time has been scarce for Thomas.
That changed with Myles Garrett being suspended for the season and Oliver Vernon dealing with a knee injury.
Thomas was placed into the starting lineup Sunday in the Browns 41-24 win over the Dolphins.
He played 43 snaps, which was the most among the Browns defensive line.
He finished with 5 tackles and 2 tackles for a loss.
He earned the highest grade from Pro Football Focus for any Browns player on defense.
The #Browns highest-graded player* on defense vs. #FinsUp was Chad Thomas (89.9). Among 51 qualifying WK12 edge defenders only Khalil Mack posted a higher grade.

*min. 25 snaps pic.twitter.com/C1FqOXzSRv

— PFF CLE Browns (@PFF_Browns) November 25, 2019
Thomas has shown quite a bit of improvement, now in his second year in the NFL.
He was selected by the Browns in the third round (67th overall) of the 2018 NFL Draft out of the University of Miami.
He only saw action in 4 games as a rookie last season and played only 22 snaps.
Thomas had a scare in training camp amid a sequence in which he was carted off the field in Berea on a backboard. He made it back for the season opener, and by the second regular-season game logged more downs than he did all last season
Draft picks as high as Thomas are typically viewed as potential starters.
Larry Ogunjobi, who was the No. 65 overall pick in 2017, is a starter.
Thomas was drafted at 67 in 2018.
"You get into this sport to be a starter," the 6-foot-5, 280-pound Thomas said.
Before John Dorsey drafted Thomas, WalterFootball.com draft analysts had him projected to go in the 2nd round with the following scouting summary:
"Every year, there are prospects who tantalize NFL scouts with tons of upside, but who are also very inconsistent and have never produced up to their skill sets. Some teams think they can get the most out of them with good pro coaching. No player in the 2018 draft epitomizes this more than Thomas."
This year he now has 18 tackles that include 5 tackles for a loss, 3 sacks, and 1 fumble recovery.
It's obvious that Thomas can't replace the production of Myles Garrett, but his strong play can certainly lessen the blow of his absence.