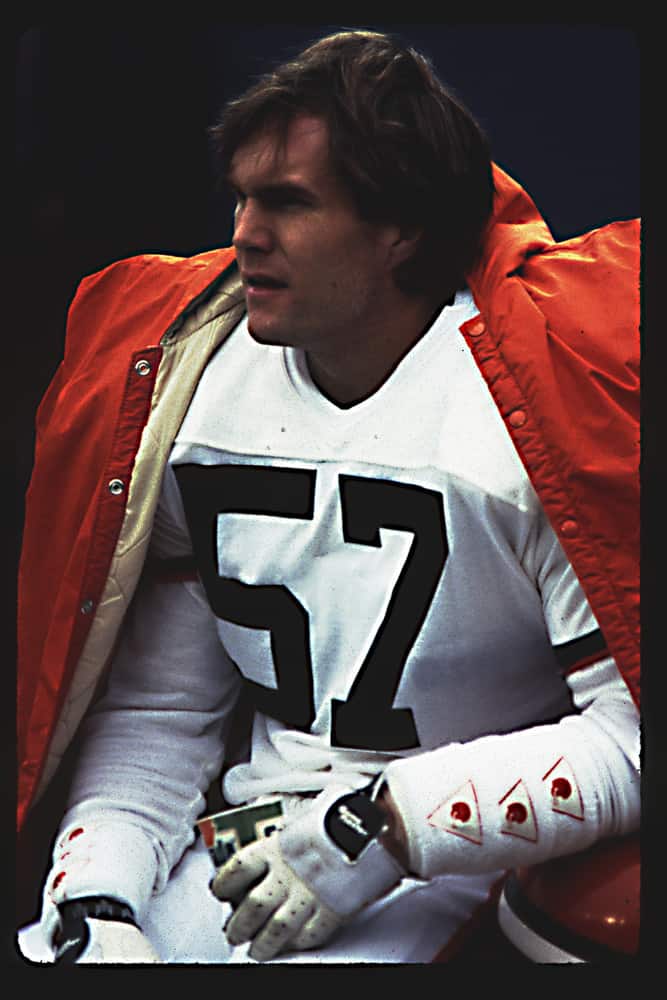 The Cleveland Browns' Career Sack Leaders
The Cleveland Browns have had many great defenders over the years that helped them win many games.
But none of them had more sacks the players listed below.
Many of these players are in the Hall of Fame while others had brief, but fruitful careers in Cleveland.
We take a look at the Brown's all-time sack leaders as well as reflect on their career and time with the Browns.
5. Reggie Camp
The player with the fifth-most sacks in Cleveland history is Reggie Camp, a player that many may not remember playing with the Browns.
Camp started his career here in 1983 and played until 1987.
Later, he was traded to the Atlanta Falcons, where he played for another year.
His stats here will reflect both his time at Cleveland and his career with the Falcons, as he had no sacks in Atlanta.
Camp earned a total of 35 sacks in his five years and 70 games with the Browns – that's good for a sack every two games.
He also had two fumble recoveries in his career. Most of his damage was done early in his career, as he picked up of his sacks in 1984 alone and 8.5 in the next season.
In other years, he either had very few sacks or none at all. Currently, Camp is a high school football coach in California.
4. Carl Hairston
Carl Hairston is a defensive end who has 30 seasons with the NFL both as a player and as a coach.
He played in a Super Bowl and coached in one, though he did not win.
Though he started his career in Philadelphia, he went to Cleveland in 1984 and played until 1989.
His career ended with the Cardinals in 1990, after which he retired and got into coaching instead of playing football.
During his 92 games with the Browns, Hairston picked up a total of 37.5 sacks – just under 2.5 sacks per game.
Unlike other defensive ends on this list, Hairston picked up an interception as well.
After catching the ball, he ran for 40 yards.
And his post-NFL coaching career has seen him focusing on defensive linemen and how to get sacks more effectively.
3. Rob Burnett
Another defensive end with a strong career with the Browns, Rob Burnett was a promising player chosen in the fifth round by the Browns.
While he played with Cleveland, he was good enough to earn a Pro Bowl nod.
Burnett stayed with the Browns until the Browns moved to Baltimore and continued to play with the Ravens after the move.
As a result, Burnett earned a Super Bowl ring with the Baltimore Ravens in 2001.
During his time with the Browns, he played 93 games and picked up an interception for three yards.
By the time he was done, he'd earned 40.5 sacks with the Browns – good for just over 2.2 per game. If the Ravens had stayed the Browns, he would have had 64 sacks with the team – two better than the leader.
2. Michael Dean Perry
As a defensive tackle, Michael Dean Perry made a significant impact on the Browns during his career.
While perhaps overshadowed by his brother, William "The Refrigerator" Perry at the time, Michael was a strong and skilled player who learned from his older brother.
Drafted in the second round of the 1988 draft, Perry went on to play in the Pro Bowl six times and later played with the Broncos and Chiefs.
Perry was also a bit of a local legend in Cleveland, as he had a sandwich named in his honor – the MDP, the most massive sandwich made by McDonald's at the time.
During his career with the Browns, he played in 109 games and picked up 51.5 sacks.
That's good for a rate of 2.11 per game – a rate that is slightly lower than others here but still noteworthy.
1. Clay Matthews Jr.
Fans of the Green Bay Packers or the Los Angeles Rams may be confused by this listing. Clay Matthews never played for the Browns.
That's true: his father did.
The modern player is Clay Matthews III and is the third person with that name to play in the NFL as a defender.
While the first Clay was more of a lineman, both the second and third chose linebacker as their chief position.
With the Browns – where he stayed from 1978 to 1993 – Clay Matthews Jr. earned a Hall of Fame career.
He played in a total of 19 seasons and has the most appearances as a linebacker in league history.
Matthews also has the third-most tackles in league history (1,561 or an average of 5.6 per game) and leads the Browns in sacks.
During his 232 games with the team, he picked up 62 sacks – or about an average of three per game – and had 16 interceptions for a total of 206 yards and one touchdown.
Clay was also recently inducted in the Browns Ring of Honor at First Energy Stadium.