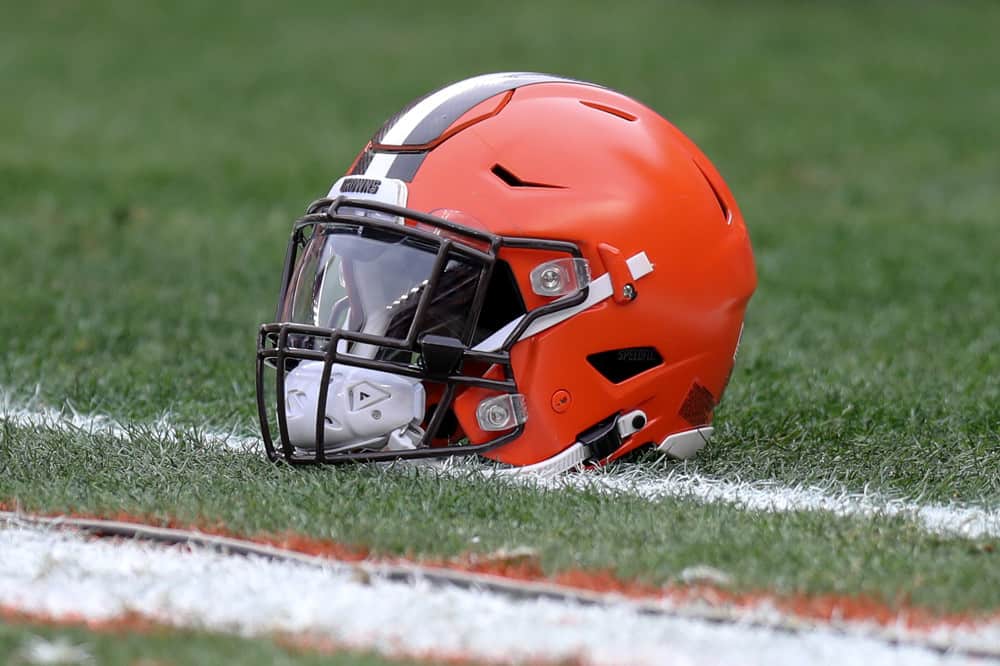 Team Records for the Cleveland Browns
The Cleveland Browns have had many great players over the years, each of which has contributed heavily to the team.
The following players are among the most successful on the team and, with the exception of one, are all in the NFL Hall of Fame.
Total Wins as a Coach
Any good list of Cleveland Brown records should start with coach Paul Brown.
After all, the team started its life with and gained its name from this legendary and innovative professional.
With a record of 158 wins and 48 losses, Brown is easily the most winning coach in Browns' history. Second place is his replacement Blanton Collier, with 76 – less than half.
Brown's team won the NFL championship in its first season and quickly established itself as the best team in the league.
This domination came due to Brown's innovations, such as focusing on speed over strength, scouting players who fit his scheme, and a variety of play-making innovations.
Many call him the "Father of Modern Football Offense," one who is still emulated decades after his dominance.
Points Leader
The average football fan may assume that the points leader on a team is somebody like a quarterback, receiver, or rusher.
That is not the case. In most cases, kickers lead in scoring. First of all, many kickers stay with a team their whole career – which, due to a lack of impact, are often quite long.
Secondly, a kicker scores in almost every game through field goals and extra points.
As a result, Cleveland's scoring leader is someone that many may not expect – Lou Groza, aka The Toe.
Groza was the Browns' kicker from 1946 to 1967 and leads the team with 1,608 points.
Where does Jim Brown fall on his list?
Fourth, with a total of 756 points.
While impressive for a rusher with such a short career, it's less than half of the points scored by Groza.
Passing Yardage
Although Otto Graham holds the distinction of winning Cleveland's first few NFL championships, he is not the team passing leader.
Though he is a very, very close second place behind the leader, Graham does trail Brian Sipe in most categories.
Sipe's total passing yardage is 23,713 yards, which is about 200 yards more than Graham.
Sipe also has 154 touchdowns and 1944 completions during his career.
Sipe also holds the record for the most passing yardage in a single season for the Browns.
During his 1980 campaign, he amassed 4,132 yards for 30 touchdowns and a completion rate of 60.8 percent.
The previous record was Frank Ryan's 1966 season, with 2,974 yards. Sipe also holds second place with his 1981 season (3,875 yards).
If not for the infamous "Red Right 88" play that ended the 1980 season without a Super Bowl appearance, Sipe would likely be in the Hall of Fame.
Rushing Yardage
In spite of the team having strong rushers at various points throughout its career, there was no way anybody but Jim Brown was going to top this list.
Brown rushed for 12,312 yards during his nine-year career, a record that has since been beaten but which was considered impossible to top for years.
During his career, he was a nine-time Pro Bowl selection, a three-time NFL MVP, three-time Pro Bowl MVP, and a champion once.
During his career, he earned 106 rushing touchdowns and has the record for most seasons leading the NFL in all-purpose yards (five).
Surprisingly, he also has 2,499 receiving yards and 20 receiving touchdowns, a record for Cleveland running backs.
And Brown also holds the single-season rushing record for the Browns as well. In 1963, Jim rushed for 1,863 yards, easily a team-best record.
Amusingly, Brown also holds places two through six on the list, including records of 1,544, 1,527, 1,446, 1,408, and 1,329 yards.
Brown also holds a unique record: he scored 17 touchdowns in two different seasons, the first in 1958 and the second in 1965.
Receiving Yardage
Lastly, no list would be complete without taking a look at the Browns' best career receiver.
Though Cleveland has had many great receivers and will likely have more in the future, the team's passing history is defined by Ozzie Newsome.
Newsome was one of the main reasons that Sipe set so many records with Cleveland – Newsome's incredible ability to pull down passes and make extra yards helped Sipe stay dominant but also gave the team life after Sipe's retirement.
During his career with the Browns, Newsome pulled down 662 reception, which is good enough for a team-best record.
He also picked up a total of 7,980 yards for the team, another best for the squad.
With 79 receiving touchdowns and two rushing touchdowns, Newsome also knew how to score for the team as well.
Though his best season (1981 with 1,002 yards) is only good for ninth on the Browns' all-time single-season record, Newsome's consistency makes him the best receiver in Brown's history – amazingly, he only fumbled three times in a 12-season career.