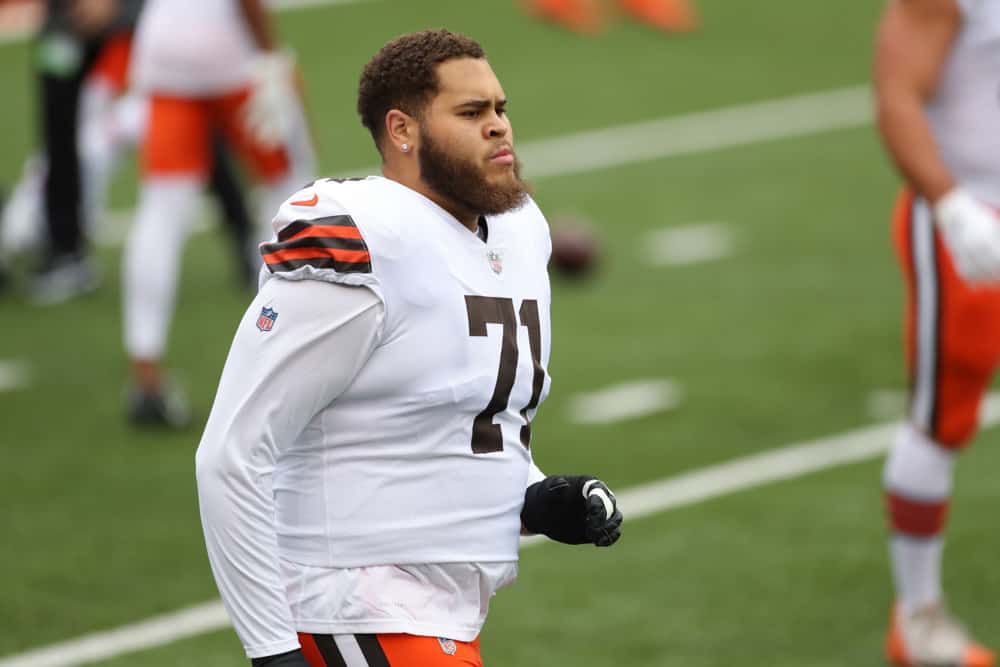 The Cleveland Browns announced Thursday they have put rookie left tackle Jedrick Wills Jr. on their COVID-19/reserve list.
Wills, 21, came into close contact with someone outside of the Browns facility that tested positive for COVID-19.
As of Thursday morning, Wills has tested negative for coronavirus.
Wills is set to start against the New York Jets (1-13) on Sunday if he continues to test negative.
Browns coach Kevin Stefanski confirmed to media members on Thursday of the possibility Wills won't be able to play Sunday.
Kendall Lamm would start in Wills' place.
"Kendall is ready to go if he's the guy," Stefanski said. "He's prepared us every week as if he's getting ready to start, so he's the swing tackle. This is when those guys have to be ready to roll."
HC Kevin Stefanski meets with the media live:
https://t.co/9lbz2DxdYs

— Cleveland Browns (@Browns) December 24, 2020
We have placed T Jedrick Wills Jr. on the Reserve/COVID-19 list and WR Ryan Switzer on the Practice Squad/COVID-19 list. pic.twitter.com/qEUIzwkx0G

— Cleveland Browns (@Browns) December 24, 2020
Earlier this week, Wills surprised a woman with a new car, paid a year's worth of rent for a family that lost its home in a house fire and spread $50,000 worth of gifts to five Cleveland-area families.
ESPN's Jake Trotter tweeted Wills' close COVID-19 contact has nothing to do with the event.
I am told Jedrick Wills' close contact issue resulting in him going on the reserve/COVID-19 list had NOTHING to do with this event. Close contact identification was related to someone else who tested positive unrelated to this. #Browns https://t.co/fC6orAoTuh

— Jake Trotter (@Jake_Trotter) December 24, 2020
Normally, the Browns might have considered having Chris Hubbard fill in for Wills at offensive tackle.
However, Hubbard suffered a season-ending knee injury during the Sunday night win over the New York Giants.
"We've had a bunch of instances this season where guys have stepped up really at every position," Stefanski said. "That's why we have backup players. That's why work hard to develop all of our players.

"That's why the guys prepare as if they're playing every play whether they're a backup or not, so I just think it speaks to the type of guys we have around here."
Stefanski spoke about playing without key players due to coronavirus.
"I don't think it's anything new to any team, " Stefanski said. "Look around the league. People are dealing with injuries, dealing with the COVID list, that's all 32 clubs to some degree are dealing with this."
Stefanski was also complimentary of the Browns' position coaches in preparing the starters to play and developing the backup players.
On Thursday, Stefanski also discussed Wills' play this season.
"He played well in that last game," Stefanski said. "I think he continues to improve.

"He's a young player, and I think you see with young players there's been some great moments and some moments that he wants to get better. And, the good news is he does want to get better. He works extremely hard with coach [Bill] Callahan before, during and after practice."
Right tackle Jack Conklin was limited in practice Wednesday with a knee injury.
Stefanski said he was more concerned about how the team would conduct practices rather than Conklin's health status for Sunday's game against the Jets.
"We'll work through it," Stefanski said. "I think really the concern is at practice, how do you give a good look to the defense? What does your scout team offensive line look like?

"That's the bigger concern right now, but we have a plan. We'll work through it. Any of the guys that are available, I trust."
Stefanski said guard Michael Dunn could play tackle if necessary.
The Browns (10-4) also put wide receiver Ryan Switzer on their COVID-19/practice squad list.