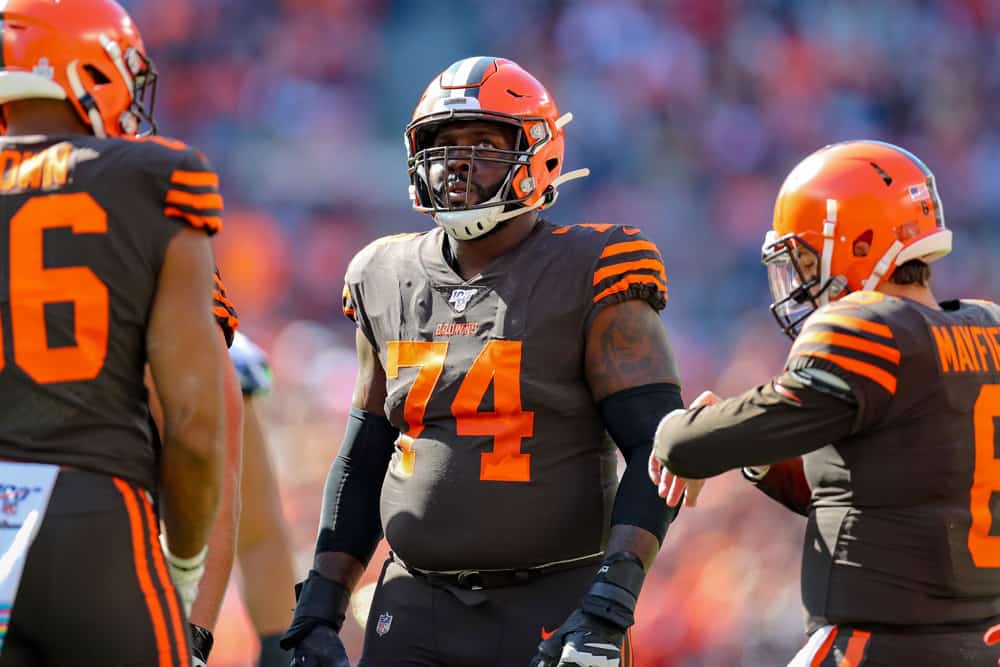 When Chris Hubbard went down with an apparent knee injury on Sunday night, Cleveland Browns fans feared for the worst.
The bad news came down on Monday afternoon that the right guard had torn ligaments in his injured knee and would be missing the remainder of the season.
#Browns OL Chris Hubbard is having surgery this week to repair torn ligaments in his knee, sources said, as his season is over following the injury last night. His kneecap was dislocated and the procedure will repair the associated damage.

— Ian Rapoport (@RapSheet) December 21, 2020
Football aside, torn knee ligaments almost always require a long-term recovery that could take over a year to come back from in some instances.
It's hard not to feel for Hubbard as he begins a long road to recovery.
Head coach Kevin Stefanski did not comment on specifics or details regarding which ligaments sustained damage.
Thank you guys so much for your prayers and concerns, I will be good! Love you guys! 🙏🏾🙏🏾🙏🏾

— Chris Hubbard (@C_Hubbard74) December 21, 2020
The Browns are thin at right guard, however, as Hubbard was already replacing an injured Wyatt Teller.
That could have the Browns looking for answers on the line in the coming weeks.

Who Will Replace Hubbard?
With the latest reports hinting at a potential playoff return for Teller, the Browns will have to find someone to plug into that right guard spot until he is back.
Coach Kevin Stefanski, seemingly prepared for life without Teller a little longer, admitted he was "unlikely" for this week.
Browns HC Kevin Stefanski: Chris Hubbard (knee) will miss "significant time." Sheldon Richardson (neck) should be OK. Wyatt Teller (knee) "unlikely" for this week.

— Tony Grossi (@TonyGrossi) December 21, 2020
Enter Nick Harris, the rookie out of Washington.
He saw action against the Giants after Hubbard went down and held his own.
Scott Petrak of the Chronicle-Telegram called him the "unsung hero" of Sunday night's win.
Quarterback Baker Mayfield seemed to agree.
#Browns QB Baker Mayfield on rookie Nick Harris filling in at RG: Hats off to him for mentally being ready and playing well

— Scott Petrak ct (@ScottPetrak) December 21, 2020
Harris' efforts against the Giants should give Stefanski and the offense confidence in starting him until Teller returns.
Receiver Jarvis Landry was also impressed with how the rookie composed himself under difficult circumstances.
Serious props to #Browns rookie interior OL Nick Harris. WR Jarvis Landry said that he hadn't seen Harris take a snap at guard even in practice. Landry praised his work ethic and how he stepped into a situation he might not be prepared for.

— Mac Robinson (@MacRobinson95) December 21, 2020
If nothing else, Harris being ready to go on Sunday shows the culture is changing on this team.
In the past, even the normal starters would look so disengaged throughout the course of a Sunday afternoon.
Now, however, a guy who isn't even on the roster as a guard can slide into that spot and be more than formidable.
That speaks volumes to how ready Stefanski has his guys each week, and they'll be ready in the absence of Hubbard the rest of this season.