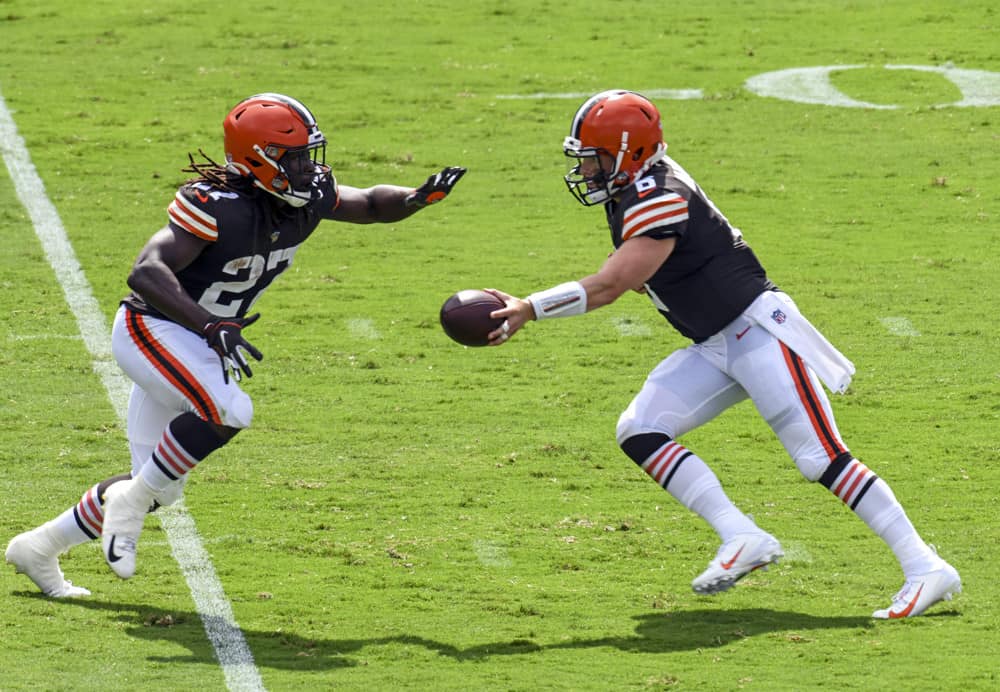 The Cleveland Browns have moved on from all that went well in their Thursday night victory over the Cincinnati Bengals in Week 2, and are focused on building off the momentum.
The Browns had an unstoppable running game, a fluid passing attack, and a dominating performance on the offensive line to roll the Bengals.
However, their next opponent will be a much stiffer test.
The Washington football team has one of the best young defensive lines in football.
How will the Browns fare?
Let's take a look at our writer's bold predictions for this Sunday's matchup.

Writer: Wendi Oliveros

After Week 3, I am predicting the Cleveland Browns will be 2-1.
It will not be an easy road to victory despite the fact the team is a 7 point favorite over Washington.
The Browns running game will need to be operating on all cylinders.
In a Browns win, both Chubb and Hunt must have huge days rushing and receiving.
Baker Mayfield will be under pressure more than he was against Cleveland so a clean game with no costly turnovers is a must.
Other important factors in the game are:
3rd Down Conversions
Neither team has good stats on 3rd down.
The Browns are 8 for 20, and Washington is 9 for 30.
Having short makeable 3rd down conversions will be a key to winning the game.
Start Fast
Washington has been down at the half in both of its previous games, by greater than 2 TDs.
While Washington managed an unlikely comeback against the Eagles in Week 1, the key for Cleveland is to build an early lead and maintain it.
The first possessions of the game will set the tone.
An early lead also allows the Browns to run the ball more and grind the clock.
My Prediction: Cleveland 17 Washington 14
Writer: Rocco Nuosci

The Cleveland Browns haven't started a season 2-1 since the 2011 campaign.
They have a chance to reach that mark again just less than a decade later on Sunday as they take on the Washington Football Team.
Whether the guys on the roster know that stat or not, what they do know is they have a chance to really churn some positive momentum for their franchise in week three.
Bracing for the Buckeyes
Washington's offense is led by a pair of former Columbus, Ohio, standouts in the form of Dwayne Haskins and Terry McLaurin.
McLaurin, along with tight end Logan Thomas, has been a go-to target so far this season for his quarterback.
Haskins, in his second season, is off to a pedestrian start so far in 2020.
However, some attribute that to his poor offensive line play.
2.38 seconds to throw this week for Dwayne Haskins. That's the third least amount of time in week two.

He was last on week one at 2.22.

Mind you, no one is even close to this number except for Rivers and Fitzpatrick. For reference, Cousins had 3.23 seconds to throw today.

— Steve (@SteveNFL_) September 21, 2020
Look for Myles Garrett and friends to have their ears pinned back in an effort to disrupt Haksins in the pocket.
Hang on to the Football
This is a very winnable game for the Browns.
On paper, they should have zero issue handling Washington.
However, Philadelphia probably thought the same thing in week one.
And then they turned the ball over three times.
If the Browns lose Sunday, it will be because they beat themselves.
Turnovers were a problem in the opener for Cleveland before cleaning things up against Cincinnati.
Kevin Stefanski's bunch needs to play a tough but smart game this week if they look to get above .500.
My prediction: Cleveland 28 Washington 13
Writer: Mark Bergin

The Cleveland Browns open as a 7-point favorite over the Washington Football Team ahead of Sunday's game.
Somehow, only the Indianapolis Colts — 10.5-point favorites over the New York Jets — are bigger favorites in Week 3 action.
The game between the Browns and Washington Football Team will come down to which team can control the line of scrimmage.
The Washington Football Team is looking to build around rookie defensive end Chase Young, the No. 2 overall pick out of Ohio State.
Washington has shown it can get after the quarterback sacking Philadelphia Eagles quarterback Carson Wentz eight times for 62 yards in a Week 1 win.
The Eagles' yardage lost helped Washington flip the field.
However, the team had three sacks for only eight yards against Arizona Cardinals quarterback Kyler Murray in Week 2's loss.
Through two weeks, the Washington Football Team's 11 sacks lead the NFL.
The Browns counter with an upgraded offensive line, with the offseason additions of tackles Jedrick Wills and Jack Conklin.
It's paid dividends so far.
The Browns' top priority this offseason was upgrading the OL. So far, CLE ranks 4th in run block win rate and 7th in pass block win rate.

— Jake Trotter (@Jake_Trotter) September 22, 2020
On Monday, the Washington Football Team placed three-time Pro Bowl guard Brandon Scherff on injured reserve after he had a knee injury against the Cardinals.
Scherff — who is playing on the franchise tag in 2020 — is considered Washington's top offensive lineman.
Losing Scherff is a big loss for a team that has struggled offensively through two weeks.
I think the Browns win at home, but the Washington Football team covers.
My Prediction: Cleveland 27 Washington 24
Writer: Adam Lowenstein

The Browns opened as a 5.5-point favorite, but the line ballooned to a touchdown.
The Washington Football Team looked strong in Week 1.
Unfortunately for Washington, Dwayne Haskins Jr. and company ran into a buzzsaw in the Arizona Cardinals last week.
However, even under new head coach Ron Rivera, it will be difficult for Washington to produce points.
After finishing last in points scored in 2019, Washington does not appear to be improving much thus far this season.
Washington is among the worst in the league in average drive statistics on offense: 30th in time of possession, 31st in plays, 32nd in yards, and 27th in points.
Meanwhile, Washington's defense seems to be improved, but it is still early in the season.
Washington has forced four turnovers in 2020 and could capitalize on some Browns mistakes on Sunday.
Cleveland should be able to contain rookie running back Antonio Gibson after keeping the Cincinnati Bengals to 68 rushing yards.
After having two completely different offensive games to start the season, the Browns will score more than 20 points in a victory against Washington.
Baker Mayfield finds Jarvis Landry for the wide receiver's first touchdown of the season in a clutch situation, and Cleveland takes down the Washington Football team.
My Prediction: Cleveland 24 Washington 20
Writer: Kyle Daubs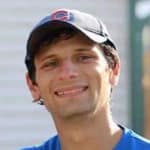 Believe it or not, the Washington Football Team has a middle of the pack defense in the league.
The team ranks 18th in passing yards allowed and 12th in rushing yards allowed per game.
One would not expect that from a team that has very few big names on the roster.
However, at 1-1, this is a big game for both parties in the early parts of the season.
For the Browns, the team went back to running the football.
In two games, the Washington Football Team has not allowed a 100-yard rusher.
My bold prediction is that changes on Sunday. Nick Chubb will go off for over 100 yards.
Last week, Kenyan Drake rushed for 86 yards, while Kyler Murray added 67 yards and two rushing touchdowns.
Look for Chubb to decimate this team's rushing defense, while Hunt contributes at a Murray-like level.
As for the Browns defense, the Cardinals finished with four sacks last week.
Look for the Browns to go off for at least six sacks.
In the end, the Browns will win by two touchdowns.
My Prediction: Cleveland 24 Washington 10
Writer: Ben Donahue
After a lackluster performance in Week 1, the Browns bounced back nicely last Thursday.
Cleveland looked like they were hitting on all cylinders (except on defense) against Cincinnati.
However, maybe we should temper our expectations.  After all, the Bengals aren't contenders this year.
That brings us to this weekend's match up versus Washington.
The team formerly known as the Redskins are sitting at 1-1, just like the Browns.
Washington is still rebuilding with first year coach Ron Rivera.
They looked tough against Philadelphia in Week 1, not so much against Arizona last week.
On paper, this game looks like a "W" for Cleveland.
Washington's quarterback, Dwayne Haskins, continues to struggle as the starter.
Currently, he has thrown for 401 yards, two touchdowns and no picks.
That sounds great until you look a little further and see he has a 27.7 quarterback rating.
That ranks him dead last among all starters in the league.
Dwayne Haskins protection pic.twitter.com/wjyl5URQQF

— Reese Waters (@reesewaters) September 20, 2020
Even worse, Washington's leading rusher is Antonio Gibson.
Gibson has 91 yards for the season.
That's 91 total yards over two games.
What does that mean?
Well, it's obvious Washington has no run game to speak of.
It also means the offensive line is a wreck.
Last, but not least, it means the Browns should feast on the Washington run game this week.
Haskins is a threat to run, except he only has 25 rushing yards through two games.
His primary target is receiver Terry McLauren who has 17 catches for 186 yards and a score.
Basically, the Browns put their best cover guy on McLauren, get after Haskins, and this game should be a rout.
Let's not overlook the Washington defense, however.
Former Buckeye Chase Young already looks promising as a rookie.
Currently, he has eight total tackles, 2.5 sacks, and 3.5 tackles for loss.
Highest-graded rookie defenders through Week 2:

1. Chase Young – 81.1
2. Jaylon Johnson – 80.3
3. CJ Henderson – 80.3
4. Jordan Elliott – 78.2
5. Antoine Winfield Jr. – 77.4 pic.twitter.com/m8RsJKLDom

— PFF (@PFF) September 22, 2020
The Washington defense as a whole has a league leading 11 sacks.
Most of those came courtesy of Carson Wentz in Week 1.
Kyler Murray was a tougher target this past Sunday.
This does not bode well for Baker Mayfield.
If he does not get rid of the ball quickly, he will become their next victim.
I believe that the Browns will put Jedrick Wills Jr. on Young.
Most likely, they will also pair Wills with a tight end or a running back to help.
Washington is fairly good against the run which means Cleveland's O-line will have their work cut out for them.
I would hope that doesn't dissuade Browns coach Kevin Stefanski from giving Nick Chubb and Kareem Hunt a plethora of carries, at least to keep Washington honest.
This game comes down to Mayfield, Jarvis Landry, Odell Beckham Jr., and the Browns defense.
If Mayfield has time to throw the ball and consistently hits his targets, he should be able to feast on Washington's secondary.
If the defense can get into the backfield and disrupt Haskins, they will feast on a healthy amount of sacks, tackles for loss, and turnovers.
I'm crossing all my fingers and toes that the Browns will come away with their second victory of the season. 
My prediction: Cleveland 34  Washington 14