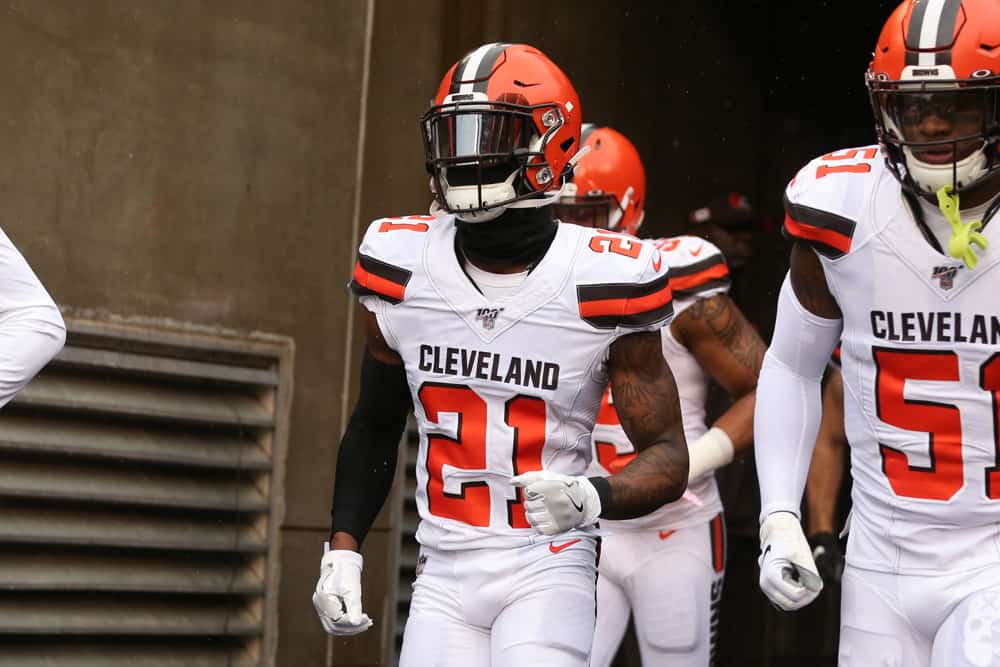 The words "different" and "unprecedented" have become stapled terms throughout this strange year that is 2020.
For the NFL, "injuries" has been at the forefront of this season's conversations.
On Thursday, it was discovered that Browns cornerback Denzel Ward was on the team's injury report with an injured groin.
His status simply read as "limited". Now, his status for Sunday is being thrown into question.
Kevin Stefanski says Denzel Ward (groin) is truly questionable. "I don't know" if he'll play.

— Tony Grossi (@TonyGrossi) September 25, 2020
Ward and the Wounded Warriors
Missing Ward on Sunday would hurt for a number of reasons.
Obviously, losing your number one cornerback at any point in the season will take a lot away from any defense. However, Ward is not the only starter that could be missing defensively on Sunday.
Browns CB Denzel Ward listed as questionable for Sunday with a groin injury. DE Olivier Vernon (abdomen) and CB Greedy Williams (shoulder) ruled out. LB Mack Wilson (knee) questionable as well. NB Kevin Johnson expected to play.

— Jake Trotter (@Jake_Trotter) September 25, 2020
The timing is awful for the Browns secondary as well as the rest of the unit was starting to return to full strength this week.
Greedy Williams, who missed the first two weeks with a shoulder injury, finally returned to practice this week.
Kevin Johnson was also back after dealing with a lacerated liver.
The news isn't much better in the trenches either.
The trio of Olivier Vernon, Adrian Clayborn, and Jacob Phillips missed practice once again on Thursday.
I would not feel confident in expecting them to put the pads on by Sunday.
Linebacker Mack Wilson continues to be limited in practice with a brace on his left knee.
His status for Sunday is still unclear as well.

What to do in the Secondary?
If Ward is able to go on Sunday, many of the concerns for Joe Woods' defense for this week would be solved.
If not, Woods will have to do some mixing and matching.
The status of Greedy Williams will play a huge factor as well.
Through the first two weeks, Terrance Mitchell has filled in for Williams and thrived in that role.
#Browns Cornerbacks Denzel Ward and Terrance Mitchell have been lockdown. 🔒

The two are 7th (Mitchell) and 13th (Ward) in the #NFL in targets.

Out of CBs with a Minimum 10 Targets:

Mitchell has allowed a Completion Percentage of 50% (7th) while Ward is allowing 56.3% (19th). pic.twitter.com/PcR6h5OF6W

— The Hottest Take Sports Podcast (@Hottest_TakePod) September 24, 2020
If Stefanski and Woods feel that Williams is farther from full strength than they thought, expect Mitchell to resume his starting role.
If Ward can't go, Kevin Johnson could be the replacement.
He was brought on as a nickel cornerback but can play the outside spot if need be.
With slim options elsewhere, we could very well see Mitchell and Johnson as the starting outside corners against Washington.
Woods also talked about safety Ronnie Harrison a bit this week.
Per Cleveland.com, Woods wants to work Harrison into the rotation much more.
"He'll [Harrison] be in the picture more this week and the upcoming weeks, but we definitely want to put him in there based on what we know he can handle."
Next Man Up
It's a cliché saying, but a "next man up" mentality is something the Browns will have to lean on a bit this week.
Injuries haven't just plagued the Browns this year, but many teams around the NFL as well.
Updated: Season ending injuries…

– Saquon Barkley
– Von Miller
– Nick Bosa
– Derwin James
– Courtland Sutton
– Anthony Barr
– Bruce Irvin
– Malik Hooker
– Tavon Young
– CJ Uzomah
– Marlon Mack
– Gerald McCoy
– Andre Dillard
– Zach Banner
– Grant Delpit

… Only Week 2

— NFL Update (@MySportsUpdate) September 21, 2020
This is why having depth in this league is so crucial.
While Cleveland may not be the deepest roster across the NFL, guys like Terrance Mitchell have done a tremendous job stepping up and will continue to need to do so throughout 2020.