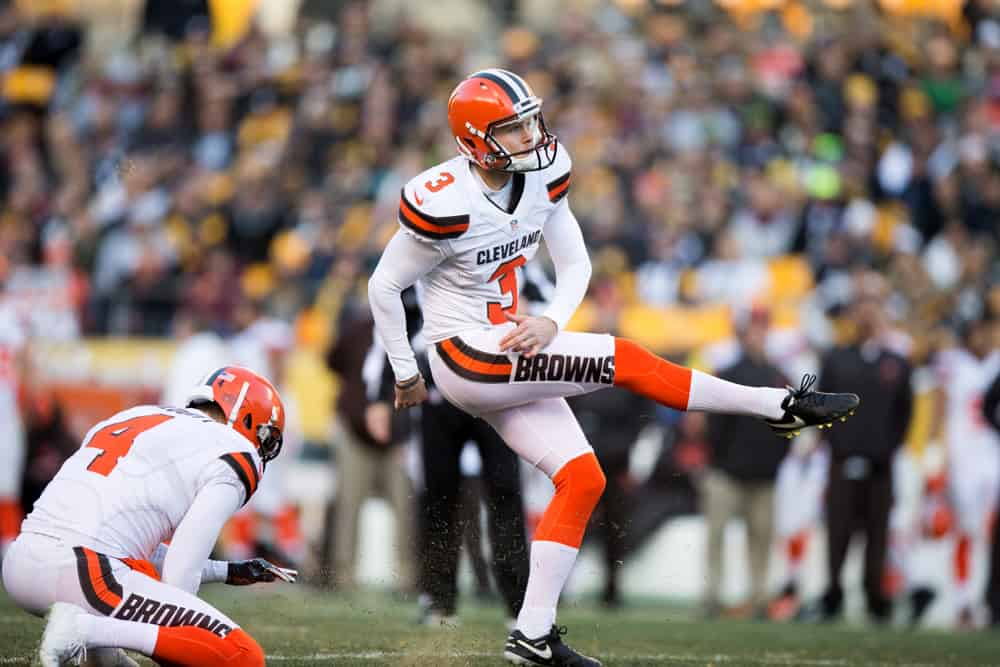 The Cleveland Browns are not messing around at the kicker position.
The team got destroyed 38-6 in Week 1 by the Baltimore Ravens and two missed kicks from Austin Seibert were enough to release him in favor of Cody Parkey.
Source: The #Browns are signing K Cody Parkey to their 53-man roster, a sign he'll kick on Thursday night.

— Ian Rapoport (@RapSheet) September 14, 2020
Browns fans may instantly know Parkey from his infamous "double doink" kick with the Chicago Bears during the 2018 postseason.
However, he has already spent nearly a full season with the Browns.
It just came during a year most fans would love to forget.
Cody Parkey's First Stint in Cleveland
The 2016 season opened up with Patrick Murray as the team's kicker.
He did his job in Week 1 with one made field goal and added on an extra point.
Then came Week 2 against the Ravens when he missed a field goal and an extra point in what ended up being a 25-20 loss.
An injury followed and the Browns needed a new kicker for the Week 3 game in Miami.
Enter Parkey, who made three field goals in the game, but also missed three in the overtime loss.
The kicking nightmare continued, however, Parkey stuck around for the remainder of the season and finished 20 for 25 on the season.
He was ultimately let go in 2017 in favor of Zane Gonzalez.
Gonzalez was then let go in 2018 in favor of Greg Joseph, who then lost the job to Austin Seibert and now we are in the present day.
Life was much simpler with Phil Dawson in town.
A Kicker Seeking Redemption
Parkey was a solid kicker from his debut in 2014 through the 2017 season in Miami.
Then came 2018 with the Chicago Bears.
He went 23/30 on the year and then had a shot at a game-winning field goal in the Wild Card round.
That miss coined the term "double doink" and Parkey's reputation was shot.
The kicker appeared in three games for the Tennessee Titans last season and has been seeking a shot at redemption in a full-time role since.
The Browns clearly saw enough in Parkey during training camp to keep him on the practice squad at the start of the season.
The official explanation was the team keeping an extra kicker around due to COVID-19.
However, it is also possible the coaching staff lacked faith in Seibert from the start.
The 28-year-old Parkey now has a shot to land a permanent gig with the Browns once again.
That also means a chance to move past being the guy only known for the "double doink" and back to being someone NFL teams can rely on in clutch moments.
The Browns are lost when it comes to kickers right now.
Two drafted players in Gonzalez and Seibert have come and gone.
Of course, Seibert has a chance to gain his revenge Thursday night after being picked up by the Cincinnati Bengals.
Roster Update: We've acquired K Austin Seibert on waivers from Cleveland and signed DE Amani Bledsoe to the active roster. In corresponding moves, we've placed G Xavier Su'a-Filo on the Reserve/Injured list and waived CB Torry McTyer.

— Cincinnati Bengals (@Bengals) September 15, 2020
The Browns letting him go the same week the Bengals needed a kicker is a story for another time.
Parkey is 102/121 on field goals and 154/162 on extra-points in his career.
Just doing his job and making a few kicks Thursday could go a long way building back his confidence.
We will know Parkey succeeded if his name doesn't have to be mentioned Friday morning.
Seibert couldn't avoid that reality and thus lost his job.