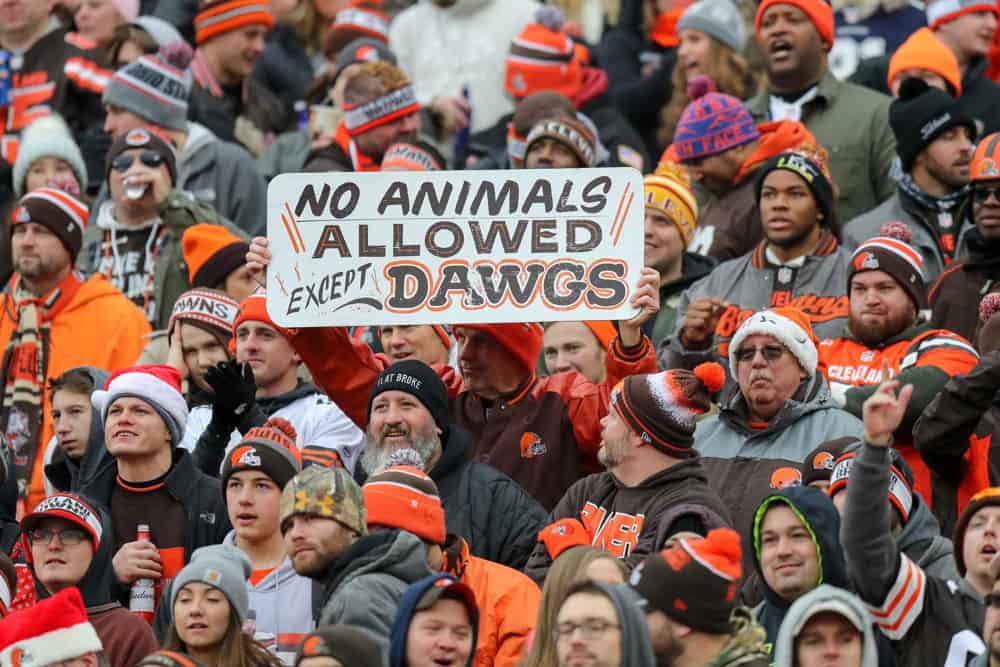 Fans, pundits, and critics have said about all they can say about the Cleveland Browns´ showing in Week 1.
Baltimore had their way with Kevin Stefanski´s troops, coming away with a 38-6 rout.
What was your reaction on social media? https://t.co/7Hk92mW2rs

— clevelanddotcom (@clevelanddotcom) September 14, 2020
Meanwhile, the Cincinnati Bengals played the Los Angeles Chargers tough.
Joe Burrow´s bid for a win in his NFL debut was cut short, and wide, on a missed field goal in the final seconds.
The experts in Vegas saw enough to narrow the betting point spread from +9 for the Bengals to +6.
But a 6-point spread is still significant, and there is a good reason for that.
Here are five bold predictions for the Browns home opener against the Bengals.
1. Cleveland Defense Holds a Sack Parade 
NFL fans might look at the 38 points Baltimore put up against the Browns and draw some conclusions.
The Cleveland Browns employed their "pandemic pass defense" yesterday. Their defensive backs stayed at least six feet away from Baltimore Ravens receivers all day

— 99.5 The Bus (@995thebus) September 14, 2020
But if they look a little closer, they will see promising signs from the Cleveland defense.
Lamar Jackson scampered for 56 yards, but the Browns got to him for 2 sacks and were credited with 4 QB hits.
The Ravens passer had a very good passing day (20/25/275/3), with a 152.1 passer rating.
Joe Burrow possesses some similar, albeit rawer, skills as Jackson.
But he does not have the Ravens offensive line.
Cleveland´s defense will go off for at least 6 sacks, wrecking Burrow´s introduction to a national audience.
2. Cleveland Runs Amock: Over 200 Rushing Yards 
Nick Chubb and Kareem Hunt racked up 132 yards on only 23 carries against a stout Ravens defense.
Cincinnatti quietly graded out as the third-best pass defending defense last week.
Of course, that was against a below-average, inconsistent passer.
So, the Browns should… run more.
Chubb will double his touch count and Hunt will help lift the rushing play total to over 35.
Cleveland picks up well over 200 yards on the ground, with 250 not out of the question.
3. Baker Bounces Back… Kind of
There is no shame about having a bad week against the Baltimore Ravens defense.
But a third-year starter should look more in control than Baker Mayfield did in Week 1.
2020 Milestones to Watch: With at least 3,500 passing yards and 20 touchdown passes, @bakermayfield would join Andrew Luck and Peyton Manning as the only players to do so in each of their first three seasons in league history.@Browns | #Browns | #Kickoff2020 pic.twitter.com/YlFEC7CmvX

— Pro Football Hall of Fame (@ProFootballHOF) September 12, 2020
It would be a mistake to look for a breakout in Week 2.
Stefanski will take better care of his beleaguered passer this week, limiting him to about 20 passes.
Mayfield´s bounceback begins with a solid, turnover-free performance that calls off the wolves for another week.
And nobody will care if Odell Beckham Jr catches any of his 13-14 completions.
4. Andy Janovich Catches Mayfield Touchdown Pass 
David Njoku caught the only touchdown pass from Baker Mayfield against the Ravens.
The third-string (if you believe depth charts) tight end emerged from preseason turmoil to make a fine debut.
But Njoku is now on the injured reserve list with a knee injury.
Does that mean the bigger guns like Beckham, Jarvis Landry, or Austin Hooper are in line to score this week?
One of the Browns´ marquee names could grab a touchdown before the end of the night.
But Andy Janovich will spring free on a play-action goal line snap to capture Mayfield´s second touchdown of the season.
5. There Will Be No Kicker Payback… or Impact
Kevin Stefanski cut Austin Seibert almost immediately after his dismal showing Sunday.
That allowed the Bengals to sign the ex-Brown from the waiver wire and set up a nationally-televised payback moment.
Report: Cincinnati Bengals claim kicker Austin Seibert before matchup vs. Cleveland Brownshttps://t.co/JRi2K01zH9 pic.twitter.com/ZORccGQJSv

— Ben Axelrod (@BenAxelrod) September 15, 2020
But it won´t happen.
In fact, Seibert and new/old Browns kicker Cody Parkey will struggle to make any impact at all.
It is more likely each of them misses at least one field goal or extra point.
But it will matter little as the Cleveland Browns easily cover the 6-point spread in this latest Battle of Ohio.