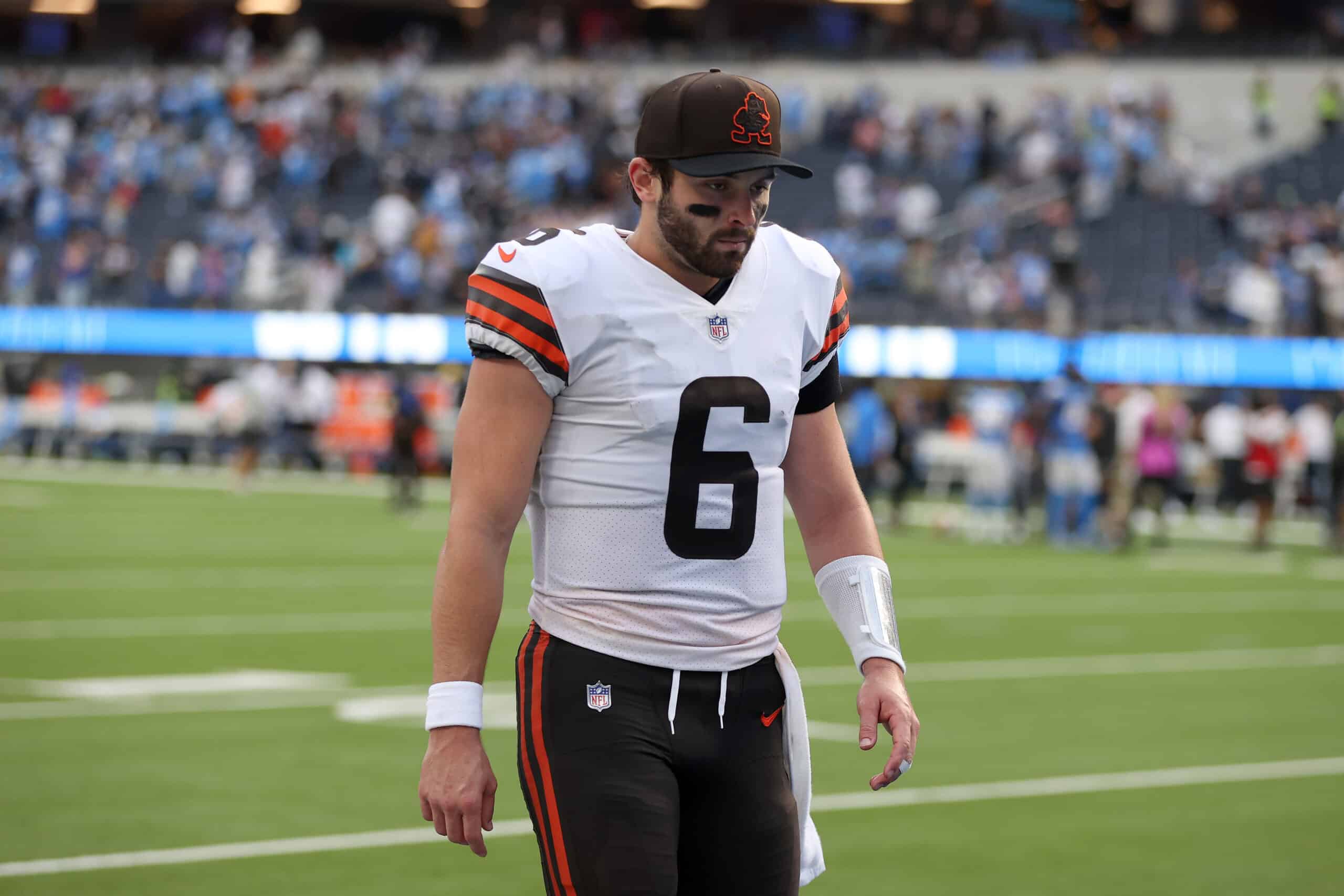 Fox Sports personality Colin Cowherd doesn't want to hear about the Cleveland Browns' excuses after Sunday's 37-14 loss to the Arizona Cardinals.
On Monday's edition of "The Herd," Cowherd said he believes the Browns' (3-3) three losses came so far in the 2021 season against better quarterbacks than Baker Mayfield.
"Couldn't beat Herbert, Couldn't beat (Patrick) Mahones (and they) couldn't beat Kyler Murray, and if you watched that game (Sunday), the gap between Kyler Murray's talent and Baker Mayfield is enormous," Cowherd said. "It's not even close, so I don't want to hear about injuries."
The Browns are beat up with running back Kareem Hunt (calf) and linebacker Jeremiah Owusu-Koramoah (high-ankle sprain) expected to miss the next several weeks.
On Sunday, the Browns played Sunday's game without running back Nick Chubb (calf), left tackle Jedrick Wills Jr. (ankle), right tackle Jack Conklin (knee) and wide receiver Jarvis Landry (knee).
"Kyler Murray didn't have his head coach and went on the road and blew out Cleveland… I don't want to hear about excuses."

— @ColinCowherd on Baker Mayfield and Browns' loss: pic.twitter.com/gMkZB4Bpv9

— Herd w/Colin Cowherd (@TheHerd) October 18, 2021
Quarterback Baker Mayfield has played since Week 2 with a torn labrum in his left throwing shoulder.
"Can you play from behind? Can you play on a bad shoulder? Can you play without your top running back?" Cowherd said. "So, Baker's fine when the world is comfortable."
Cowherd did have some praise for Mayfield, but it comes with a caveat.
"Baker is a franchise quarterback, but you can all admit now, right? It all has to be perfect," Cowherd said. "The lead, everybody's healthy. Once you put him against contemporaries his age, (a) couple of injuries. He's average. He's not a No. 1 pick."
Cowherd does not believe the Browns' injuries are an excuse, especially considering the talent on the roster.
"I don't want to hear about excuses," Cowherd said.
Cowherd said the Browns still have three quality starting offensive linemen with right guard Wyatt Teller, center J.C. Tretter and left guard Joel Bitonio.
Plus, the Browns had Hunt backing up Chubb.
Kareem Hunt is leading the NFL in yards after contact per rush (2.77 yards). #Browns

— Jake Trotter (@Jake_Trotter) October 18, 2021
"Lamar Jackson, the Ravens have the most players in the league on the injury list. They blew out the Chargers," Cowherd said. "Kyler Murray didn't have his head coach. They went on the road (and) blew out Cleveland.

"Derek Carr didn't have his head coach, he just got fired slashed resigned, whatever you want to call (Jon) Gruden's ouster. They're on the road, divisional rivals. Derek Carr was brilliant."
In Week 6, Cowherd said the Browns' deficit would have been even larger if not for a Hail Mary touchdown pass completed to Donovan Peoples-Jones just before the end of the first half.
"Baker, if you take away that Hail Mary, which we all acknowledge is pure luck, that game could have easily been 37-7," Cowherd said. "I don't want to hear about 'we're not playing our best.'

"You were destroyed at home. (You) can't pay destroyed at home against the head coach who wasn't there for the team that crushed you."
OH MY DPJ 😱

📺: #AZvsCLE on FOX pic.twitter.com/buppWkf59h

— Cleveland Browns (@Browns) October 17, 2021
On Monday, Cowherd said Browns general manager Andrew Berry will evaluate Mayfield's play in the next several weeks to determine whether to award him a massive contract extension.
"I said, 'The next eight weeks will determine Baker Mayfield's future because he's going to not play just quarterbacks, but contemporaries,'" Cowherd said. "He's going to face Justin Herbert and Kyler Murray and Lamar Jackson and Mac Jones, young quarterbacks.

"And, the GM is going to sit upstairs and watch them side by side and go, 'That guy is going to get $35 million. What do I pay my guy?'"
The Browns have a short week before hosting the Denver Broncos (3-3) on Thursday Night Football.
As of Monday, it's unclear whether Mayfield will play due to the shoulder injury or whether the Browns will turn to backup quarterback Case Keenum.