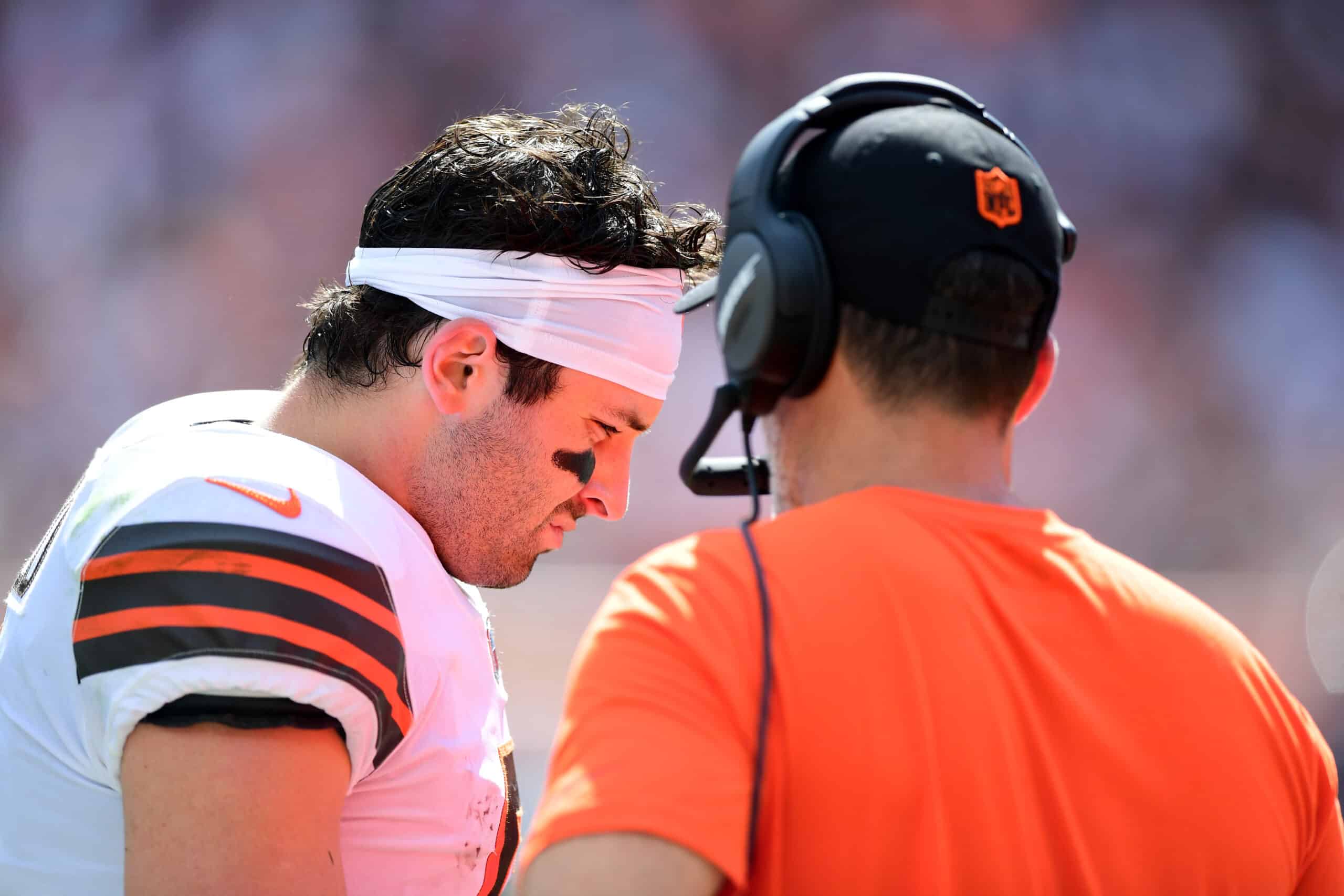 Baker Mayfield came out throwing Sunday against the Arizona Cardinals.
By halftime, he dropped back 20 times, compared with 8 handoffs to his running back.
Perhaps this was the Cleveland Browns' plan to preserve the health of a gimpy Kareem Hunt.
Or maybe, the Cardinals' defense helped convince the Browns to abandon their top-ranked rushing attack.
#Browns LG Joel Bitonio said the Cardinals ran a 6-2 defense for much of the game, which was designed to take away the run. Said it wasn't a surprise but makes it tough to run.

— Scott Petrak ct (@ScottPetrak) October 18, 2021
Joel Bitonio told reporters Monday that Arizona deployed a 6-2-3 defense to take away the run.
And even though it was no surprise to see an opponent stack the box somehow, Arizona made things difficult.
Hunt was bottled up early before rattling off back-to-back gains of 11 and 17 yards late in the half.
More effective passing from Mayfield helped loosen things up for the Browns runner.
Arizona Won't Be The Last Team To Stack The Box 
By the end of the Arizona game, Cleveland had a backup quarterback and their third running back on the field.
Hunt, already playing with a knee injury, sustained a serious calf injury late in the game.
After an MRI Monday, the team announced Hunt could miss 4-6 weeks of action.
Nick Chubb might be a game-day decision for the Browns' Thursday Night Football contest versus the Broncos.
#Browns RBs Nick Chubb and Kareem Hunt are the only pair of teammates in the league this season with at least a combined 800 rushing yards and nine touchdowns

— Baillie Burmaster (@bayburmTV) October 11, 2021
And Tuesday, Baker Mayfield will meet with a shoulder specialist for a second opinion on his own MRI.
Cleveland might also be without both their starting tackles and their fullback for a second week in a row.
After the way rookie James Hudson struggled Sunday, teams will continue to dare the Browns to throw the ball.
Especially if they trot out Case Keenum, D'Ernest Johnson, and John Kelly with backup fullback Johnny Stanton.
What Can The Browns Do About It?
Cleveland can usually wear down stacked boxes with two of the best after-contact rushers in the NFL.
But it could be a different story with Johnson, Kelly, and probably Demetric Felton carrying the ball.
Baker Mayfield can "pass to run", that is be effective enough through the air to force defenders out of the box.
And many teams employ a spread offense or overload a side to force adjustments by the defense.
#Browns QB Baker Mayfield on play of offensive line: "I thought they played good for what they were asked to do."

— 92.3 The Fan (@923TheFan) October 17, 2021
Kevin Stefanski's strategy will depend on how opponents stack the box- 8 across, 6-2, or just bunching up players.
Running up the middle behind the powerful Bitonio, Wyatt Teller, and JC Tretter can defeat thin lines.
In a 6-2 or 6-1, the linebackers are susceptible to misdirection, making cutbacks and end arounds effective.
And if Mayfield gets 8 rushers to bite on play-action, he should be able to find open receivers waiting.
Should The Browns Worry? 
Cleveland has a lot to worry about with up to 6 important pieces of their offense missing the next game.
But stacked boxes are not an unusual sight for the run-happy Browns.
Arizona's defense was more effective than most teams in bottling up the Browns' attack.
We still don't know why Stefanski opted not to use Johnson or Felton in the backfield before Hunt's injury.
Never forget D'Ernest Johnson putting up 95 yards on just 17 carries when both Kareem Hunt and Nick Chubb were banged up.

Demetric Felton has already flashed in his young career as well.

The Browns may be down.

They are certainly not out. pic.twitter.com/ZKohCupUwd

— Nick Karns (@karnsies817) October 18, 2021
But Johnson performed well last year in relief of Chubb, and John Kelly was elusive in the preseason.
Demetric Felton is more of a receiver and outside runner, but he can squeeze through a hole on occasion, too.
Jarvis Landry might be tempted to come back and help, but a decision on his status will wait until Wednesday.
As will the decision on Chubb, but Stefanski will have the players left standing ready to go by Thursday.