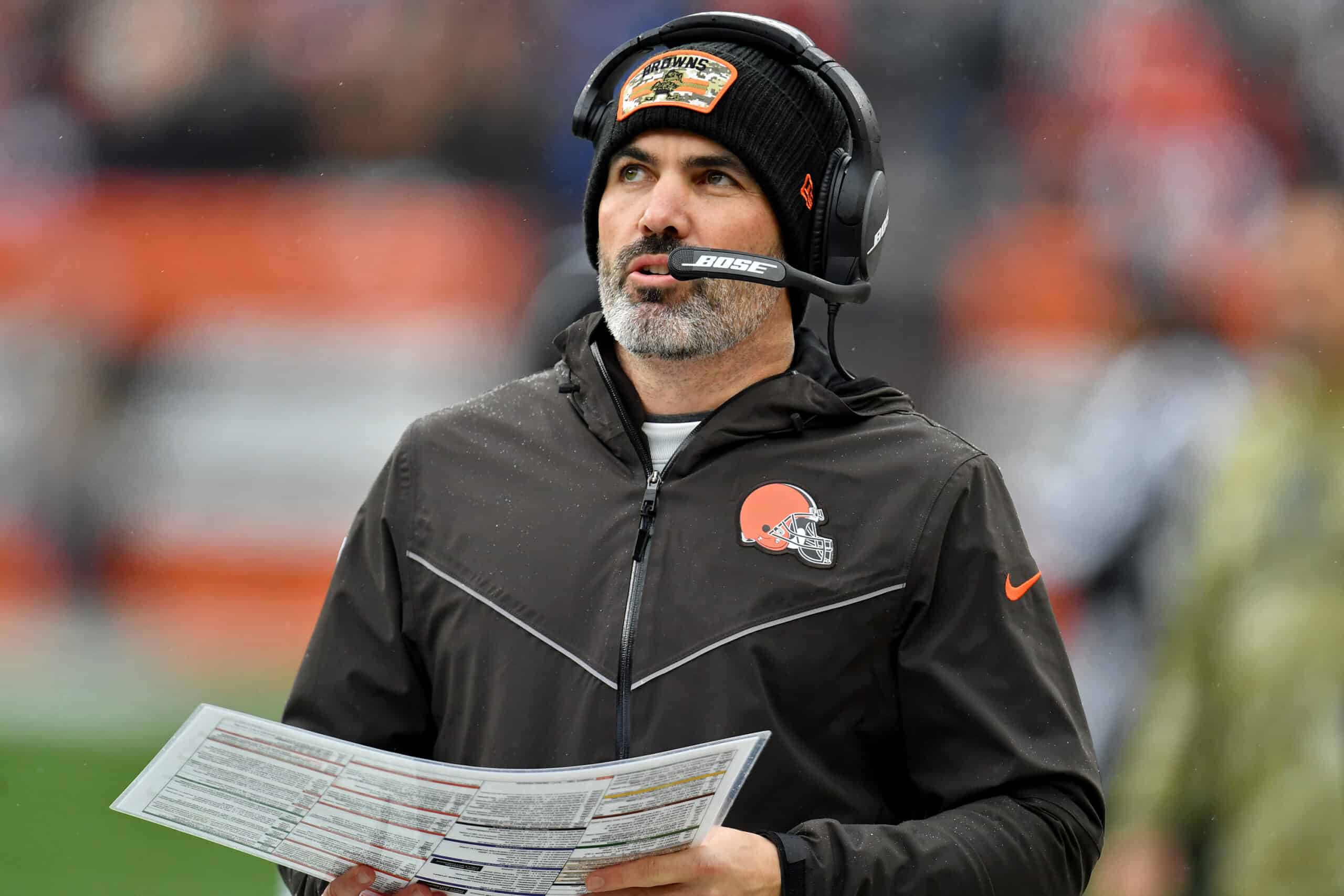 Fox Sports Radio host Colin Cowherd has long been a critic of Baker Mayfield and the Cleveland Browns.
On Monday's edition of "The Herd," Cowherd explained why he believes head coach Kevin Stefanski and the Browns front office would be wise to move off Mayfield after the season.
"There's an old saying in football that, 'You can lose a game, (but) you can't lose the locker room," Cowherd said. "Kevin Stefanski, I think, is a very good play caller and a very bright guy, but I think he's in danger of…losing the locker room as he keeps selling them on Baker."
The Browns check every box…except at QB:

"You can't keep overcoming a deficiency at that position." — @ColinCowherd pic.twitter.com/8BwLqJPyFn

— Herd w/Colin Cowherd (@TheHerd) December 27, 2021
Mayfield, 26, is due to make about $18.86 million in the 2022 season, which is the final year of his rookie contract.
Mayfield — who is playing with several injuries including a torn labrum and a fracture in his left shoulder — is coming off a four-interception performance in the Browns' 24-22 loss to the Packers on Christmas Day.
Packers defenders also dropped other opportunities to intercept Mayfield during the Week 16 game.
"If you reverse quarterbacks in this game, and gave (quarterback) Aaron (Rodgers) to Cleveland, they (would) win 42-7," Cowherd said. "Cleveland had better players."
Cowherd pointed out how the Browns have five players selected to the 2022 Pro Bowl, including defensive end Myles Garrett, cornerback Denzel Ward, running back Nick Chubb, guard Joel Bitonio and guard Wyatt Teller.
However, the Packers also have seven players named to the Pro Bowl roster: Rodgers, wide receiver Davante Adams, offensive tackle David Bakhtiari, guard Elton Jenkins, running back Aaron Jones and linebacker Za'Darius Smith.
The Browns also have four players selected as alternates: Defensive end Jadeveon Clowney, fullback Andy Janovich, center JC treater and left tackle Jedrick Wills Jr.
Cowherd mentioned how starting safety John Johnson missed the Packers game with a hamstring injury.
"During the game, (Johnson was) literally tweeting, 'run the ball,'" Cowherd said. "Like, there's a reason when Odell (Beckham Jr.'s) dad called out Baker he didn't get any pushback from the players. You cannot lose this locker room. This roster is stacked."
RUN THE DAMN BALL🙄

— John Johnson III (@iamjohnthethird) December 25, 2021
Cowherd brought up a few other points about Mayfield's struggles:
Mayfield has played for four coaches: Hue Jackson, Gregg Williams, Freddie Kitchens and Stefanski.
Mayfield has a career 62% completion percentage.
Since coming into the NFL in 2018, Mayfield leads the NFL in interceptions with 54.
"I've always said I don't like his judgement," Cowherd said of Mayfield. "His brand is bigger than his game."
On Saturday, Mayfield also completed 21 of his 36 passes for 222 yards and two touchdowns, but Cowherd said it comes with a caveat.
Mayfield was 2-of-10 for 40 yards and four interceptions on throws at least 10 yards downfield, according to ESPN Stats and Info.
Baker Mayfield today was 2-10 for 40 yards & 4 interceptions on throws at least 10 yards downfield.

He's the first Browns QB to throw 4 interceptions in a game since Brandon Weeden in 2012. pic.twitter.com/mHYCGzuO37

— ESPN Stats & Info (@ESPNStatsInfo) December 26, 2021
"You gotta be careful about this," Cowherd said. "You can start losing players fast because you can't fool them. Everybody in that Cleveland knows he's our least talented guy."
Cowherd also mentioned how Mayfield will need to go up against other talented, young quarterbacks in the division and within the AFC.
"There was a stretch that was going to happen for Baker when he was facing contemporaries," Cowherd said. "Well, what does Joe Burrow look like now in that division?

"Like, that's what Andrew Berry is thinking, 'I gotta face Joe Burrow. Well, I got to have somebody close to Joe Burrow.' You can't keep overcoming a deficiency at quarterback."