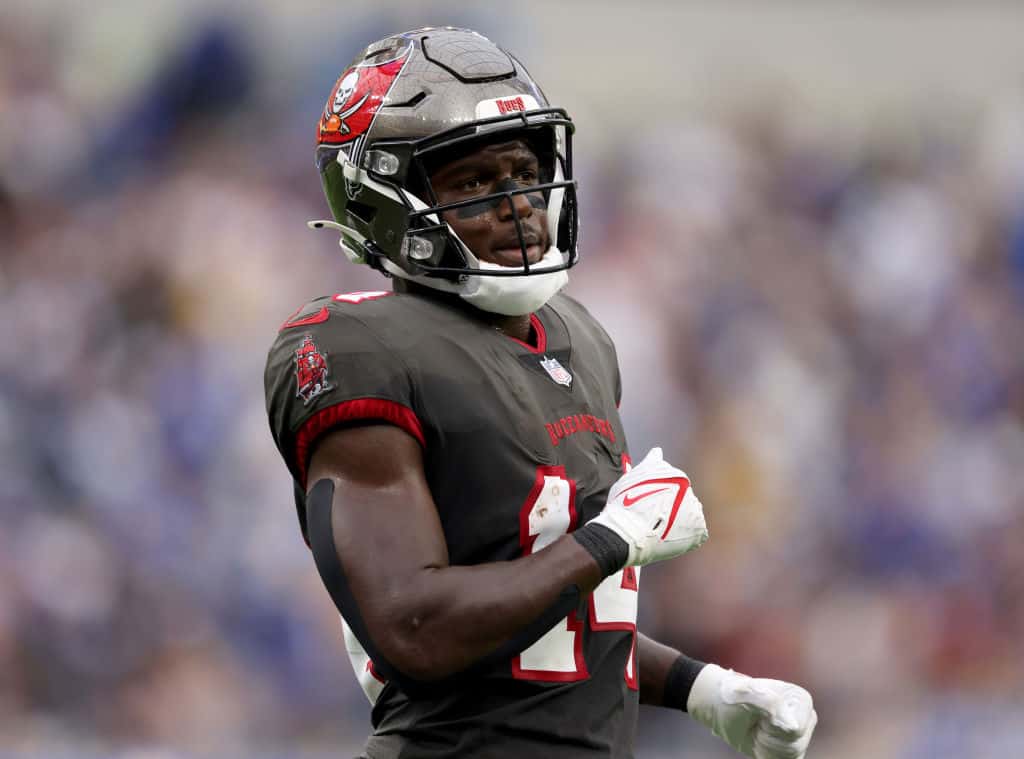 Last offseason, wide receiver Chris Godwin was set to be a free agent, but the Tampa Bay Buccaneers decided to franchise tag him.
A year later, Godwin is set to hit the open market again, but is coming off a major injury.
The former Pro Bowl receiver was knocked out for the rest of the 2021 season after suffering a torn ACL in Week 15.
Chris Godwin (torn ACL) is out for the rest of the season pic.twitter.com/t5hsYfoHk7

— Bleacher Report (@BleacherReport) December 20, 2021
Possibly, the Bucs decide to let Godwin test out free agency now after suffering a major injury.
The organization might be able to get him back at a discounted price or possibly a team like the Cleveland Browns are able to swoop in and sign Godwin.
Browns Signing Godwin?
It's obvious that the Browns need to make upgrades at wide receiver.
They don't have Odell Beckham Jr. anymore and Jarvis Landry is more than likely going to be a cap casualty.
That means, Donovan Peoples-Jones could be the No. 1 option for the Browns in 2022.
Although, that's assuming the Browns don't make any upgrades at wideout this offseason.
It's worth noting that Peoples-Jones did make some outstanding plays for the Browns in 2021.
donovan peoples-jones had my favorite catch of this nfl season

this is just unbelievable pic.twitter.com/e4W0j3PPsd

— rising suns (@RisingSunsNBA) February 5, 2022
However, he's not ready to be the top option on any professional organization.
That being said, Godwin could be a fantastic upgrade to this roster.
Through 14 games, Godwin finished with 98 receptions, 1,103 receiving yards, and five touchdowns with the Bucs.
The 25-year-old receiver is well deserving of a long-term deal this offseason.
Take The Risk?
Nowadays, players tend to bounce back more often from serious injuries like a torn ACL.
However, there is always the risk that Godwin is never the same again.
One of the main factors to being a successful receiver is speed and Godwin could be a step or two slower now.
Obviously, the talent is there, but are the Browns willing to take the risk on Godwin?
Godwin is a special talent that can do quite a lot on the field and would immediately be the No. 1 option for this Browns passing attack.
Gene Deckerhoff calls Tom Brady's touchdown pass to Chris Godwin #GoBucs #NYGvsTB pic.twitter.com/T6RCX2nSb2

— Bucs Rays Bolts (@BucsRaysBoltsYT) November 23, 2021
He's well worth the risk even if Godwin's performance does slightly regress after the ACL injury.
The Browns should have the cap space to give Godwin a reasonable deal.
This is a run-heavy offense, but the Browns need to get some legitimate talent at wide receiver.
Cleveland isn't going to get anywhere in the postseason without reliable options in the passing game.
They need to start somewhere and Godwin would be a fantastic beginning to the offseason.