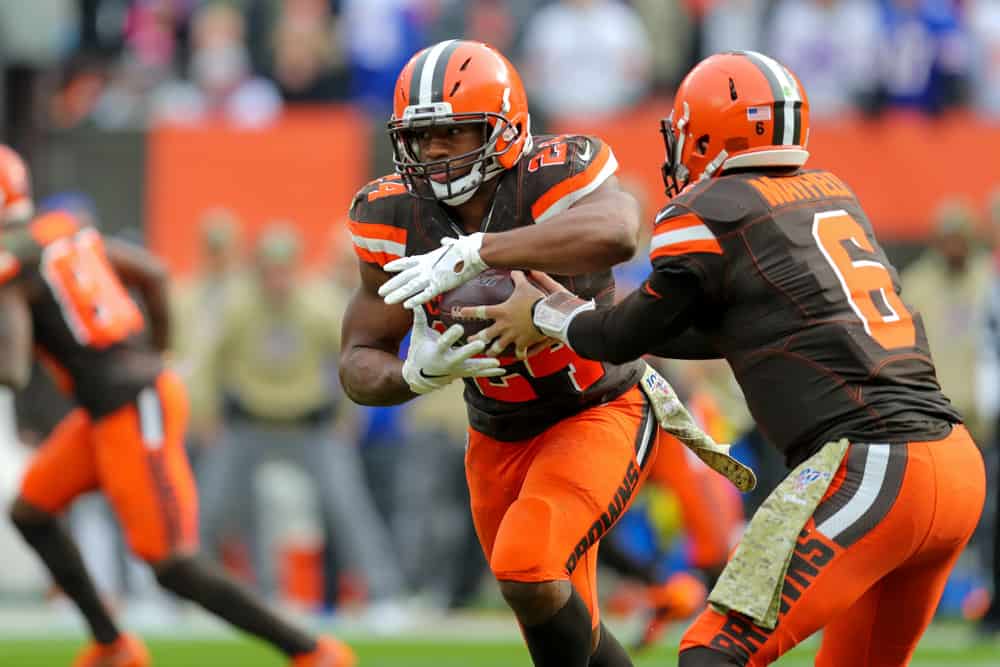 One of the many looming decisions for Cleveland Browns GM Andrew Berry is how and when to handle a Nick Chubb extension.
Nick Chubb is entering the fourth and final year of his contract.
His rookie contract amounts to $7.38 million over the four year term.
Veteran Cleveland sports reporter John Telich joined the Ken Carmen Show with Anthony Lima and talked about this topic.
Telich's Take
John Telich thinks Nick Chubb is a phenomenal player.
Like everyone else, he absolutely loves him.
.@JohnTelich8 tells @KenCarmanShow the franchise tag might be the way for #Browns to go with RB Nick Chubb https://t.co/ZXauTutPBF

— 92.3 The Fan (@923TheFan) March 23, 2021
However, recognizing that football is a business, he thinks the Browns should consider franchise tagging Nick Chubb in 2022.
The estimated cost of the 2022 franchise tag would be $12 million.
In his mind, Telich believes it is a risk to sign running backs to long-term big dollar deals.
This would enable the Browns to see how he performs in 2021 and 2022 and reevaluate the situation.
Telich admits that it does kick the can down the road in the sense that it delays making a definitive decision.
Another Option
Of course, the other idea is to begin negotiating his extension now.
Spotrac assesses his market value to be consistent with his peers, Derrick Henry and Joe Mixon, who both signed four-year deals.
Mixon's deal is for $48 million; whereas Henry's is for $50 million; Chubb's extension would be comparable.
.@caplannfl on @BullandFox on what Nick Chubb's contract number would likely be for #Browns to extend: "Derrick Henry is making $12.5 million/year and that, to me, is the number. Right there, around $12-12.5 million would be worth it."

— Keith Britton (@KeithBritton86) March 11, 2021
All three are approximately the same age.
Andrew Berry was asked about Chubb's contract recently.
#Browns GM Andrew Berry on RB Nick Chubb: We have a lot of major decisions we need to make and the first ones are guys with contracts expiring in next couple of weeks. Nick is extension eligible. We certainly like Nick the player and the person.

— Nate Ulrich (@ByNateUlrich) March 3, 2021
"I think you all know the affinity that we have for him both as a player and as a person. We do have a number of players who are extension-eligible, which Nick is one. And that's something that we'll sort through as we go through the offseason. But certainly we like Nick — the player and the person. And all those big decisions are things that we have to figure out in the overall big picture as we navigate the next several months."
#Browns now have Nick Chubb under contract thru the 2021 season and Kareem Hunt thru the 2022 season.

The 2 headed monster will have another year after this guaranteed together 🔥 pic.twitter.com/zCw3yChTDm

— MoreForYouCleveland (@MoreForYou_CLE) September 8, 2020
Kareem Hunt signed a two year extension before the 2020 season that keeps him with the Browns through the end of the 2022 season.
It is a two year $12 million deal.
What Nick Chubb Said
Chubb says as little as possible about contract matters.
Before last season when asked about the deals his peers signed, he said:
"I see it. I know it's happening. I'm aware of it. But I'm just focusing on this team. I'm a big believer in everything happens for a reason. Whatever happens to me, it'll be for the best, I believe. So I'm just trying to get better every day here and not worry about the future."
What We Know About Andrew Berry
Entering his second season we know that Andrew Berry is very good at managing the dollars.
The Browns are in a good salary cap position for 2021.
He could work out a creative deal with Chubb that is loaded with incentives.
It will be interesting to see how this situation with Nick Chubb plays out.
Using the franchise tag is a double-edged sword.
If the player has a career year while tagged, his payday could be bigger than if the team secured him to a long term deal in lieu of the tag.
It is a tough call; one of many Berry has to make with the young players on the Browns roster.