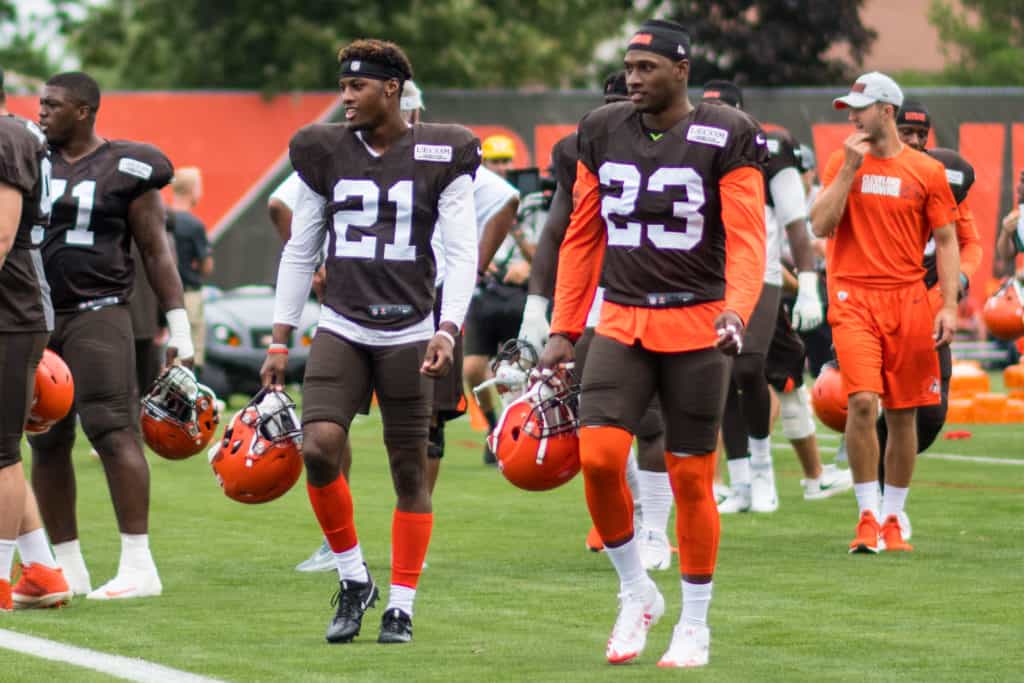 After missing Sunday's game for undisclosed reasons, Browns safety Damarious Randall addressed the media after practice yesterday about his absence from Sunday's game.
The first question he received was a simple one, straight up asking why he was not allowed to come to Heinz Field on Sunday.
"Some internal issues, everything is resolved," Randall said. "Just kind of onto the Bengals this week".
So, still no clear answer from Damarious there.
It seems unlikely that we ever get one from anyone within the Browns organization, at least officially. 
Beat reporter Daryl Ruiter from 92.3 The Fan then asked if the trust Freddie Kitchens still had in him was mutual. "Definitely, it was never about trust. But definitely, yes."
Randall was later asked if he could address the reports of him missing practice because of how cold it was and if he had attended practiced all week.
Damarious was hesitant to comment on this, "'I played in Green Bay; y'all are crazy."
The notion of him missing practice because of cold temperatures seems increasingly odd.
After all, he did play in Green Bay before coming to Cleveland.
Northeast Ohio is cold, but it's not Wisconsin cold, especially this time of the year. 
Ruiter tried one more time to get something significant out of Randall.
He pressed on if the safety realized how big of a deal it was that Kitchens did not allow him to make the trip.
But again, Randall simply answered by saying it was a coach's decision, everything was handled internally, and it was time to "just keep pushing".
Something that Randall did give the media, however, was his feelings about whether he would have made an impact against the Steelers on Sunday. "Yes, I definitely would have made a difference in that game".
As we head into the later stages of the week, it seems both Freddie Kitchens and Damarious himself expect the usual starting lineup defensively against the Bengals.
Kitchens said earlier this week he still felt good about his starting safety.
Earlier today defensive coordinator Steve Wilks echoed that sentiment.
#Browns DC Steve Wilks said he doesn't think there will be carryover from benching of FS Damarious Randall: He's locked in and focused.

— Scott Petrak ct (@ScottPetrak) December 5, 2019
The last significant piece of information Randall gave the media was his thoughts on returning to the Browns next year.
He simply responded with "I don't know, I mean the contract situation is what it is". 
Randall closed the media session by stating his surprise in not being able to travel with the team.
He said he did not find this out until Friday.
Jeff Schudel of The News-Herald, along with other media members, asked teammate T.J. Carrie about his perspective on Randall missing last Sunday's game.
Damarious Randall being benched for Pittsburgh game jolted the defense, says #Browns cornerback C.J. Carrie. pic.twitter.com/4MqW6fIamC

— Jeff Schudel (@jsproinsider) December 4, 2019
Again, it is anticipated that Damarious will be back in the starting lineup this Sunday.
He seems to still have confidence from the coaching staff and organization.
We'll see if he can make it through the rest of this week, drama-free of course, and make a difference against Cincinnati.