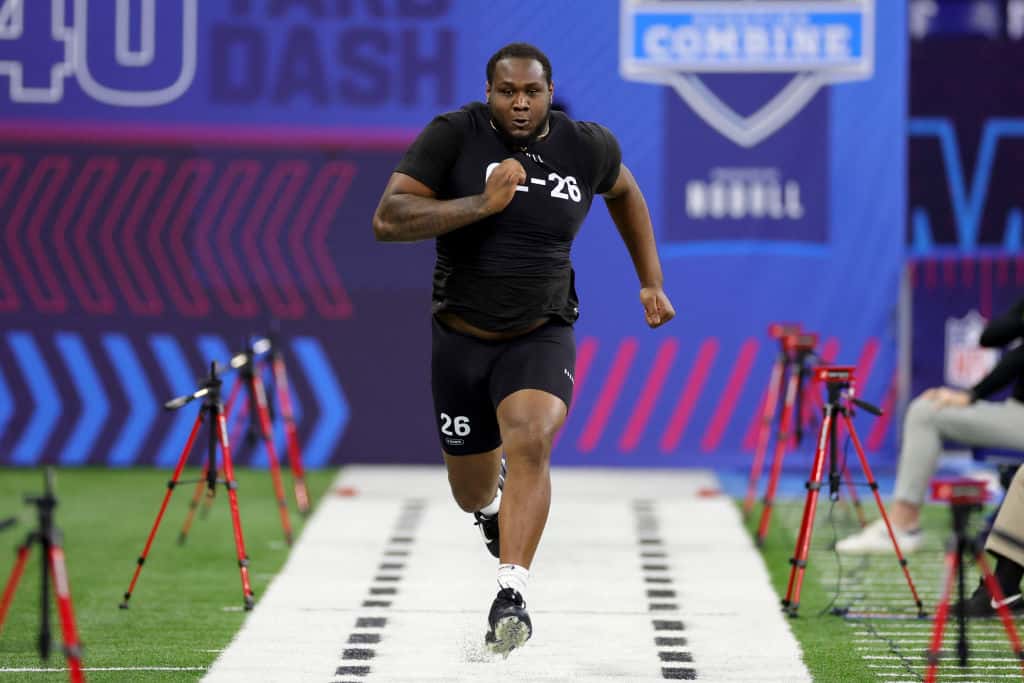 There is no denying that Cleveland Browns rookie Dawand Jones is a mountain of a man.
And as the saying goes, faith can move mountains, but what can your defensive line do?
Jones made his NFL debut in the Hall of Fame Game Thursday night and posted an impressive stat line.
Cleveland's offensive line project did not allow a single quarterback pressure in 35 passing plays, per PFF.
Dawand Jones in his NFL debut:

🟠 35 pass-blocking snaps
🟠 0 pressures allowed

Draft steal? 👀 pic.twitter.com/qLtpXdOp46

— PFF (@PFF) August 4, 2023
Standing up in front of some of the Jets' rookie and backup defenders might have been enough to dissuade them.
But even before the end of the game, there were Jones highlights getting shared on social media.
An injury to Tyrone Wheatley Jr. opened the door for Jones to play the entire game at right tackle.
And he more than took advantage of his opportunity to show coaches how far he's come this offseason.
Jones Happier With Other Stat
Throwing a shutout in his NFL debut is very impressive, even if it isn't against NFL starters.
But it is not the stat that made Jones the happiest.
Cleveland's first impression of Jones in the rookie minicamp was somewhat lacking.
About halfway through his first practice, Jones threw up and it was obvious he was out of breath throughout.
Spring was a wake up call for #Browns rookie Dawand Jones. He needed to get in better shape.

A positive step, the 6-8 tackle played every snap in the HOF Game on Thursday.

"I definitely probably wouldn't have done that at the beginning of minicamp."https://t.co/YvEk9qXRp0

— Ashley Bastock (@AshleyBastock42) August 4, 2023
But he wasn't about to let himself get drummed out of the NFL that easily.
Instead, Jones got to work getting in top condition, altering his diet, and using the Browns' altitude room.
And, as he told cleveland.com's Ashley Bastock after the game:
"I just went out there and played a whole game so I definitely probably wouldn't have done that at the beginning of minicamp."
It is a tribute to the work the rookie has put in since that inauspicious rookie camp.
Jones is not just a large man, but he also has deceptive mobility and strength.
He might even give Myles Garrett a run on the basketball court, a sport Jones once considered concentrating on.
Playing the entire game last night is a big step for him as far as conditioning.
But at times it was difficult to grade his technique or performance beyond the stats.
Even in the NFL, Dawand Jones still makes everyone else look small. pic.twitter.com/NXNhcWy0BV

— Eleven Warriors (@11W) August 4, 2023
Pro Football Focus ranked eight of the Browns' and Jets' offensive linemen ahead of Jones.
Being so much bigger than the defenders made Jones look awkward at times.
It seemed like he swatted away rushers without really engaging them, which is probably not a fair critique.
But it certainly makes us excited to see what Jones can do against more accomplished competition.