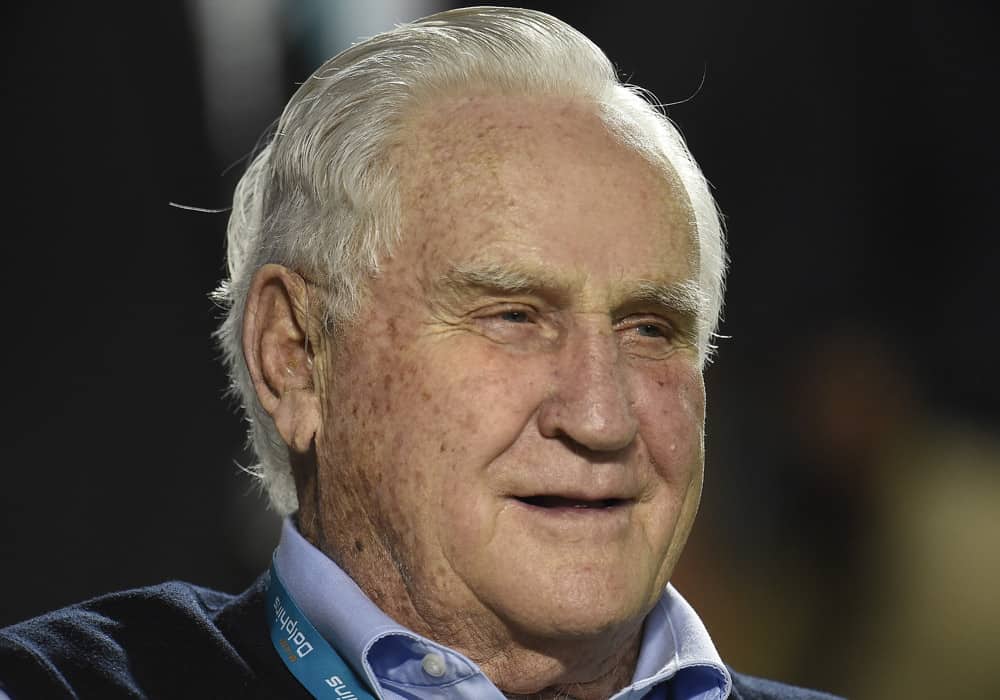 Accolades are rolling in for former Baltimore and Miami head coach Don Shula.
The Dolphins announced Shula passed away peacefully at home this morning.
The Miami Dolphins are saddened to announce that Head Coach Don Shula passed away peacefully at his home this morning. pic.twitter.com/MKAtXFA4zd

— Miami Dolphins (@MiamiDolphins) May 4, 2020
Shula is the NFL´s winningest coach of all time.
His 347 victories over a 33-season coaching career earned him a spot in the Professional Football Hall of Fame.
Shula is also a member of the league´s 100th-anniversary team and the NFL´s team of the decade for the 1970s.
In 1972, he led the Dolphins to the NFL´s only perfect season, beating the Redskins in Super Bowl VII.
Rest in peace, Don Shula.

Winningest head coach of all-time (347 total wins)
2x Super Bowl Champion
Pro Football Hall of Fame Class of 1997
Only coach to lead a team to a perfect season pic.twitter.com/4V6YRtyVfx

— NFL (@NFL) May 4, 2020
The following year, Miami became a repeat Super Bowl Championship team by beating the Vikings.
All told, Shula coached the Dolphins to 5 Super Bowl appearances.
He was also the coach of the Baltimore Colts when they lost Super Bowl III to Joe Namath and the Jets.
His 526 games coached are an NFL record.
He coached a pair of quarterbacks and numerous other players to Hall of Fame careers.
But it all started in Ohio.
How Shula Got in the Game- An Ohio Story
Don Shula grew up in rural Ohio.
He attended Harvey High School in Painesville, which did not have much of a football team.
It didn´t matter because Shula´s mother forbade him to play.
But when a coach caught sight of Shula during a gym class, he talked him into joining the team.
Don Shula was from Grand River, OH and graduated from Harvey High School in my hometown of Painesville. I grew up knowing of him as a local hero. #RIPDonShula

Northeast Ohio native and NFL Hall of Fame coach Don Shula dies at 90 years old https://t.co/YI44bB4s8B

— Cherie Clark 🌊 (@faircher) May 4, 2020
Shula forged his parents´ signatures on a permission slip.
He went on to become a star halfback as Harvey won 7 games for the first time in 18 years.
But it wasn´t enough to win a football scholarship from a college.
Shula contemplated working for a year before continuing his education.
But Harvey coach Howard Bauchman directed Shula to John Carroll University.
The Jesuit university in suburban Cleveland awarded him a one-year scholarship.
But Shula´s performance, especially in an upset victory over Youngstown, soon earned him a full ride.
Remembering Don Shula '51: "Nothing could ever replace those four years I had at John Carroll." Watch Coach Shula: https://t.co/KpUlAkxNKs pic.twitter.com/JUi7BACGSa

— John Carroll University (@JohnCarrollU) May 4, 2020
John Carroll University´s head coach attended coaching clinics run by legendary NFL coach Paul Brown.
Because Brown knew John Carroll coaches ran his system, he always scouted the small team for prospects.
Shula and teammate Carl Tasseff became the only rookies on the Cleveland Browns 1951 team.
But Shula´s NFL career was almost derailed by the same John Carroll University.
The school´s 3-day retreat in Shula´s first season almost convinced the future Hall of Famer to become a priest.
But Shula realized he couldn´t follow that curriculum and still play football at JCU.
Don Shula, 1951 Cleveland Browns Draft Pick
Don Shula was drafted by Paul Brown in the 9th round of the 1951 draft.
Shula had already taken a job as a high school teacher in Canton, Ohio.
But the Cleveland Browns offered a higher salary and a chance to justify picking football over the priesthood.
Painesville, Ohio, John Carroll University, player, teacher, winner, Hall of Fame, perfection, Father, Grandfather. RIP Don Shula. pic.twitter.com/Tw2Gtea3WU

— Vince Cellini (@Vince_Cellini) May 4, 2020
Paul Brown saw something about Shula that even Shula didn´t.
Shula was a successful high school and college runner and pass-catcher.
But Brown turned him into a solid defensive back.
Shula intercepted 4 passes as a rookie on the Brown´s 11-1 team.
The Army National Guard called up Shula before the following season started.
But Shula returned in time to start the final five games for Cleveland, including a championship game loss.
Wrigley Field, Chicago, October 16, 1955 – Colts defensive back Don Shula has Bears end Harlon Hill covered tightly in the end zone, just feet away from the unforgiving brick walls at Wrigley Field. Bears won 38-10. The Cubs ballpark was home to the Bears for 50 years (1921-1970) pic.twitter.com/MCdIyd9Mjo

— Old-Time Baseball Photos (@OTBaseballPhoto) December 17, 2017
He was traded to the Baltimore Colts, who had just moved from Dallas to replace an earlier version of the Colts that folded.
Under coach Weeb Ewbank, Shula and the Colts endured four losing seasons.
Shula wrapped up his playing career with one season in Washington after the Colts waived him.
Over 7 seasons and 73 games, Shula logged 21 interceptions and 4 fumble recoveries.
Shula Finds His Real Calling- NFL Coaching
After bouncing around a couple of college coaching jobs, Shula found himself on the Detroit Lions sidelines.
He coached defensive backs in 1960, including Dick "Night Train" Lane.
Shula was the Lions' defensive coordinator prior to joining the Colts – Hall of Fame coach Don Shula has passed away https://t.co/1ZicYjzyoR

— The Lions Wire (@thelionswire) May 4, 2020
He went on to become the defensive coordinator of the Lions´ top-ranked unit, led by Alex Karras and the Fearsome Foursome.
When Baltimore fired Weeb Ewbank in 1963, owner Carroll Rosenbloom immediately named Shula as head coach.
At the time, Shula was the youngest head coach in NFL history at age 33.
Ewbank couldn´t get much out of the Colts, but Shula led them to an 8-6 record in his first season.
It was a sign of things to come.
Rest in peace, Coach Shula.

— Indianapolis Colts (@Colts) May 4, 2020
Not only did the Colts appear in the 1963 Super Bowl, they never suffered a losing campaign in Shula´s 7 seasons.
Joe Robbie signed Shula away from the Colts after the 1969 season.
It became the first tampering case in the newly merged AFL/NFL league.
Miami gave up a first-round draft pick to the Colts, even though the NFL rules wouldn´t have applied if Shula signed just a few days earlier.
For Robbie and Miami, the deal worked out pretty well.
Shula reigned in Miami for the next 26 years.
RIP to the most important man in Miami Dolphins history. The greatest coach of all time , Don Shula. Thanks for it all 🏈 pic.twitter.com/JQXL8p0G3J

— Dolphins History (@DolphinsHistory) May 4, 2020
His longevity wasn´t because he had a sure-fire system or timeless strategy.
Shula was certainly a great motivator and teacher.
But it was his ability to adapt to the players he had that allowed him to last so long.
After their run of Super Bowls behind a stout running offense, Shula found himself with Dan Marino at quarterback.
Shula´s Dolphins soon became one of the most prolific passing offenses in the NFL.
Don Shula once said his only regret in life was not winning a Super Bowl for Marino.
But it certainly doesn´t take much away from his accomplishments in South Florida.
Post-Mortem of a Hall of Fame Career
Don Shula will forever be NFL royalty.
The league asked him to participate in the ceremonial coin toss at Super Bowl XXXVII.
When Super Bowl XLVI was held in Miami, Shula assisted with the Lombardi Trophy presentation.
Don Shula had 21 INT, was part of a 15-player trade, played for Paul Brown, coached Unitas and Marino, won 347 games and two Super Bowls, coached the NFL's only perfect team, and was a wildly successful businesman. FIve children, 16 grandkids, 5 greatgrandsons. What a life. RIP.

— Andrew Siciliano (@AndrewSiciliano) May 4, 2020
Shula´s charitable and humanitarian work is rarely publicized.
But in 2011, he was awarded the Ellis Island Medal of Honor in recognition of his efforts.
He didn´t forget John Carroll University, either, where he endowed the Don Shula Chair in Philosophy.
The JCU football team plays its home games at Don Shula Stadium.
Don Shula co-authored three books about coaching and motivation.
The coach was 90 years old.