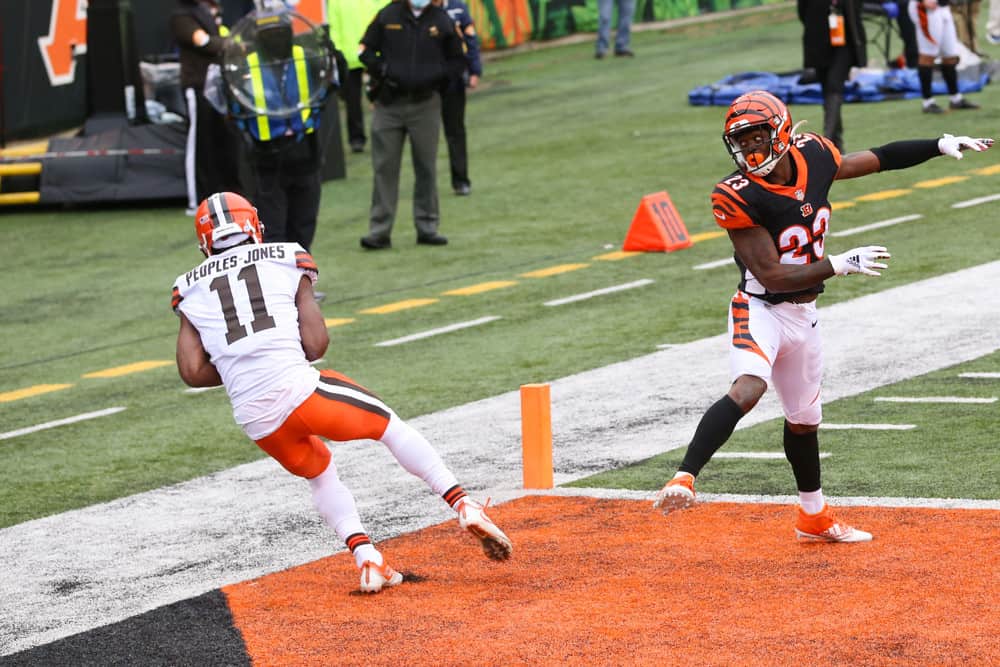 Donovan Peoples-Jones can be forgiven if he didn't expect to catch any passes for the Cleveland Browns Sunday.
After all, except for one target among a severely limited number of offensive snaps, his job was limited to kick returns.
But Peoples-Jones was ready to contribute more as a receiver.
Can we talk for a second about some Andrew Berry picks? Jedrick Wills has been the best rookie tackle. Harrison Bryant caught two touchdowns. Donovan Peoples-Jones caught the game winning TD.

— Nick Karns (@karnsies817) October 25, 2020
When Odell Beckham Jr left the game with a knee injury, People-Jones became Cleveland's third available wide receiver.
In Kevin Stefanski's offense, the third receiver doesn't get a lot of work, but they get a lot more than Peoples-Jones had seen so far.
With Austin Hooper missing the game as well, targets seemed inevitable.
Would Donovan Peoples-Jones finally get a chance to contribute to the Cleveland Browns offense?
Well, if you count catching a highlight-reel, game-winning pass as contributing… yes.
Didn't Look Like It Was Going To Happen
Odell Beckham Jr left the game after the opening drive in the first quarter.
Peoples-Jones was on the field for almost every three-wide set from there on out.
But Mayfield had plenty of more familiar targets to throw to.
Peoples-Jones watched fellow rookie Harrison Bryant snag a pair of touchdowns.
The third quarter was almost over when Mayfield finally looked at his newest wide receiver.
Kevin Stefanski calls a pass attempt for Jarvis Landry!pic.twitter.com/u4ZRSCfGDV

— Pro Football Network (@PFN365) October 25, 2020
But the pass was thrown short and outside, hitting the ground harmlessly.
An offsides penalty wiped out People-Jones' target from the stat sheet.
That drive ended in the fourth quarter with a brilliant touchdown pass to David Njoku.
But Peoples-Jones was on the field, running his routes, just in case the ball came his way.
Ironically, when it finally happened, it came from the hands of a fellow wide receiver.
Jarvis Landry took a pitch from Mayfield and was about to be hit for a loss.
At the last second, he threw the ball toward the left sideline where a streaking receiver snagged it just before going out of bounds.
Donovan Peoples-Jones had his first NFL reception, a 19-yarder from Landry.
Mayfield threw two more passes, both to Kareem Hunt who ultimately scored from 8 yards out.
Saving the Best For Last 
When the Browns offense returned to the field, it was going to be their last chance.
Playing from behind, they had to score.
There was only 1:06 on the clock when Mayfield kicked off the drive uncharacteristically.
He threw a 13-yard completion to Donovan Peoples-Jones.
Two completions to Rashard Higgins left the Browns 24-yards from paydirt.
That is when Donovan Peoples-Jones might have earned his right to be the starting WR-3 next week.
THE ROOKIE DONOVAN PEOPLES-JONES GAME WINNER🔥

— PFF College (@PFF_College) October 25, 2020
Peoples-Jones streaked down the right sideline and Mayfield arced a pass his way.
The defender was late spotting the ball, desperately throwing his hands in its path.
But he was too late.
Donovan Peoples-Jones secured the game-winning catch and made sure his feet were inbounds.
According to NextGenStats, it was Mayfield's most unlikely completion of the day.
DPJ finished the game with 3 receptions on 3 official targets for 56 yards and his touchdown.
After doing his part to squelch Baker Mayfield criticism for a week, maybe targets will come easier next time.
Is DPJ In Line For A Bigger Role? 
Early reports on Odell Beckham's knee are not optimistic.
Nobody wants to get their chance because of someone else's bad luck, but here it is.
Of course, there is no guarantee Kevin Stefanski will keep Peoples-Jones in the WR-3 slot.
Rookie WR Donovan Peoples-Jones had zero NFL catches entering today. He posted 3/56/1 vs. the Bengals.

He had 3 targets (all in the 4th Q) and made the most of them:

19 yard catch, 1st down
13 yard catch, 1st down
24 yard catch, GW TD#Browns

— Dane Brugler (@dpbrugler) October 25, 2020
Khaderal Hodge started the year in that position before injuring a hamstring.
Hodge is eligible to return from the injured reserve this week.
Beckham's injury also comes before the November 3 NFL trade deadline.
There is no shortage of wide receivers rumored available.
It is safe to say Peoples-Jones will slide down the pecking order if Julio Jones, AJ Green, or even Golden Tate land in Cleveland.
But Kevin Stefanski saw his rookie 6th-round pick come up big in a really big spot.
And that won't hurt when the next opportunity arises.