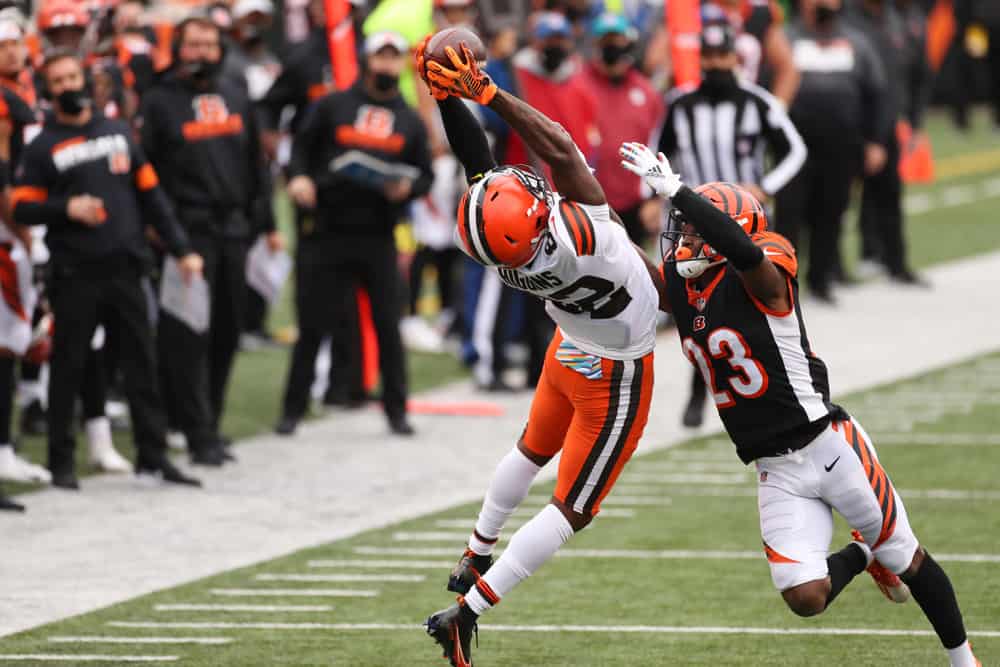 Rashard Higgins had a few sporadic receptions in 2020 before Sunday.
The victory in Cincinnati changed that.
Higgins was the game's leading receiver as the Cleveland Browns pulled off the amazing back-and-forth win against the Cincinnati Bengals.
In a way, this is the Higgins we all knew was there after his 2018 season.
Shoutout to all the Browns fans who refused to be convinced that Rashard Higgins wasnt an asset to Baker.

— Hawk (@Hawk) October 25, 2020
Higgins Finally Involved in the Offense
Odell Beckham Jr. exited Sunday's game early and Jarvis Landry was already playing hurt.
That left Higgins and Donovan Peoples-Jones as the other receivers available.
We all saw the latter make the game-winning catch and instantly vault himself up the depth chart.
But it was Higgins who had six receptions for 110 yards on the day.
Rashard Higgins: "I want to get to the playoffs. I am going to do whatever it takes. Wherever coach needs me, I am going to be there."#Browns

— Tom Withers (@twithersAP) October 25, 2020
He tied with Landry for the high-mark in targets with six and once again showed off his amazing chemistry with Baker Mayfield.
This is what fans remember seeing back in 2018 when Higgins had 572 yards and four touchdowns.
He looked like a legitimate threat and it was clear Mayfield loved targeting the receiver.
Then Freddie Kitchens showed up and ruined everything, or so it goes.
Higgins had a total of four receptions for 53 yards last season and was essentially cast aside at a time when the offense could have used his connection with Mayfield.
Now it appears like Kevin Stefanski, even if by necessity with the Beckham injury, has brought Higgins back into the offense.
Moving up the Depth Chart
Higgins started the year behind Beckham, Landry, and KhaDarel Hodge on the depth chart.
Now he is right up there behind Landry and Peoples-Jones is the third man in line for targets from Mayfield.
Is this a cause for concern?
Not if Harrison Bryant continues to make plays and Austin Hooper can return to form a dominant tight end duo.
David Njoku reportedly wants out, but there is still enough firepower for Mayfield.
The key with the third-year quarterback is chemistry.
While that is sometimes a cliche, it is clear he lacks a real connection with Beckham.
However, that is something he does have with Higgins.
My friends will appreciate #Browns WR Rashard Higgins' answer on his chemistry with QB Baker Mayfield: "He knows me, and I know him. There's nothing to say about that. It's wine poured in a cup – smooth."

— Marla Ridenour (@MRidenourABJ) October 25, 2020
It was not a fluke for Higgins to finish with 110 yards and make a reception on all six of his targets.
Fans have seen plenty of games where Beckham may only pull in a fraction of the balls thrown his way.
Mayfield doesn't need to throw for 400 yards for the Browns to win games.
He needs to be efficient when he does throw the ball and going 6-6 when targeting Higgins is a promising sign now that the team may be without Beckham for quite some time.
The 2018 version of Higgins introduced Browns fans to what "Hollywood" can do with Mayfield.
2019 saw all the magic disappear and that could have been true in 2020.
But Higgins never stopped working and also isn't demanding a trade.
He is now being rewarded for staying ready and keeping up Sunday's pace will ensure he gets paid this offseason after his one-year deal expires.
The Beckham injury is a bummer and not having his raw talent on the field can hurt the offense.
That means others will have to step up and Sunday provided plenty of promising signs that Higgins is ready to carry the load as the second receiver in the offense.