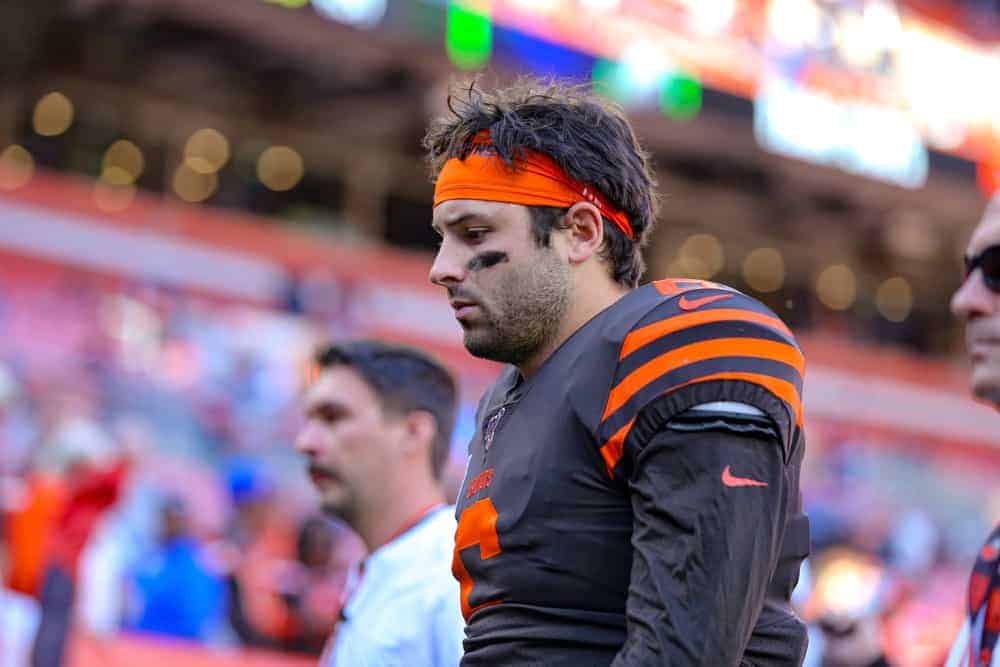 The Monday morning quarterbacking has literally begun.
On the heels of the Pittsburgh Steelers' drubbing of the Cleveland Browns yesterday by a score of 38-7, the finger pointing begins.
Naturally, QB Baker Mayfield will be in the crossfire.
Donte Whitner Piles On.
Safety Donte Whitner played for the Browns in 2014 and 2015.
He represented the Browns in the 2014 Pro Bowl.
Whitner tweeted:
"Baker Mayfield can't read defenses. Below [average] QB at this point. … I wonder if he puts in the same amount of work as Brady and Brees away from the practice facility? Prob not."
Baker Mayfield can't read defenses… below AVG QB at this point… I wonder if he puts in the same amount of work as Brady and Brees away from the practice facility? Prob not.

— DonteHitner31 (@DonteWhitner) October 18, 2020

This criticism seems like a low blow.
Does Whitmer pose the same question to other losing QBs after a crushing loss?
Let's remember that Aaron Rodgers suffered one yesterday too as the Packers moved to 4-1.
Is his work ethic also in question?
Baker Mayfield's Performance
By all accounts, it was one of Baker's worst days.
He went 10-18 for 119 yards and threw 2 INTs.
One of those INTs was a devastating Pick 6.
PICK 6! @minkfitz_21 to the HOUSE!

📺: #CLEvsPIT on CBS
📱: NFL app // Yahoo Sports app: https://t.co/Qh00dKLKr7 pic.twitter.com/39im4v48Xf

— NFL (@NFL) October 18, 2020
Analysis
So yes, Baker had a bad day.
But he wasn't alone.
The offensive line was also shaky at best.
And so was the defense.
Where are all the people bashing Ben Roethlisberger for not throwing the deep ball? #Steelers pic.twitter.com/VEda2xUOlm

— That Blitz Guy (@ThatBlitzGuy) October 18, 2020
Baker Mayfield Postgame
Mayfield assessed his performance in a postgame interview.
"Obviously not good enough. Got to take care of the ball. Not good enough."
Baker did not reference the bruised ribs that limited his practice time this week, but the Steelers did during the postgame.
Bud Dupree on getting after Mayfield: "Baker is a good quarterback. … we don't really think about hurting a player. We hit him a couple times, we knew his ribs were hurting, but we don't intentionally go in and try to hurt somebody."

— Brooke Pryor (@bepryor) October 18, 2020
Steelers DT Cam Heyward seemed to have a slightly different take.
His comments were originally reported as follows:
#Browns Baker Mayfield takes a hard shot from Cam Heyward, who wanted to make him think about his injury. Mayfield winces on the bench

— Mary Kay Cabot (@MaryKayCabot) October 18, 2020
"Never said that. Period. I said I wanted to inflict good punish as in punish the Qb as any d lineman would. Also I said I wanted to make him think about the rush. I respect every player and I never want to be known as dirty player. I respect reporting please respect my words"
Case Keenum
Plenty of Browns' fans were clamoring on social media for Baker to be benched.
When he was, Keenum came in and didn't fare much better.
Coach Stefanski reflected on the QB change in the postgame press conference.
"I just did not want to see him get hit one more time, and I put that on myself. Went into this game knowing we had to keep him clean, and we did not do a good enough job so that that starts with me obviously. He is a very, very tough player and I know he wants to fight, but it is a long season, we have a game next week and I did not feel like it was the right thing to put him back out there."
Team Loss
Football is a team game.
The quarterback certainly is a prominent member of the team and gets called out often.
But this loss was not on Baker.
The Browns looked lost from the beginning.
Whereas the previous three weeks had been decisive team wins, this was most definitely a team loss that the Browns need to quickly recover from.
Coach Stefanski will keep the Browns marching ahead with the focus on next week's game against the Bengals.
"With any loss, you can't let it linger. You learn from it and you move on. We will watch the tape tomorrow, we will have everybody in and we will watch it, what can we learn from it and then move on. That is the simple answer, but I just think you can't dwell on these things. The next one is coming."