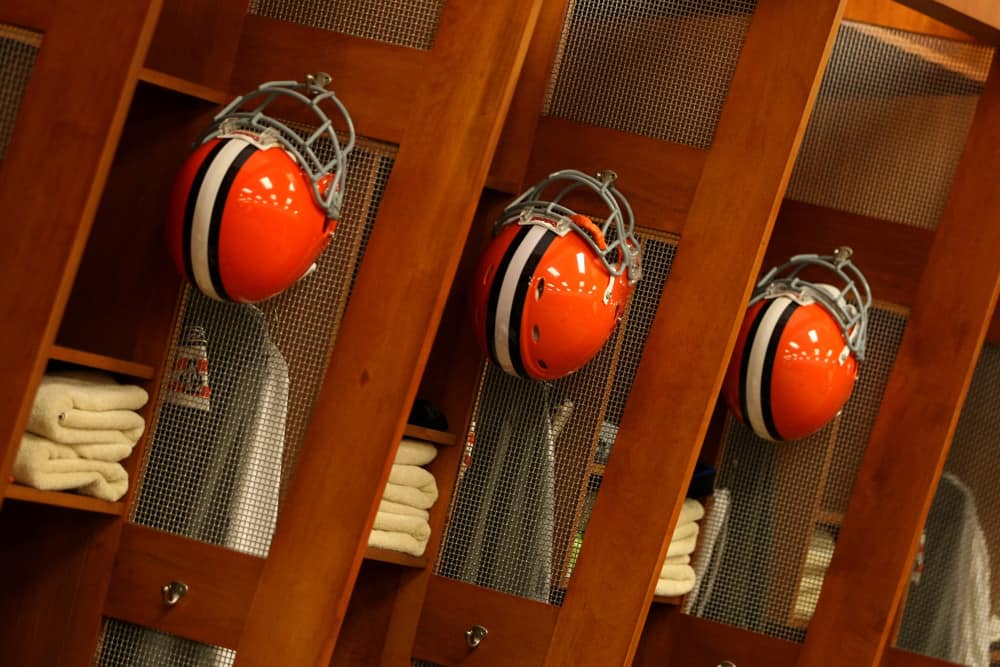 With three weeks to go until the NFL trade deadline, rumors are picking up.
Teams know if they are contenders or pretenders and are evaluating their rosters accordingly.
Andrew Berry knows what the Cleveland Browns need if they are to stay in the playoff hunt.
Three weeks from today is a hugely significant day, with potential ramifications for years to come.

The NFL trade deadline.

— Adam Schefter (@AdamSchefter) October 13, 2020
But the Browns signed a bunch of veterans to one-year deals for this season.
It showed they planned to contend in 2020, but eventually hope to go younger, probably via the draft.
If Baker Mayfield continues to do enough to win games, Berry will prioritize filling weak spots in his own roster.
But Berry is also thinking toward next season and the next.
There are certainly a few veterans to be had for the right draft pick value.
Here are three players who could be Ex-Browns by the NFL trade deadline, plus a bonus thought.
1. OLB/Edge Olivier Vernon 
When the Browns renegotiated Vernon's contract, they didn't just make him more affordable for Cleveland.
They made him more attractive to other teams, too.
Especially a team in dire need of a veteran presence who can pressure quarterbacks.
Of course, Vernon will be more attractive if he can stay on the field for the next few weeks.
Has #Browns Olivier Vernon ever made it through two games in a row?

— On-Air-Now (@wicwradio) October 16, 2020
Can the Browns afford to lose a proven edge rusher?
Adrian Clayborn might not have to juice to play too many more snaps.
But Porter Gustin and Joe Jackson proved they can hold the line, too.
Myles Garrett already draws extra attention on the other side, with or without Vernon.
The impressive play of the Browns inside linemen covers any tail off when Gustin or Jackson is on the field.
2. TE David Njoku
Don't be surprised if David Njoku sees more than a handful of targets this week.
Mayfield hasn't made much use out of his stable of tight ends, but Berry wants teams to know Njoku can still play.
Wide. Open.@David_Njoku80 | #CLEvsBAL pic.twitter.com/kiaYzRHLo9

— Cleveland Browns (@Browns) September 13, 2020
Rookie Harrison Bryant is way ahead of what is usually expected of rookie tight ends.
Cleveland's offense does not suffer when Bryant is lined up opposite Austin Hooper.
And Stephen Carlson showed some hands last season to go with his blocking skills.
Njoku is a pass receiving tight end on a team that demands blocking from everyone.
Teams in search of a receiving spark might offer Berry something for Njoku.
And after his agent change, trade demand, and retraction, a new locale might help Njoku reestablish himself.
3. S Andrew Sendejo
This candidate will know if he is likely to get traded or even let go.
Cleveland will almost have to secure a replacement before anything can happen to Andrew Sendejo.
Andrew Sendejo, Sheldrick Redwine and undrafted rookies Javonte Moffatt & Elijah Benton are the Browns' safeties for Sunday's game against Ben Roethlisberger, Juju Smith-Schuster, Chase Claypool and Eric Ebron. 😬

— Brent Sobleski (@brentsobleski) October 17, 2020
Sheldrick Redwine did a worthy job when forced to play last season.
The second-year player is also more of a centerfielder-type of free safety, which fans will consider an upgrade.
In fact, there is a fan-driven petition circulating demanding Sendejo be released.
Berry is undoubtedly listening to rumors and analyzing opponents' rosters looking for a solid veteran.
If he can upgrade the free safety position, expect him to listen to offers.
There are teams who could put Sendejo in a strong safety position he is more suited for.
Bonus Trade Candidates: Any Wide Receiver 
Should someone find themselves strapped for a wide receiver, Andrew Berry will entertain offers.
No, I don't believe Odell Beckham or Jarvis Landry are on the market.
Only an incident that forces Berry's hand would change that.
But the Browns have a couple of other veteran wide receivers who fill the bill as experienced, short term answers.
Touchdown Higgins! Bring out the red carpet.pic.twitter.com/wrQPXn0HbN

— Everything Cleveland (@EverythingCLE_) October 11, 2020
Taywan Taylor has shown enough flashes to warrant consideration for a starting role.
Rashard Higgins loves being in Cleveland, but this is a business.
The self-proclaimed end-zone magnet could draw interest from a receiver-needy team.
Assuming Khaderal Hodge's hamstring heals in time, the Browns could deal a backup away and keep rookie Donovan Peoples-Jones on the active roster.
Who else do you think should or might be traded away this season? Mention them in the comments below!