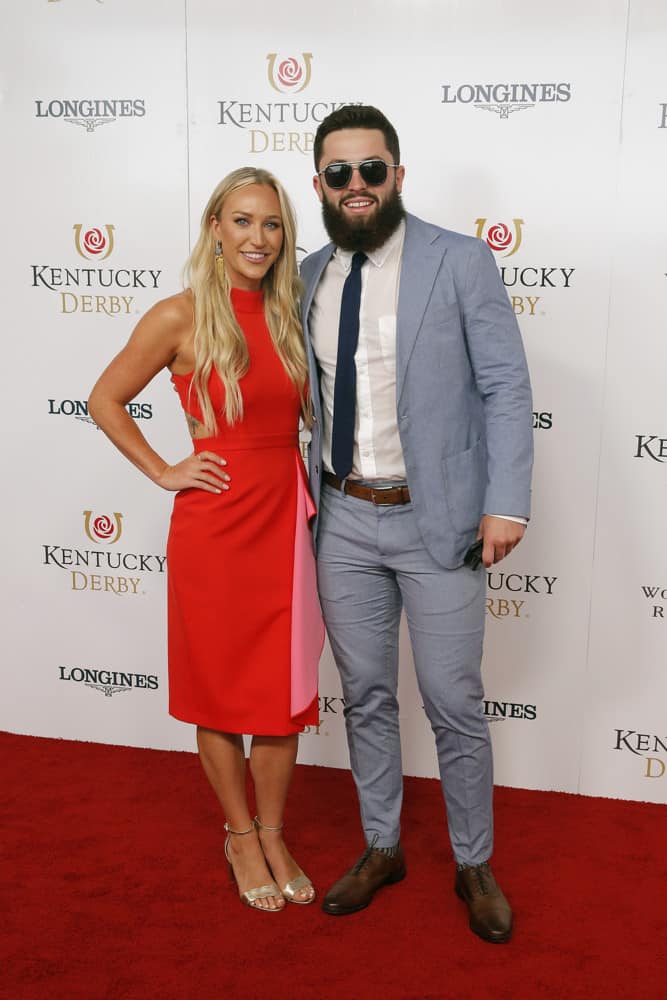 What a difference a year makes!
That statement rings true for Cleveland Browns quarterback Baker Mayfield.
His wife Emily has been known to take offseason pictures and share them on social media.
Recently she shared some beautiful beach pictures from the couple's vacation.
View this post on Instagram
The pair vacationed with friends in Cabo San Lucas, Mexico.
It appears to be an early 30th birthday celebration for Emily Mayfield who turns the big 3-0 on April 4.
View this post on Instagram

This vacation is just the latest newsworthy event for the Mayfields.
What Else Have The Mayfields Been Up To In 2021?
UFO Sighting
Earlier in the month, the couple thought they saw a UFO near their home in Texas.
Almost 100%, Em and I just saw a UFO drop straight out of the sky on our way home from dinner… we stopped and looked at each other and asked if either of us saw it… Very bright ball of light going straight down out of the sky towards Lake Travis. Anybody else witness this?

— Baker Mayfield (@bakermayfield) March 4, 2021
Greeting New Teammates
Baker is assuming more of a leadership role on the team, and that role is not limited to the offense.
Two of the Browns' defensive free agent acquisitions, Takk McKinley and Anthony Walker, said that Baker was the first player to reach out via text to welcome them to the Browns.
Lending His Name To A Baby
A fan made a desperate plea for Baker Mayfield to respond to his Tweet so that his wife would name their baby (if it is a boy) Baker.
Mayfield obliged.
Hopefully I'm not too late on this…

— Baker Mayfield (@bakermayfield) March 23, 2021
2020 Did Not Look Like This For Baker Mayfield
A year ago, Mayfield was spending quarantine time working out in his garage.
He was somber and serious.
His second season was a disappointment.
The pressure of the third season in the throes of a pandemic was imminent.
Many wondered which Baker would show up in 2020.
Would it be the 2018 rookie Baker who played well, or the 2019 Baker who threw too many interceptions?
We all know how the 2020 story turned out.
"THE BROWNS IS THE BROWNS!"

Baker Mayfield coming in hot

(via @Tall_inc)pic.twitter.com/vvrTpbYA8B

— SportsCenter (@SportsCenter) January 11, 2021
What's Ahead For Mayfield.
Baker Mayfield has to be pleased that Rashard Higgins will still be a Brown in 2021.
He must be thrilled that he has the NFL Coach of the Year, Kevin Stefanski, on his sideline.
He will not meet yet another new coaching staff and learn a new playbook for the first time in his career.
The offensive unit stayed largely intact and will be back together for hopefully a more typical preseason and training camp.
No wonder Baker Mayfield is smiling brightly in those vacation pictures.
The Browns are ascending, and whether people want to credit him or not, he is part of the reason for it.