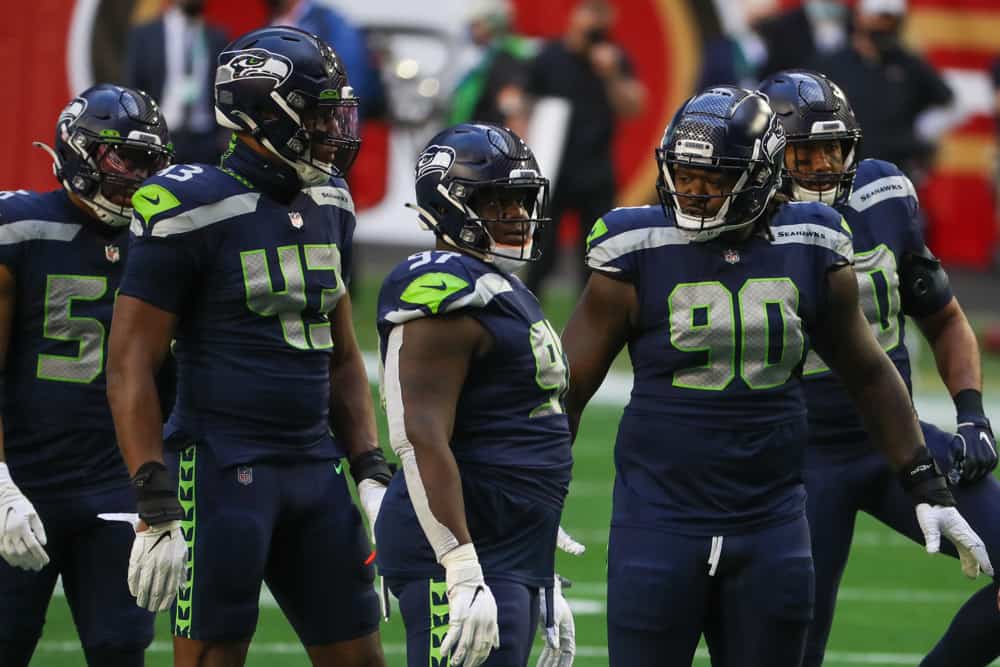 The Cleveland Browns offseason has already been productive, but they might not be done yet.
On Wednesday, the organization reportedly hosted three-time Pro Bowl defensive end Jadeveon Clowney.
The Browns are hosting Jadeveon Clowney on a free agent visit.

— Field Yates (@FieldYates) March 24, 2021
The Browns have already made some major improvements this offseason, but Clowney could be the cherry on top.
Last offseason, the Browns made a heavy push for Clowney, but he decided to sign elsewhere.
It appears the two sides have some interest again, but should the Browns sign Clowney or look elsewhere?
Clowney In Cleveland?
On paper, it makes sense that the Browns would pursue Clowney.
He is a high-profile player that in theory would fit in nicely alongside Myles Garrett.
However, the threat of injury is always there with Clowney, so that is a huge concern.
In fact, Clowney has only played one full 16-game during his professional career.
The injuries continue to pile up for Clowney and he continues to demand a significant salary.
Last season, he finished with 19 tackles and four passes defended in eight games with the Tennessee Titans.
In November, Clowney underwent surgery to repair a left meniscus injury.
When healthy, Clowney has shown he can make a significant impact with 32 career sacks.
The 28-year-old has plenty of upside, but is he really worth the risk?
Other Options
There are still a handful of decent options left in free agency, but the Browns need an impact player.
Many of the defensive ends left on the open market are part-time players or someone who isn't going to make a game-changing contribution.
Honestly, the best options available are probably Clowney, Carlos Dunlap, and Aldon Smith.
Clearly, the Browns are showing interest in Clowney, but they should really take a closer look at Dunlap.
The 32-year-old might be the safest route with Clowney always having injury problems.
.@Carlos_Dunlap SACK ON KYLER MURRAY TO END THE GAME!!!#AZvsSEA: https://t.co/2cxHPcAjwx pic.twitter.com/QKGyn24UJz

— Seattle Seahawks (@Seahawks) November 20, 2020
Last season, Dunlap recorded 32 tackles, six sacks, and four passes defended in 15 games between the Bengals and Seahawks.
A majority of Dunlap's career was spent in Cincinnati before he grew frustrated with his part-time role on the team last year.
He is a two-time Pro Bowl player who has accomplished quite a lot during his career in the NFL.
Dunlap has over 500 tackles and is getting close to the 100-mark in sacks.
It's also worth noting that Dunlap has played basically every game since the 2013 season.
Clowney or Dunlap?
Clowney is a former No. 1 overall pick and came into the league with enormous expectations.
Sadly, he is never going to be able to live up to the hype of being drafted that high.
The injuries have taken a toll on his body and his numbers have been declining over the last few seasons.
Honestly, both Clowney and Dunlap have similar numbers, but one has been more consistent than the other.
Carlos Dunlap is a human forklift. pic.twitter.com/TzpyR3disl

— Daniel Jeremiah (@MoveTheSticks) December 28, 2020
Dunlap has recorded six sacks or more in every season since 2012.
He even put together an impressive 13.5-sack season with the Bengals earlier in his career.
The Browns would be smart to sign Dunlap to a one-year deal worth around $8-10 million.
He isn't the type of player that is going to demand a massive contract, unlike Clowney.
Clowney would be more money for similar production and a much larger threat of getting injured.
Hopefully, Andrew Berry and the front office will make the right decision.