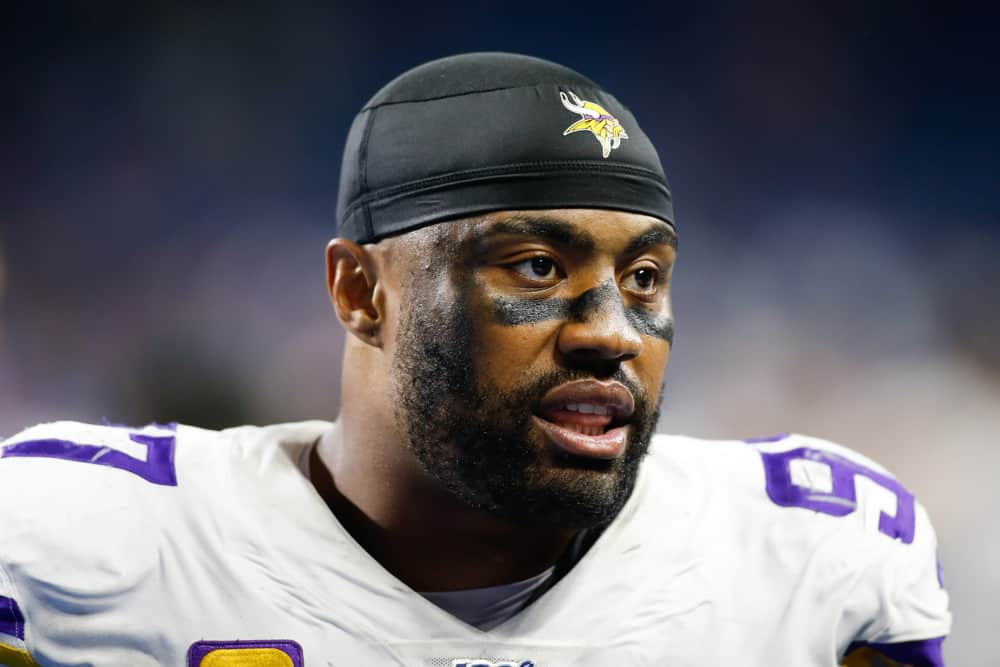 The offseason has gone surprisingly well for the Cleveland Browns thus far.
However, they might not be done adding as the Jadeveon Clowney rumors continue to heat up.
While Clowney would be a solid addition, it appears the Browns are also interested in defensive end Everson Griffen.
The four-time Pro Bowl pass rusher remains one of the top free agents left available alongside Clowney.
Both players are possible options for Cleveland, but Griffen sounds like the safer bet for the organization right now.
Everson Griffen with the spin move sack.@eversongriffen sells speed upfield, takes a great rush angle & uses the inside arm to measure off before executing the spin. The "icepick" finish allows Griffen to clear the blocker at the end of the move! #passrush #sacksandstats pic.twitter.com/XSO27uOPKm

— DLineVids (@dlinevids1) June 1, 2020
Could The Browns Land Griffen?
The Browns still have a reasonable amount of cap space left after their moves earlier in the offseason.
Griffen is unlikely to demand a massive contract since he will be 33 entering this season.
Cleveland should be able to come to a short-term agreement with Griffen, assuming both sides are interested.
However, the biggest thing for Griffen is that he would like to visit teams in person before making his decision, according to Chad Graff of The Athletic.
This was not possible before due to restrictions, but will hopefully be something that is possible soon.
With the restrictions beginning to be loosened, Terry Pluto of cleveland.com anticipated things to start heating up between the Browns and Griffen.
"The Browns value defensive linemen far above linebackers when it comes to spending," Pluto wrote. "Keep an eye on Griffen."
The Browns having former Vikings offensive coordinator Kevin Stefanski as their new head coach might give Cleveland an edge in the sweepstakes for Griffen.
At this point in free agency, it seems more likely that the Browns sign Griffen than getting Clowney.
Griffen's NFL Career
The 32-year-old defensive end has established himself as a reliable option in the NFL.
He has played his entire 10-year career with the Minnesota Vikings before opting out this offseason.
It seemed likely that the Vikings would cut Griffen for cap space, so he decided to opt out himself.
Last season, Griffen recorded 41 tackles, 24 quarterback hits, and eight sacks through 15 games.
Over the course of his career he has recorded 355 tackles, 176 quarterbacks hits, and 74.5 sacks through 147 games (88 starts) all with the Vikings.
It is quite surprising that Griffen has been unable to find a new team yet, but there is still plenty of time before the season begins.
Does Griffen Fit On The Browns? 
On paper, the Browns front-four on their defensive line is already stacked.
Cleveland is desperate for help at the linebacker spot, but Griffen hasn't played that position since 2012.
The most likely scenario would be that Cleveland cuts Olivier Vernon when they sign Griffen or Clowney.
From our breaking news segment: The #Browns and #Giants made a big-time trade. Olivier Vernon to Cleveland; Kevin Zeitler to New York … and it actually helps both teams. pic.twitter.com/MJwGFiF33d

— Ian Rapoport (@RapSheet) March 8, 2019
The Browns acquired Vernon from the New York Giants in 2019.
He recorded 26 tackles, 11 quarterback hits, and 3.5 sacks through 10 games last season.
Vernon was limited due to a knee injury, but is owed $15.2 million for the 2020 campaign.
His money is not guaranteed until a week before the regular season.
It appears that Vernon would be the odd man out, assuming the Browns are able to sign Griffen or Clowney this offseason.
Should the Browns Sign Griffen?
Yes, Vernon did not have a great season in 2019, but he was injured for part of the year.
He is expected to bounce back, but Vernon has not played a full season since the 2016 campaign.
It'll likely come down to who the Browns trust more to stay healthy and contribute to their team.
It sounds like Griffen is the safer bet, but it will depend on what type of deal he's asking for in free agency.