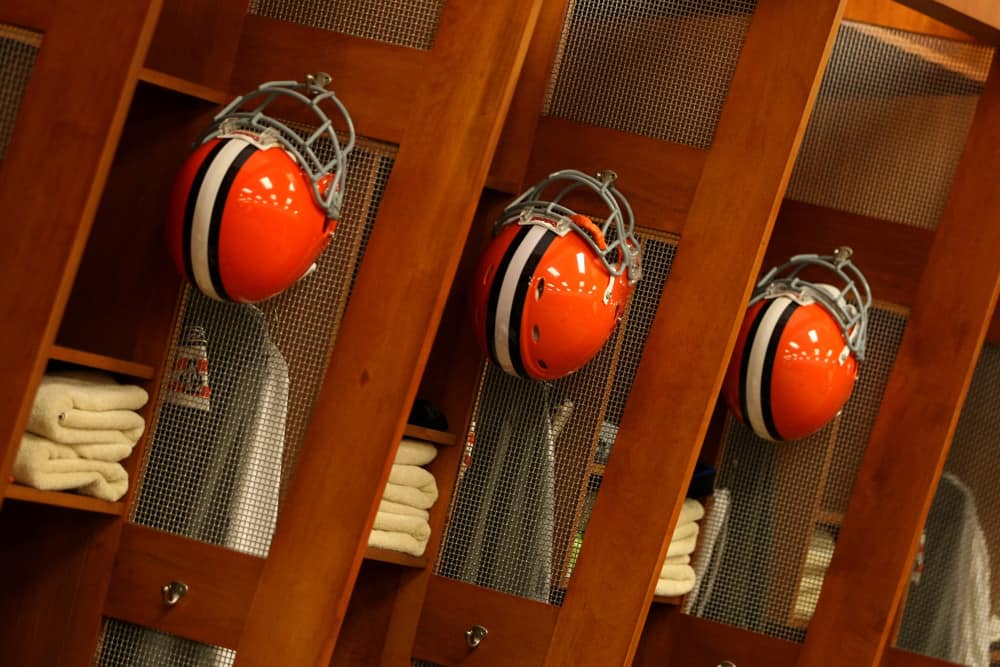 The Cleveland Browns have spent the offseason revamping their organization after a disappointing 2019 campaign.
On paper, the Browns appear ready for a playoff run, but that's what a majority of experts thought last year.
The organization could look to trade a few players and reshape their team if things don't go well for them in 2020.
That wouldn't mean a full rebuild, but there are some players on the roster that have decent value without long-term futures on the team.
Which players are expendable for Cleveland if they decide to move some pieces?
1. Kareem Hunt
The Browns signed running back Kareem Hunt in 2019 after he was cut by the Kansas City Chiefs.
He was suspended during the beginning of last season and only saw eight games of action.
The 24-year-old back has already been to the Pro Bowl through his first three years in the league.
There are some off-field issues that are troubling, but hopefully those are behind Hunt now.
Kareem Hunt will sign his second-round tender and return to the Browns, per @RapSheet pic.twitter.com/DJotoFsuL8

— B/R Gridiron (@brgridiron) April 17, 2020
The Browns saw some promising things from Hunt last season and decided to give him another shot.
Hunt has already rushed for 2,330 yards with 17 touchdowns through 35 games in his career.
The bad news is, Hunt is on a one-year deal and is due a significant pay raise soon.
The Browns already have Nick Chubb who proved he's one of the best running backs in the league last year.
Chubb is set to hit the free-agent market after the 2021-2022 campaign.
Cleveland is unlikely willing to pay big money to two running backs that close together.
Chubb has a higher upside, so the Browns are expected to pick him over Hunt.
Kareem Hunt is a DAWG pic.twitter.com/E8foxSzOj4

— Athlete Tweets 🔥➐ (@AthleteTweetts) March 24, 2020
The Browns could get a fairly significant return for a player such as Hunt.
Having both players long-term would be great, but Hunt is the type of running back that deserves a starting role somewhere.
Cleveland won't be able to offer him a huge role with Chubb in town, so trading him is better than hindering their payroll and capping Hunt's potential.
2. Olivier Vernon
The Browns acquired defensive end Olivier Vernon in trade with the New York Giants in 2019.
His first year in Cleveland did not go quite as planned for Vernon.
He recorded 26 tackles, 11 quarterback hits, and 3.5 sacks through 10 games.
Vernon suffered a knee issue that limited him to 10 games, which is why his stats suffered last season.
The 29-year-old is expected to bounce back since he has put together fairly reliable numbers throughout his eight-year career.
Olivier Vernon forces it out and Devaroe Lawrence (HBD!) jumps on it! pic.twitter.com/j8yezHeyii

— Cleveland Browns (@Browns) October 13, 2019
Sadly for Cleveland, Vernon is due a base salary of $15.2 million for the 2020 season.
His contract gives the Browns a $15.5 million cap hit, so moving him would give Cleveland some relief.
In the scenario where the Browns aren't contending, moving Vernon would make sense.
His one-year deal is likely too expensive to re-sign during the offseason.
The veteran defensive end Adrian Clayborn is a reliable option who could offer the Browns relief, assuming Vernon gets moved.
The Browns probably won't get much in return for Vernon, but trading him would give the team some salary help.
3. Terrance Mitchell
Things have gone fairly well for defensive back Terrance Mitchell since he joined the Browns.
He's recorded 59 tackles, two fumbles forced, and two interceptions through 23 games in Cleveland.
However, he has quickly fallen on the depth chart over the last season.
Both Greedy Williams and Denzel Ward have proven themselves to be reliable starting options going forward.
The 28-year-old is going to be mainly used as a rotational player or reserve option for Cleveland.
Our 🏈!

Terrance Mitchell forces it out and Jermaine Whitehead jumps on it 💪 pic.twitter.com/fRmem6xHKS

— Cleveland Browns (@Browns) August 9, 2019
Mitchell has been a useful option for Cleveland, but doesn't appear to have a long-term future with the Browns.
He is set to be a free agent after the upcoming season with a $3.6 million cap salary hit at the moment.
The Browns have depth at defensive back, so moving Mitchell won't hurt the Browns defense too much.
Mitchell is due a decent pay raise and the Browns shouldn't feel obligated to pay him for a long-term deal.
The starting spots at defensive back are already spoken for in Cleveland, so Mitchell is someone who could be moved if the season goes south.