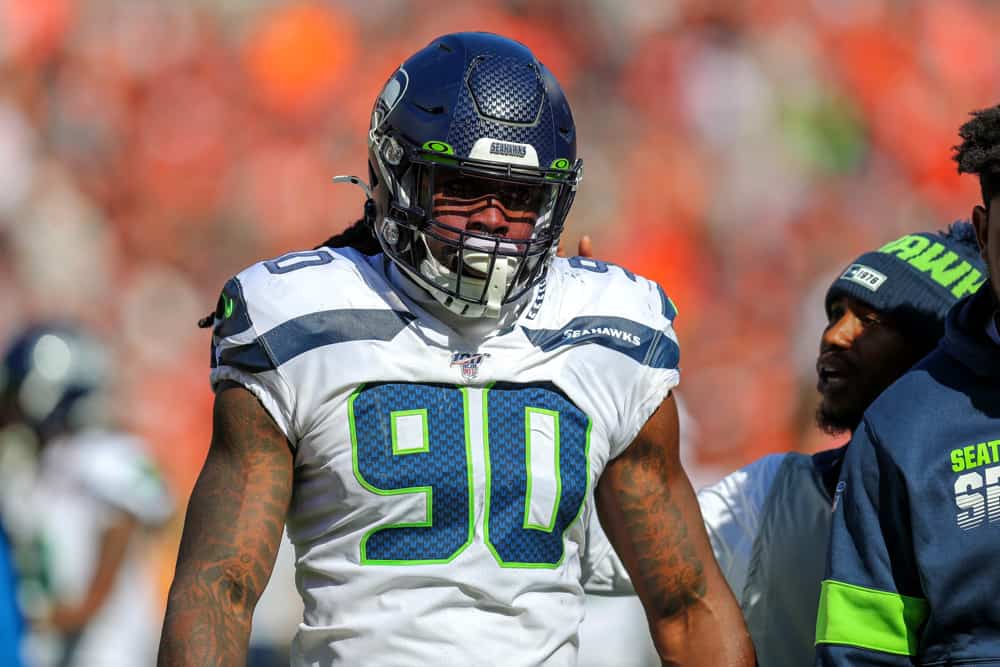 Training camp is just around the corner, but three-time Pro Bowl defensive end Jadeveon Clowney remains available in free agency.
The former first-round pick from the 2014 NFL Draft was reportedly looking for a deal in the neighborhood of $20 million a season.
The Cleveland Browns have been heavily rumored to have interest in Clowney.
According to Jason La Canfora of CBSSports.com, Clowney recently turned down a lucrative offer from the Browns.
"The word throughout the agent community is that the reportedly "super lucrative" deal he turned down from the Cleveland Browns would have been worth $12M at its base. That's a far cry from the over $20M a year Clowney initially wanted on a long-term deal. It's also well below the $16.8M franchise tag that fellow edge defender Matthew Judon just signed with the Ravens last week. It's not even close, actually."
It is rumored to be the biggest offer that Clowney has received throughout the offseason.
However, he decided to reject the Browns offer and wait it out in free agency.
Are the Browns still interested in Clowney or will they moved on?
Clowney's NFL Career
The Houston Texans selected Clowney with the first overall pick during the 2014 draft.
He only played in four games his rookie season and missed the rest of the year due to a knee injury.
Clowney has come back from the injury and put together five straight successful seasons.
His best season in the NFL was arguably in 2017 when he recorded 59 tackles, 21 quarterback hits, and 9.5 sacks through 16 games.
Jadeveon Clowney's Career Stats

• 6 Seasons (75 Games)
• 236 Tackles
• 80 QB Hits, 71 TFL
• 32 Sacks
• 14 PD, 1 INT
• 8 FF, 8 FR
• 4 Touchdowns
• 3x Pro Bowler, 1x All-Pro pic.twitter.com/jyGVWO95U1

— NFL Stats (@NFL_Stats) April 11, 2020
When Clowney was traded to the Seattle Seahawks in 2019, he made the organization promise not to franchise tag him for a second consecutive season.
He's coming off a down year in 2019, so maybe he wishes that he didn't make that request.
Clowney recorded 31 tackles, four fumbles forced, and three sacks through 13 games in 2019.
He has a solid track record, but it is not surprising to see organizations unwilling to offer him big money after his performance last season.
Do the Browns Need Clowney?
The Browns are not in need of anymore starters on the defensive line.
They have superstar Myles Garrett who is coming back after being limited to 10 games last season due to a suspension.
Cleveland still has Olivier Vernon under contract for one more season, but he's looking to rebound after last season.
The organization also has Larry Ogunjobi and Sheldon Richardson at the defensive tackle spots.
Both players are coming off fairly strong years, so Cleveland shouldn't be looking to upgrade on their defensive line.
However, Clowney has played plenty of linebacker throughout his career.
Defensive End. Linebacker. Whatever you want to call him.

Jadeveon Clowney is an athletic freak.

— Pro Football Network (@PFN365) September 29, 2019
The Browns are in desperate need of help at the linebacker spot.
Mack Wilson is the only projected starting linebacker who can be considered reliable.
At the moment, the linebacker position is arguably the weakest area for the Browns right now.
Should The Browns Give Up On Clowney?
Having a talent like Clowney on the Browns roster would be great, but it doesn't sound too promising.
It appears Cleveland made the biggest offer yet and Clowney still turned it down.
It's unknown whether or not if the deal was a one-year offer or multiple seasons.
It's unlikely that Clowney is going to land anything near the $20 million that he was asking for when free agency began.
The Browns could use an upgrade at linebacker, but shouldn't break the bank for Clowney.
Cleveland has decent cap space, but needs to be cautious about where they spend their money.
They have some superstar players like Garrett, Nick Chubb, and Baker Mayfield who need extensions soon.
The Browns should wait it out and see if Clowney changes his mind, but not overpay for him.