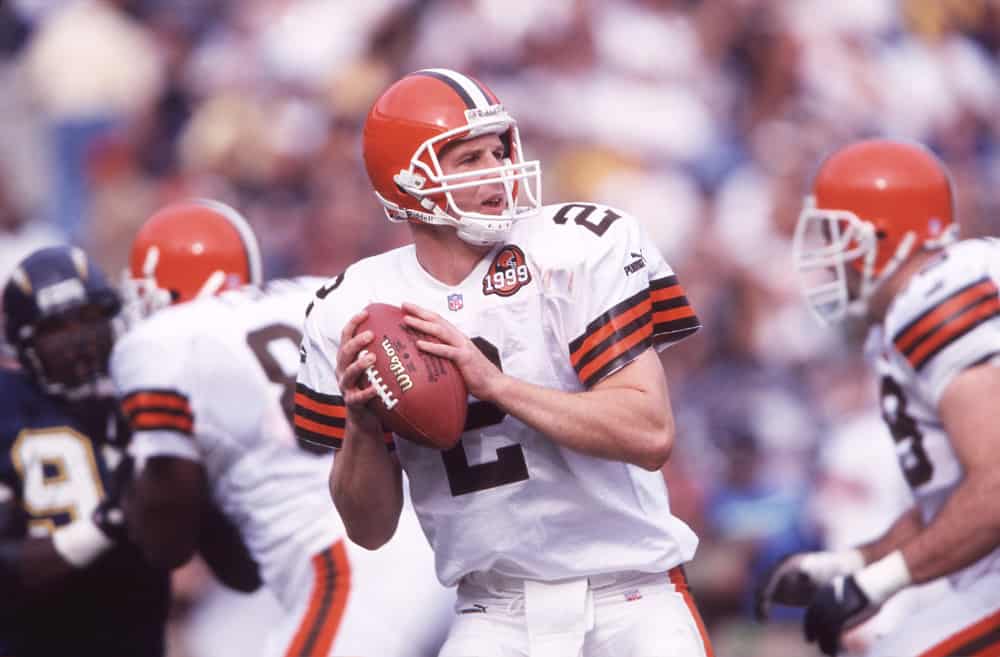 The Cleveland Browns have been through a lot in their history.
That includes three years of inactivities, with former owner Art Modell deciding to relocate the team to Baltimore in 1995.
Following months of negotiations, Modell agreed to leave the Browns' logo, history, and colors available for a potential reactivation of the franchise while he took his personnel, staff, and money to Baltimore to create the Baltimore Ravens.
Then, in 1999, the team was finally back into play and in the NFL Draft.
Notably, the Browns were entitled to the first-overall pick, which they used to get QB Tim Couch, who was supposed to be a superstar out of Kentucky.
Not only was that not the case, but it was the start of a bit of a curse for the organization, as they've had 34 different starting quarterbacks ever since.
On This Day in 1999: The #Browns returned to the Draft after departing from the NFL following the 1995 season.

Cleveland selected QB Tim Couch with the 1st overall pick.

From 1999 through the end of the 2022 season, the Browns have had 34 different starting QBs. pic.twitter.com/GFRxRZQkqy

— Dov Kleiman (@NFL_DovKleiman) April 17, 2023
April 17th marks the anniversary of that day, and plenty of Browns fans took to Twitter to react to the start of the curse.
He was also the last Kentucky QB to be drafted in the first round.

— Ya boi (@Yaboi07035155) April 17, 2023
Brutal organization. Great fans.

— RCS19 (@bstrawb01) April 17, 2023
The destroyer of QBS…..

— Silver-N-Black☠️ (@Nichola17293501) April 17, 2023
And that is why DeShaun Watson has a fully guaranteed contract. The best QB they had in forever. https://t.co/Gra4PZA6Nz

— Dont_Be_So_Thirsty! (@m3nac324) April 17, 2023
Thanks Dov https://t.co/SDDR9pXSft

— Ken Francis (@TheKardiac_Kid) April 17, 2023
The Browns have had the aforementioned Tim Couch, Ty Detmer, Doug Pederson, Spergon Wynn, Kelly Holcomb, Jeff Garcia, Luke McCown, Trent Dilfer, Charlie Frye, Derek Anderson, Brady Quinn, Ken Dorsey, Bruce Gardkowski, Colt McCoy, Jake Delhomme, Seneca Wallace, Brandon Weeden, Thad Lewis, Jason Campbell, Brian Hoyer, Johnny Manziel, Connor Shaw, Josh McCown, Austin Davis, Cody Kessler, Robert Griffin III, DeShone Kizer, Kevin Hogan, Baker Mayfield, Tyrod Taylor, Case Keenum, Nick Mullens, Jacoby Brissett, and now Deshaun Watson start for them.
Hopefully, Watson will give the team some sort of stability, as the fans have been through enough already.