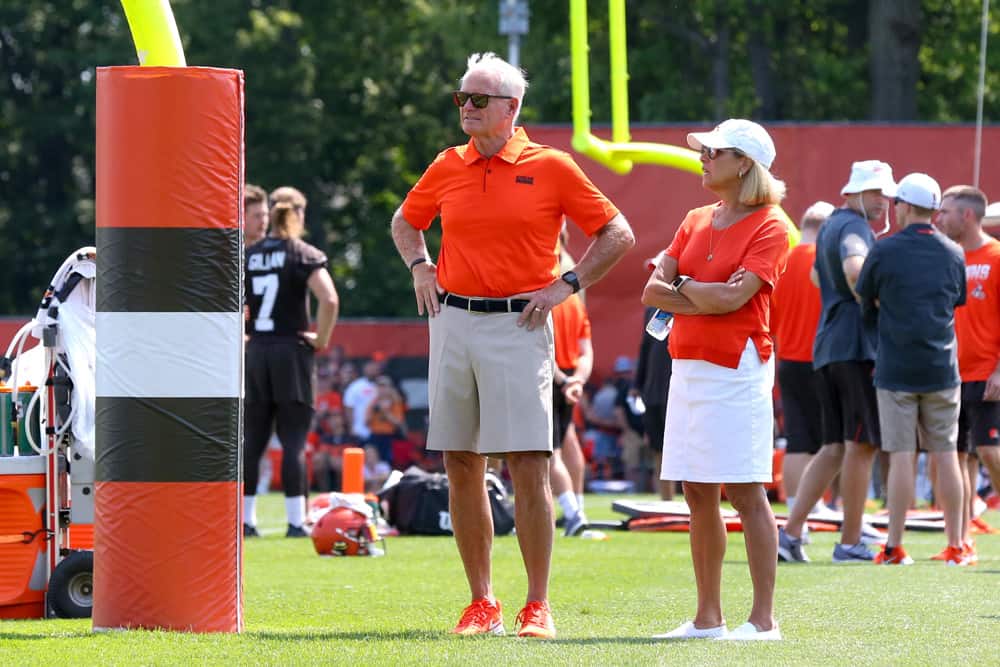 Cleveland Browns fans already have plenty on their plate with the NFL Draft and the season just around the corner.
But it seems like they'll now also have to pay attention to what's going on in the NBA, more specifically with the Milwaukee Bucks.
According to Shams Charania of The Athletic, Milwaukee Bucks co-owner Marc Lasry has finally sold his 25% ownership stake to Jimmy Haslam and Haslam Sports Group.
Milwaukee Bucks co-owner Marc Lasry is completing the sale of his Bucks stake to Cleveland Browns owner Jimmy Haslam and Haslam Sports Group for a $3.5 billion valuation on Friday, sources tell me and @eric_nehm. https://t.co/JLPL3lQD1t

— Shams Charania (@ShamsCharania) April 14, 2023
Haslam also owns the Browns and the Columbus Crew of the MLS, and he's been involved in team ownership since 2008.
Now, Haslam will join the ownership group alongside fellow co-owner Wes Edens.
Notably, fans weren't all that excited to hear the news, as they don't want the Bucks to struggle for as long as the Browns have.
Bucks Fans: pic.twitter.com/kHJnRaII0X

— eli (@_EZE23) April 14, 2023
I'm so sorry Bucks fans

— Daniel Corrigan (@Corrigan_Tweets) April 14, 2023
Owners owning stakes in multiple teams just didn't sit right with me lol

— BIG DRIZZ 🌐 (@Drizz_TH) April 14, 2023
bucks owned by the browns owner? this confirms they no longer winning a ring

— CaptainMB (@capnyuji) April 14, 2023
Breaking news: Giannis out of the 2nd round series for unknown reasons!

— LeMon SZN 🍋 (@71emonszn) April 14, 2023
Even so, Haslam's presence is unlikely to affect the Bucks' current roster in any way.
They're built to contend for years to come, and that won't change for as long as Giannis Antetokounmpo is healthy and on the floor.
As for the Browns, this new endeavor might drive Haslam's attention slightly away from their prized franchise, and that couldn't come at a worse possible time.
With all the speculation and rumors of a potential new stadium, Browns fans might want Haslam to be entirely focused on the team, so we'll have to wait and see how this situation unfolds.