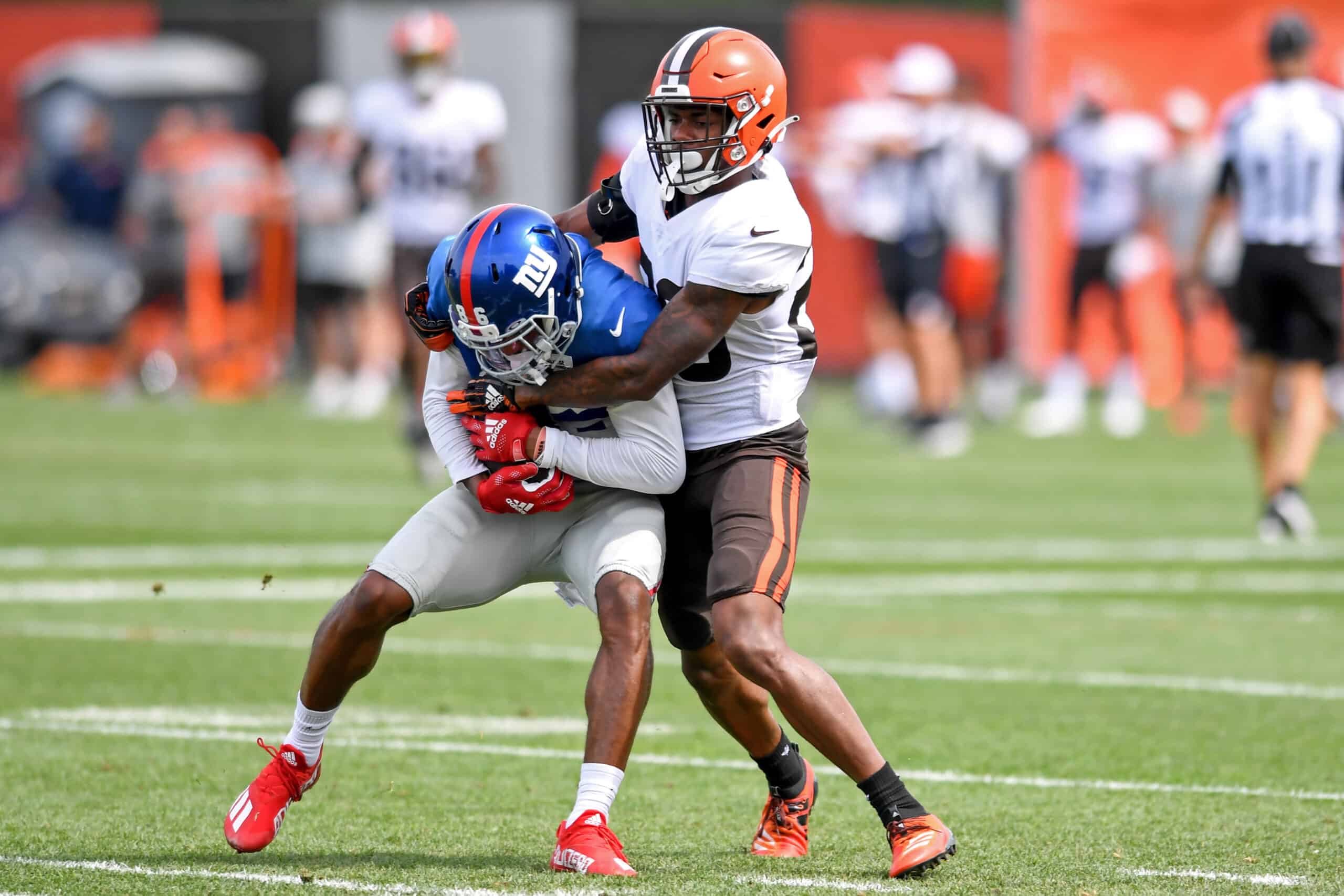 In what has become a consistent trend for many NFL teams in the preseason, the New York Giants are reportedly sitting their starters including quarterback Daniel Jones in their second preseason game against the Cleveland Browns.
The #Giants will not play QB Daniel Jones or most of their starters, including the offensive line, in their preseason game Sunday vs. Cleveland. This after they got in a good week of work during joint practices with the #Browns.

— Jordan Raanan (@JordanRaanan) August 22, 2021
Jones did not play in the preseason opener against the New York Jets so he has yet to take a preseason game snap.
Cleveland Browns quarterback Baker Mayfield and most of the Browns starters have not either.
With a 17 game regular season ahead, both teams are resting and protecting the health of their starting players.
Preseason injuries are not uncommon.
Quarterbacks can get shaken up.
Chicago's Justin Fields did yesterday in the Bears preseason game against the Bills.
Justin Fields: The NFL actually seemed kinda sl…. pic.twitter.com/zfjMCahB54

— Malcolm Hart (@MrHart__) August 21, 2021
Even though fans may not appreciate not seeing their favorite players in action, it is a prudent one.
As a result, today's game between the Giants and the Browns will be noteworthy for other reasons.
1. Young Players Will Get Valuable Playing Time
The second set of roster cuts is expected on Tuesday, August 24.
Five additional players will be cut from each NFL team.
That leads up to the massive cut happening on Tuesday, August 31.
#NFL Roster Cut Schedule

Down to 85: 8/17 (4PM ET)
Down to 80: 8/24 (4PM ET)
Down to 53: 8/31 (4PM ET)
Final Cut Waiver Claim Deadline: 9/1 (4PM ET)
Practice Squads: 9/1 4:01PM ET

— Spotrac (@spotrac) August 13, 2021
Allowing players on the bubble to play in preseason games is vital for their future development as well as the shaping of each team's roster.
2. FirstEnergy Stadium Will Be At Full Capacity
During the 2020 season, the COVID-19 pandemic limited spectators to 12,000.
While the Dawg Pound is always a spirited place, at capacity (approximately 67,000) it will be rocking.
We're excited to welcome back fans to a full, enhanced FirstEnergy Stadium!

📰 » https://t.co/MS4WtbEIoM pic.twitter.com/m9wpusAU6N

— Cleveland Browns (@Browns) August 20, 2021
3. First Time We See Teams Post Fight
Giants wide receiver Sterling Shepard and Browns cornerback Troy Hill will not be in the game, but the Friday end-of-practice fight was the last time the teams were publicly seen together.
A look at the end of the fight after the Browns and Giants finished up practice. #Browns https://t.co/dDLoMCdotT

— Hayden Grove (@H_Grove) August 20, 2021
What provoked the fight remains a mystery.
Curious minds want to know.
Maybe in the post game press conferences, we will get more information from the head coaches if asked by reporters.
Watch the Giants vs. Browns preseason game at 1 PM EDT today.