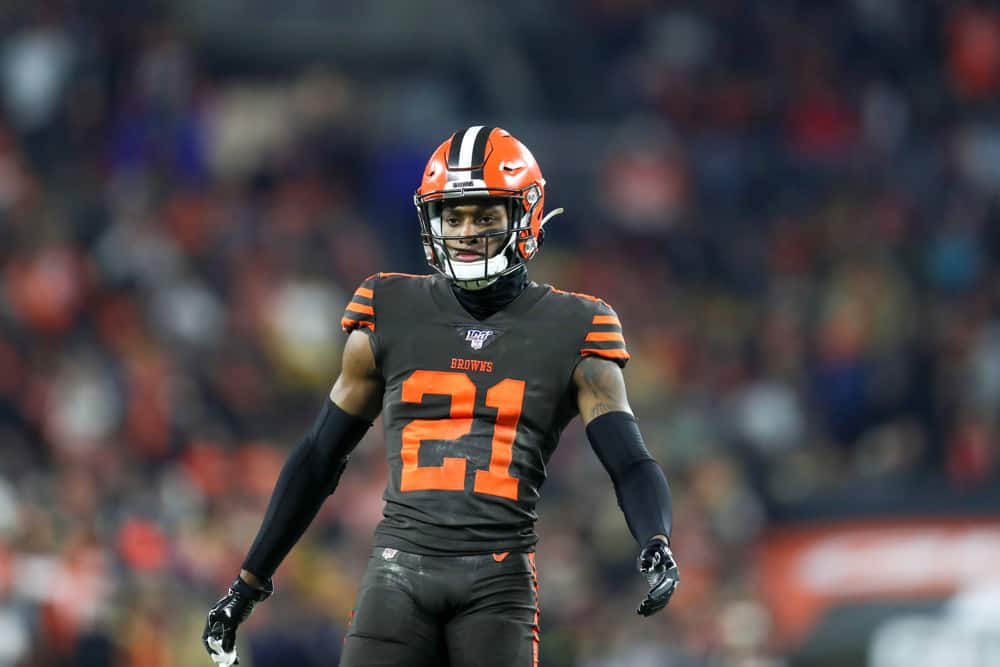 Fourth-year cornerback Denzel Ward had a successful season.
His playmaking abilities kept the Cleveland Browns competitive in big games this season.
To give Ward an overall grade, let's take a look at what went well and did not go well for him in 2021.
What He Did Well
1. He Stayed Healthy
The first thing that went well for Ward in 2021 was his overall durability.
Before 2021, he missed between three or four games each of his first three seasons.
Ward missed only two games in 2021.
The first was in Week 8 against the Pittsburgh Steelers on Halloween when he was dealing with a hamstring injury.
Ward also missed the season finale against the Cincinnati Bengals because he had COVID-19.
2. He Made Big Plays
Ward is becoming even more dominant and confident in his position.
He made a key 4th down tackle in the Week 14 game against the Baltimore Ravens that sealed the victory for the Browns.
Had he not made that play, the Ravens could have gotten into Justin Tucker's territory and clinched the game with a buzzer-beater field goal.
Denzel Ward with the stop on 4th down. Cleveland will survive. #Browns win 24-22. Improve to 7-6. Ravens fall to 8-5. First win against Baltimore for Kevin Stefanski as Head Coach.

— Eddie Kilroy (@eddiekilroyjr) December 12, 2021
Ward had three interceptions this season against Baltimore, Cincinnati, and Detroit.
Lamar Jackson threw 3⃣ interceptions in the first half, yet the Ravens lead the Browns 6-3 🤷‍♂️

Ravens -1.5 (1H) 💵
Under 23.5 pts (1H) 💵
Denzel Ward to record an INT (+515) 💵#Browns | #RavensFlock pic.twitter.com/iViRFHOcEG

— TwinSpires Sportsbook 💵 (@TS_Sportsbook) November 29, 2021
The 100 yard Pick 6 off of Joe Burrow will be on Ward's career highlight reel.
Denzel Ward picks off Joe Burrow and takes it all the way to the house. pic.twitter.com/5n07LfkeOb

— Eleven Warriors (@11W) November 7, 2021
3. He Earned Individual Honors
Ward was named to his second Pro Bowl in four seasons.
His first was in his rookie year of 2018.
He was one of five Browns players named to the Pro Bowl this season.
Congratulations to

Myles Garrett
Denzel Ward
Nick Chubb
Joel Bitonio
Wyatt Teller

For making the Pro Bowl! Cleveland couldn't ask for better people to represent our great city! pic.twitter.com/OLLVLmxRZy

— Nick Karns (@karnsies817) December 23, 2021
Though not an on-the-field honor, Ward was named the Browns Walter Payton Man Of The Year, a prestigious honor that speaks to his character and community service initiatives with his family and their charity called Make Them Know Your Name.
#Browns presented cornerback Denzel Ward with their Walter Payton Man of the Year Award minutes ago on the field at FirstEnergy Stadium pic.twitter.com/Zih6TK9Bxq

— Nate Ulrich (@ByNateUlrich) December 12, 2021
4. His Tackling Improved
Ward has definitely worked on his tackling.
That was obvious throughout the season, and his Pro Football Focus tackling grades prove it also.
He earned 66.9, 45.2, and 50.4 in his previous seasons.
Through Week 14 of 2021, he was ranked at 89.1.
What Did Not Go Well
Obviously, Ward is not perfect.
He has gotten beaten on plays most notably the missed tackle against Las Vegas Raiders tight end Foster Moreau that allowed him to get out of bounds and continue the Raiders late drive that ultimately won the game with a Daniel Carlson field goal.
Great throw and great catch. One of the few times Denzel Ward gets beat and that one hurt.

— Radagast the Brown (@EvilKoopa91) December 20, 2021
DANIEL CARLSON FOR THE WIN! 💥

(via @NFL) pic.twitter.com/F2c0PmEEtE

— SportsCenter (@SportsCenter) December 21, 2021
Ward's Grade Is An A-
There were missed plays, but in general, Denzel Ward made the plays when he was on the field.
Often, they were big game-saving or game-winning efforts.
He had 34 solo tackles, the 3 aforementioned interceptions, his first .5 sack in the NFL, 2 quarterback hits, and 1 tackle for a loss.
Pay Ward Now
The Browns exercised his fifth-year option for the 2022 season, but they would be wise to negotiate Ward's extension before the season.
If he has another Pro Bowl year, his price is just going to climb higher.
Ward is an Ohio native who went to Ohio State.
#Browns CB Denzel Ward: "Perfect world, I'd definitely want to be a Brown for the rest of my career. I'm from Cleveland. They drafted me. I enjoy being a Cleveland Brown and giving them everything I've got."

— Keith Britton (@KeithBritton86) June 15, 2021
He has said he would like to play his entire career with the Browns so the Browns need to do their part to keep him in the orange and brown for years to come.