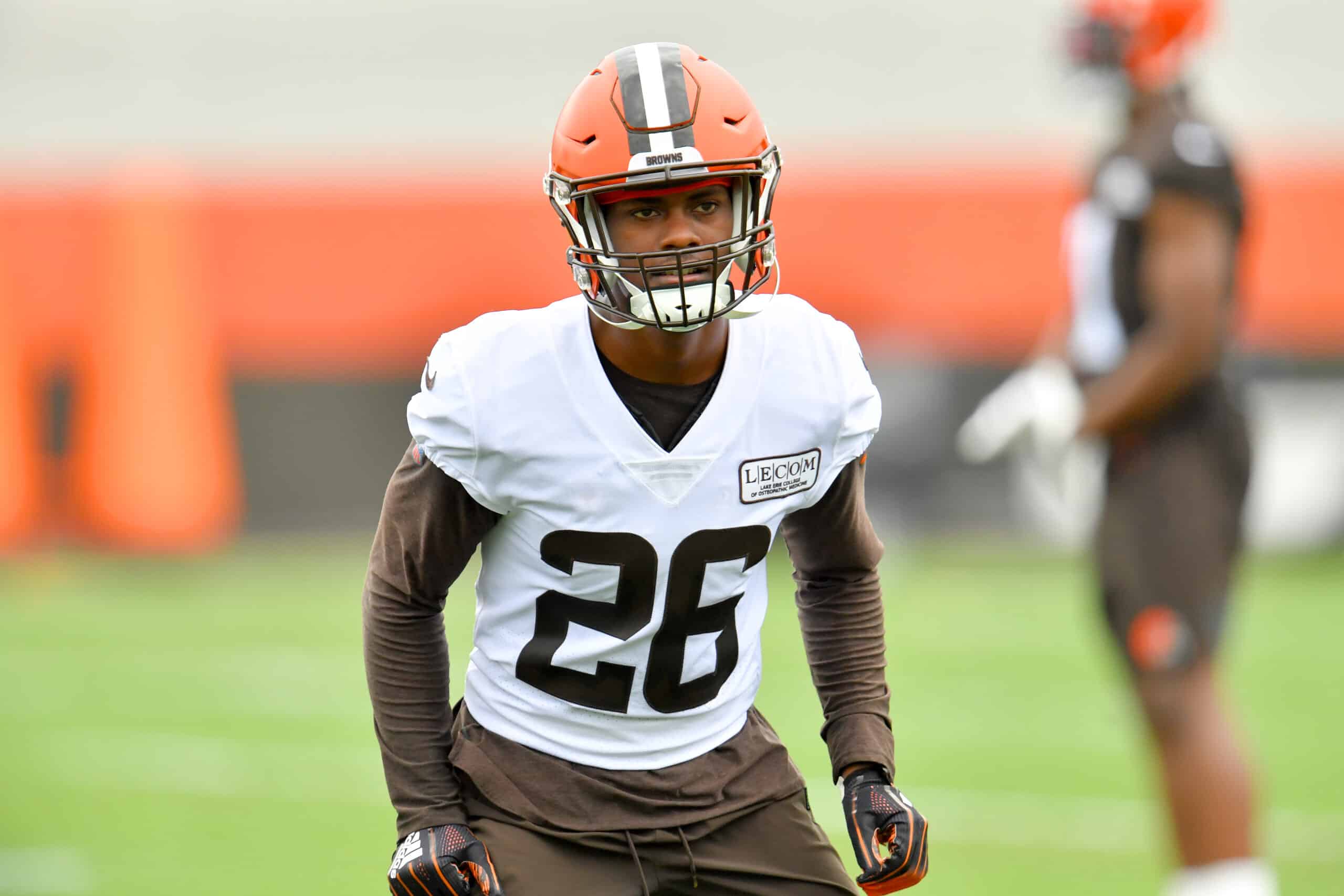 "It's a hot one!" is the phrase uttered by just about every middle-aged dad on a scorching summer day.
Mowing the backyard in temperatures over 80 degrees is one thing.
Having to go through NFL training camp in that kind of warmth will take a toll on anyone in a hurry.
For Cleveland Browns cornerback Greedy Williams, day one of the heat was quite the challenge.
Wednesday afternoon, Williams walked off the field as he was no longer able to battle the heat.
#Browns CB Greedy Williams walked off due to heat-related issues today. Expected to be OK.

— Tom Withers (@twithersAP) July 28, 2021
Dog Days of Summer
As those who played at any level from high school and above, summer workouts and practices can be brutal.
Sweat is dripping, coaches are yelling, the sun beats directly down, and exhaustion sets in quickly.
Water becomes everyone's best friend after an hour.
Greedy isn't someone who can just coast through these sessions either.
He hasn't proven anything at the NFL level yet.
Drafting Greg Newsome II made it clear the front office wanted a solidified piece lined up opposite of Denzel Ward.
Williams, who missed all of 2020 with a shoulder injury, was hoping to be the guy last year.
With more competition in camp this time around, a starting spot for Greedy is far from guaranteed.
We should be seeing Greedy back at it this week, however, as the corner took to social media on Wednesday to let everyone know he was ok.
Trainers just said I look suspicious so they pulled me lol 🤦🏾‍♂️ I feel great and excited to be back out there 🥳

— Greedy Williams ™️ (@Greedy) July 28, 2021
Tough Day One
If the heat wasn't bad enough for Greedy, the receivers were giving him fits in training camp as well.
Multiple tweets confirmed one play where he was beaten bad by rookie Anthony Schwartz on a deep ball place nicely by Baker Mayfield.
Baker just hit Schwartz on a bomb past Greedy Williams 👀 #Browns

— Hayden Grove (@H_Grove) July 28, 2021
Again, it's just the first day of training camp and Greedy has missed a ton of action over the past year.
It will likely take him awhile to get back up to speed with the rest of the defense that is hoping to be much improved in 2021.
With NFL offenses so dominant with their passing games anymore, being a respected corner is easier said than done.
Guys like Tyreek Hill can burn you with speed.
Then there's the D.K. Metcalf's and A.J. Brown's of the world who will outmuscle you for the ball.
There's plenty to be responsible for, not to mention needing to play a role in the run-stopping game.
He's shown flashes of high potential in the past.
Some more consistency will be needed though if he wants to see his snap count go up.
Greedy Williams picks off Dwayne Haskins. pic.twitter.com/tlq03wu0vm

— Ari Meirov (@MySportsUpdate) August 9, 2019
This summer is a valuable one for Greedy.
There are reps to be earned, but not much room for error.
This season sort of feels like a last chance for Williams to prove his worth to the brown and orange.
He'll have another year left on his rookie contract after this season.
However, Newsome II is gunning for that same starting spot.
One would think that defensive coordinator Joe Woods wants that position solidified for the long-term sooner rather than later.