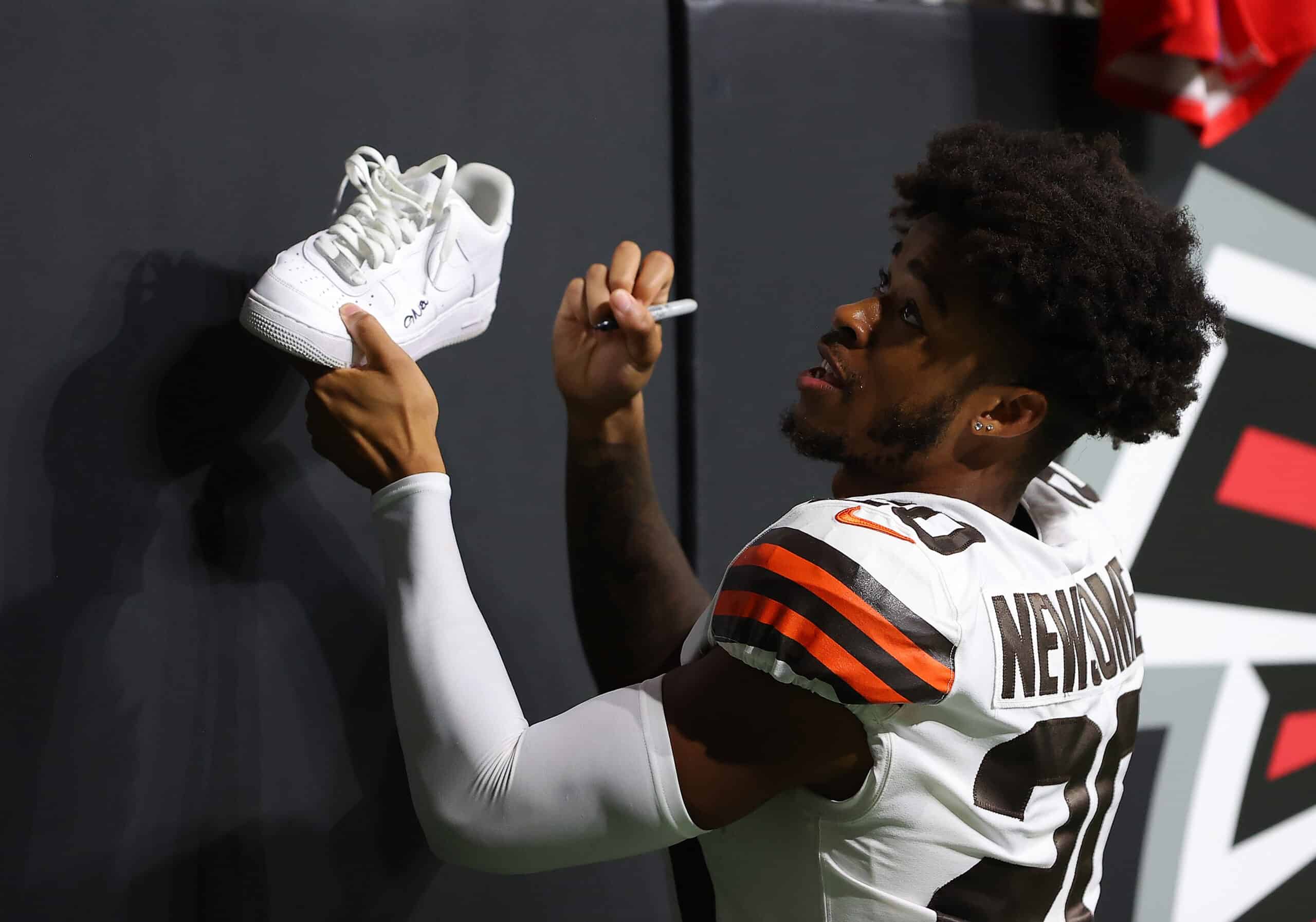 There was much to celebrate with the Cleveland Browns victory over the Chicago Bears in Week 3.
The defensive domination was the headline story; the final score was 26-6.
Rookie Greg Newsome II was having a good game until suffering a calf injury in the fourth quarter.
#Browns CB Greg Newsome II has a calf injury and will not return.

— Camryn Justice (@camijustice) September 26, 2021
While the extent of the injury is not fully known, Newsome did take to Twitter to reassure fans that all is well.
I'll be Good DawgPound ‼️

— Greg Newsome II (@gnewsii) September 26, 2021
Newsome In 2021
The first-round draft pick won the starting job over Greedy Williams.
Through 3 games, Newsome has 5 solo tackles, 2 assisted tackles, and 2 passes defended.
In Weeks 1 and 2, he was on the field for the majority of the defensive snaps, 97% and 98% respectively.
Newsome has also been on the field for between 20 and 25% of the special teams snaps.
Williams In Relief
Greedy Williams filled in for Newsome.
In 18% of yesterday's defensive snaps, he made a solo tackle and defended a pass.
Williams has had a long road to recovery after missing the entire 2020 season with a nerve injury in his shoulder.
Nerve injuries are difficult to heal so having Williams back in relief of Newsome is a positive.
Hopefully, Newsome's injury is minor, but having Williams in the wings makes it slightly more bearable.
Coach Stefanski talked about Williams' road back during training camp.
"Any time you are injured and you are away from the team, it is a lot. It is hard to go through. He has kept fighting from the jump. He is another great example of guys who are faced with adversity, in this case football adversity and injury, and he really overcame it."
Coach Stefanski On Newsome's Injury
In the postgame press conference, Coach Stefanski did not elaborate on Newsome's injury.
"Injury front: (CB) Greg Newsome (II) has a calf injury, and we will get an MRI on that in the morning."
We will be monitoring the information that comes out following Newsome's MRI.