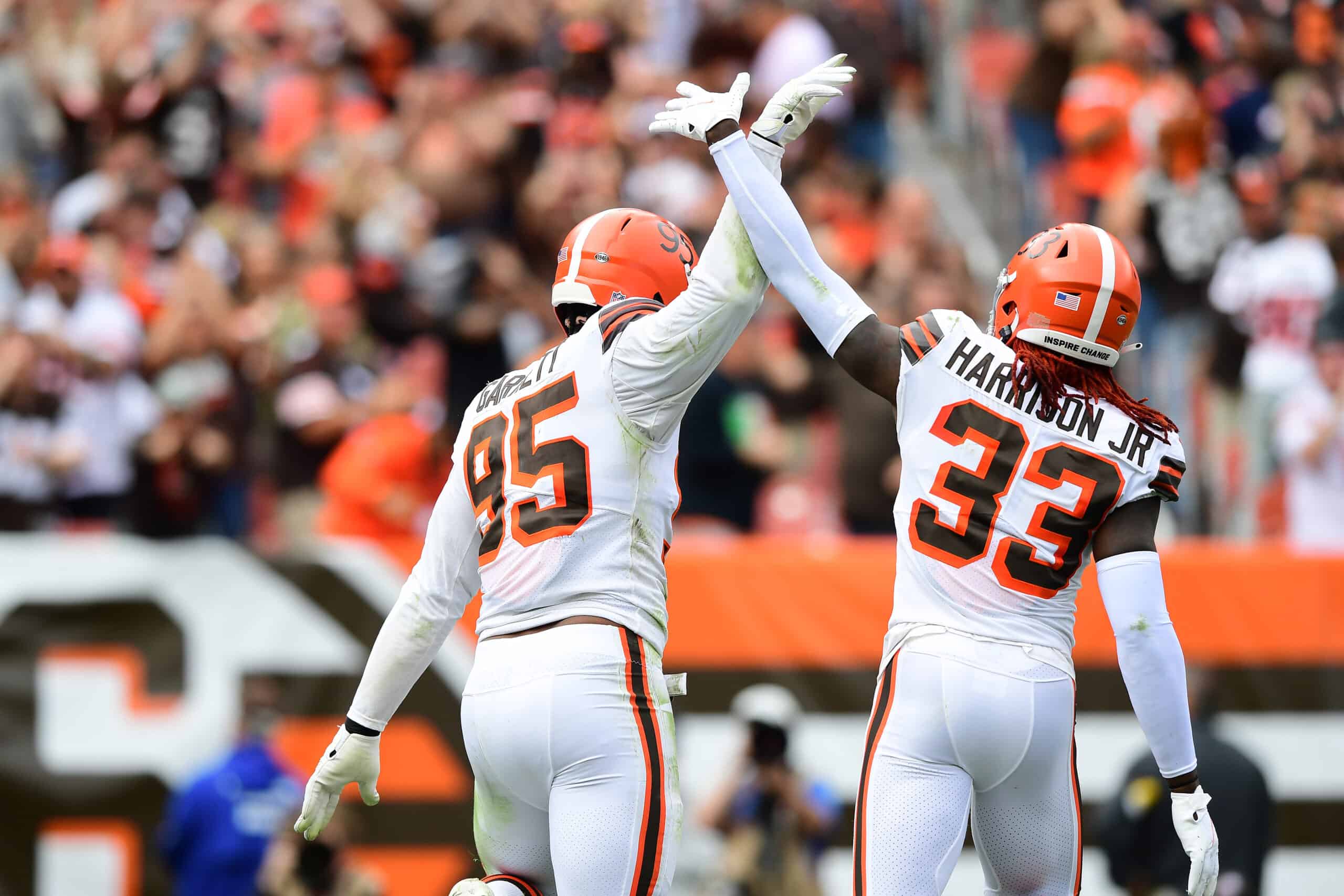 The Cleveland Browns scored a big win over the Chicago Bears in their Week 3 game.
The final score was 26-6.
There were nerve wracking moments in the first quarter that I talk about in my game summary.
Thankfully, they were temporary, and the game was not determined or defined by those 4th down plays where the Browns did not convert, and Mayfield kept taking hits.
Here are the news and notes from the game.
1. Total Yards Allowed = 47
This was a defensive domination that Browns fans have been waiting to see since GM Andrew Berry assembled this superstar roster of defensive players.
The defense allowed 47 yards overall, the lowest since 1946, on the day that the Browns wore their limited edition 1946 (75th anniversary) uniforms.
Coincidence?
Wow. Per @NFLonCBS, the #Browns held the Bears to 47 yards of offense today.

The lowest they've allowed since 1946… while wearing their 1946 uniforms. Can't make this up. pic.twitter.com/lqlxbz3YgT

— MoreForYouCleveland (@MoreForYou_CLE) September 26, 2021
2. OBJ Looked Good
Though the defense, Kareem Hunt, and Chase McLaughlin get top billing for this game, the return of Odell Beckham Jr. was also great to see.
He had a solid performance and looked in midseason form despite being out for nearly a year.
We hope to see more good stuff from OBJ in the weeks to come.
Stop one on the OBJ Revenge Tour
5 Rec 77 yards, 1 carry 10 yards.
He looked fast, explosive, and dynamic. He was his old self less than a year from surgery. The threat of what he could do was evident right away. Odell will take this offense to a whole other level #Browns pic.twitter.com/eog5tnwbjc

— Jacob Roach (@roachizm13) September 27, 2021
3. Demetric Felton Delivering On Special Teams
Felton is an interesting player who could fill many roles for the Browns.
Among them is special teams, and he is quietly leading the NFL in punt return yards through 3 games.
#Browns rookie Demetric Felton has 129 punt return yards, the most in the NFL through 3 weeks.

— Brad Stainbrook (@BrownsByBrad) September 27, 2021
4. McLaughlin Broke A Franchise Record Too
Everyone knows that Myles Garrett broke the franchise record for sacks in one game.
But do they know that kicker Chase McLaughlin made the record books yesterday also?
He kicked the longest field goal (57 yards) in franchise history since 1984.
We hope McLaughlin can emerge to be as steady and strong as that other AFC North superstar kicker, Justin Tucker, of the Baltimore Ravens who had himself a huge day in Week 3 also.
#Browns K Chase McLaughlin made the franchises longest field goal since 1984 today at 57 yards. pic.twitter.com/inK2Yfuka8

— MoreForYouCleveland (@MoreForYou_CLE) September 27, 2021
And for more perspective, McLaughlin's 57 yarder covered more yards than the entire Bears offense throughout the entire game.
Chase McLaughlin hit a field goal that traveled 10 yards further than the Bears offense did the entire game. #Browns pic.twitter.com/N3Ak27WKt3

— BrownsMemes @ BIGPLAY (@BrownsMemes) September 26, 2021
Enjoy Victory Monday, Browns fans!