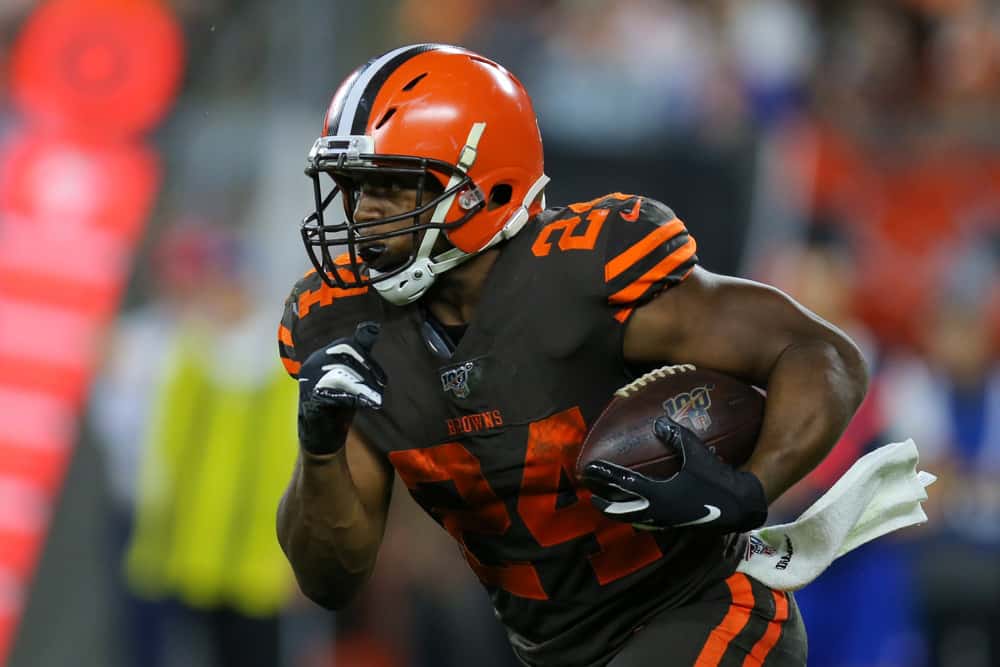 A few weeks ago, it was uncertain if running back Aaron Jones would be back in Green Bay.
However, the organization finally got a new deal done with the former fifth-round pick.
The deal is reportedly four years for $48 million with a $13 million signing bonus.
Let's run it back🧀 #GoPackGo pic.twitter.com/wW20Xti3QR

— Aaron Jones 3️⃣3️⃣ (@Showtyme_33) March 14, 2021
A fairly reasonable deal for a player who has rushed for over 1,000 yards with 10 touchdowns over each of the last two seasons.
The Cleveland Browns front office could be paying close attention to how the Packers handled this as they need to extend Nick Chubb soon.
Keeping Chubb
The front office in Cleveland is going to have a fun time figuring out how to keep all their cornerstone pieces.
Last offseason, they locked up superstar pass rusher Myles Garrett to a massive extension.
Now they need to figure out how to keep Baker Mayfield, Denzel Ward, and Chubb in a Browns uniform.
This deal with Jones could go a long way to helping the Browns figure out how much Chubb is worth on the open market.
Assuming the contract details are correct, Jones is now tied with Cincinnati Bengals running back Joe Mixon for the sixth-highest annual salary for a running back in the league.
Per #NFL sources, I'm told the #Packers' deal with Aaron Jones is actually closer to $9.5M APY with incentives that can push it to $12M.

— Matt Lombardo (@MattLombardoNFL) March 14, 2021
Regardless, Chubb is likely going to pass both of them and could jump into the top three for highest-paid backs in the league.
Through three seasons, Chubb has basically finished with over 1,000 yards in each of them.
He has recorded 28 touchdowns through 44 games and has become the workhorse running back in Cleveland.
The Browns are certainly going to be forced to open up their wallet for Chubb, but he has proven to be worth the money.
How Much Will It Take?
As of right now, Christian McCaffrey, Ezekiel Elliot, and Alvin Kamara are the top three-highest paid running backs in the league.
All three of them are making $15 million per year or more, but could Chubb be the next player to join them?
The Packers were facing a tough cap situation, but still found a way to make Jones one of the top paid backs.
Cleveland is in a much better spot financially and Chubb and outplayed Jones throughout his career.
Nick Chubb. GONE ♨️

(via @NFL) pic.twitter.com/xEPBDhyulj

— Bleacher Report (@BleacherReport) January 11, 2021
Cleveland would not have been in the postseason last year without the help of Chubb.
Last season, Chubb rushed for 1,067 yards on 190 attempts with 12 touchdowns in 12 games.
He didn't even play a full season and still managed to get over 1,000 rushing yards.
Chubb is certainly going to get paid, but it's unclear if Cleveland is going to be the team handing out the money.
What Jones' Deal Proves
It's difficult to predict the future, but Jones likely would've been able to get more money in free agency.
However, he decided to take a somewhat team-friendly deal and stay in Green Bay.
Jones definitely got paid, but he didn't even test out free agency and negotiated with his current team instead.
It wouldn't be surprising to see Chubb take a similar approach with the Browns down the road.
The signings of Elliott and Kamara have put both their organizations in tough spots financially.
Jones took the smart approach by taking a deal that benefits him, but doesn't hurt the organization in the long haul.
Hopefully, Chubb and the Browns front office will be able to negotiate a similar deal when the time comes.