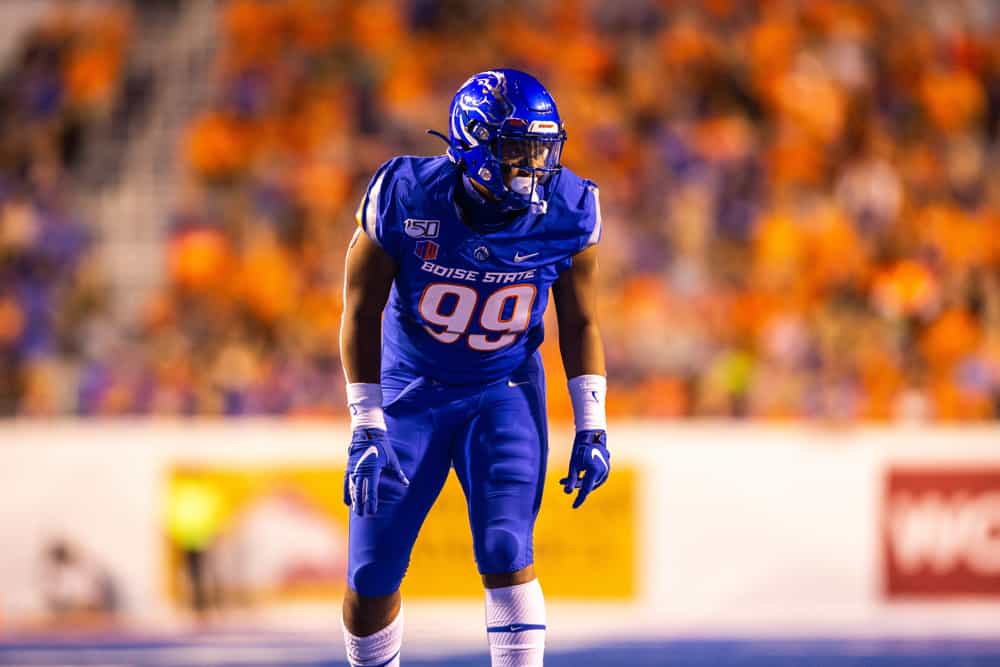 Fans shouldn't be blamed for not knowing the name Curtis Weaver.
The former fifth-round pick has yet to take an NFL snap after missing all of his rookie season.
He was cut by the Dolphins after breaking his toe during training camp drills.
Weaver was drafted by the organization four months earlier, but then was without a home.
Luckily, the Cleveland Browns were willing to give him a chance.
They claimed Weaver and placed him on the injured reserve for the 2020 campaign.
A year later, Weaver is healthy and ready to make an impact on the Browns roster.
Getting Back To Work
It's pretty rare for a fifth-round pick to get cut before the season even starts.
However, Weaver isn't letting it bother him and is ready to get back to work with his new organization.
"It's all fuel to the fire," Weaver said. "I'm glad Cleveland gave me the opportunity, and I'm just ready to work."
Sadly, Weaver missed all of last season, but was able to bond with the coaching staff and his teammates while he was injured.
The fact he was able to continue communicating with his teammates and coaches should help ease his transition back onto the field.
Weaver spent three months working to regain the strength lost from a year without football at a training facility in Arizona.
"There's no more restrictions on me," Weaver said. "We're getting that power back in the toe. It's fully healed, and now we're just getting it back to normal."
He's finally healthy, but will have an uphill battle to make the roster in Cleveland.
The Browns have a handful of players at defensive end and will need to drop a few of them before the beginning of the 2021 season.
It sounds like Weaver is going to be battling with five or six players for possibly one or two available spots on the active roster.
Can Weaver Make The Roster?
Honestly, talent was never the issue for Weaver since he was a stud while at Boise State.
Through three seasons, Weaver set a Mountain West Conference record with 34 sacks.
He was also named First Team All-American for his performance during the 2020 season.
Curtis Weaver sacking Josh Allen 😈 pic.twitter.com/CzQ2zoxHvz

— Alejandro 🇨🇴 (@MiamiAlejandro) May 12, 2020
Before Draft Day, many scouts believed that Weaver could be an early or middle round draft selection.
The Athletic's Dane Brugler had Weaver graded as a second or third-round talent.
"Weaver isn't a top-tier athlete and his limitations will be more noticeable vs. NFL competition," Brugler wrote, "but he is a motivated rusher with the active hands and power to grind away at the corner, projecting as an NFL starter in the right situation."
The biggest problem is that Weaver has little on-the-field experience at the professional level.
That's obviously not his fault since he suffered a season-ending injury during his rookie year.
Although, the lack of experience is going to make it tough for him to surpass some of these players who have already shown what they can do.
The position battle could very well come down to Weaver versus Porter Gustin.
PORTER GUSTIN ARE YOU SERIOUSpic.twitter.com/x5cBklpH04

— PFF (@PFF) January 11, 2021
Cleveland already has Myles Garrett, Jadeveon Clowney, and Takk McKinley as their main defensive ends.
The injury history of Clowney might force the team to carry two extra defensive ends, which could benefit Weaver's chances.
At the end of the day, Weaver might earn himself a minimal role on the Browns roster.
He'll face an uphill battle to even earn playing time, but honestly making the active roster would be a huge first step for Weaver.