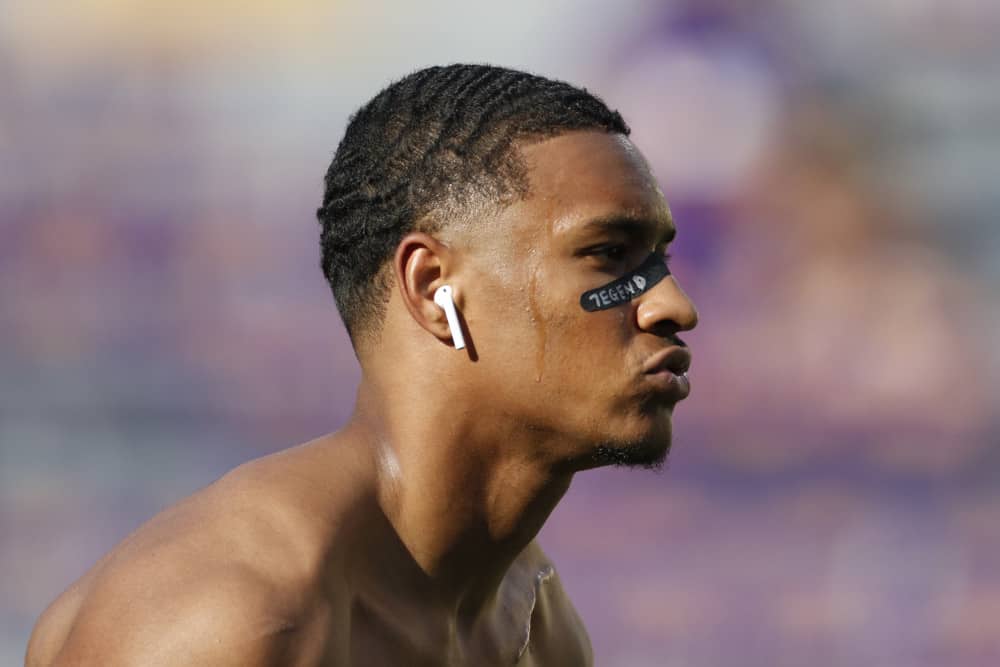 The Cleveland Browns entered the 2020 regular season with a depleted secondary.
Both defensive back Greedy Williams and second-round selection safety Grant Delpit went down with significant injuries.
Grant Delpit isn't the only Browns DB to get hurt at practice. CB Greedy Williams injured his shoulder. Asked if Williams will miss a significant amount of time with the shoulder injury, Browns' HC Kevin Stefanski said: "I would say we will see. Still evaluating."

— Adam Schefter (@AdamSchefter) August 25, 2020
Neither of them were able to suit up at all for the Browns during the 2020 campaign.
However, head coach Kevin Stefanski mentioned towards the end of the season that both players should be fully recovered in time for next season.
That is great news for the Browns, but it's unclear exactly how Delpit will perform after the Achilles injury.
Getting To Know Delpit
Sadly, Browns fans were unable to see what Delpit can offer this Browns defense.
However, Cleveland should be in good hands, assuming he can put up similar numbers to what he did in college.
The young safety put together three strong campaigns at LSU before heading to the NFL Draft after his junior season.
Delpit is known for being a versatile safety that is reliable in both the passing and running attack.
He has the vision and quickness to stay with basically any receiver in the league.
Grant Delpit's head barely even moves 😮😮 @LSUfootball

(via @realgrantdelpit) pic.twitter.com/2Mkt8UATmC

— The Checkdown (@thecheckdown) April 9, 2020
Through three seasons at LSU, Delpit finished with 199 tackles, seven sacks, eight interceptions, and 24 passes defended.
There were rumblings that Delpit might even go in the first round, but surprisingly fell to the Browns in the second.
He is the type of player that can make an immediate impact at the professional level.
Often times, players need some time to make the transition, but Delpit has shown he's ready to take the next step.
What Should Cleveland Expect?
There is no doubting that Delpit has the ability to be a full-time starter in the NFL.
Honestly, there are very few things Delpit doesn't do well on the football field.
He doesn't have elite speed, which at times can limit his range.
Delpit is an elite prospect despite a few minor holes in his game.
Although, the biggest issue is the Browns don't know how Delpit will play after the injury.
Terrible news about #Browns Grant Delpit. Reportedly the Achilles is torn. Returning from a torn Achilles is a tough road. Roughly 28% of NFL players never return, and the majority of those that do experience reduced levels of performance.

Good read:https://t.co/bDIUcqlEU6

— Roberto Shenanigans (@Rob_Shenanigans) August 25, 2020
The Browns don't have much depth in the secondary and were expecting Delpit to be their long term solution.
Honestly, it's tough to predict how Delpit will play until we see how he looks after he fully recovers.
The good news is, Delpit is the kind of player that doesn't need to rely on being physical.
His natural instincts and football IQ are above average, which is why Delpit is such an intriguing prospect.
Possibly, Delpit does lose a step or two physically because of the Achilles injury.
There is still tremendous upside in his game, so Browns fans shouldn't be concerned.
The hope is that Delpit can be a full-time starter as early as the beginning of the 2021 season.