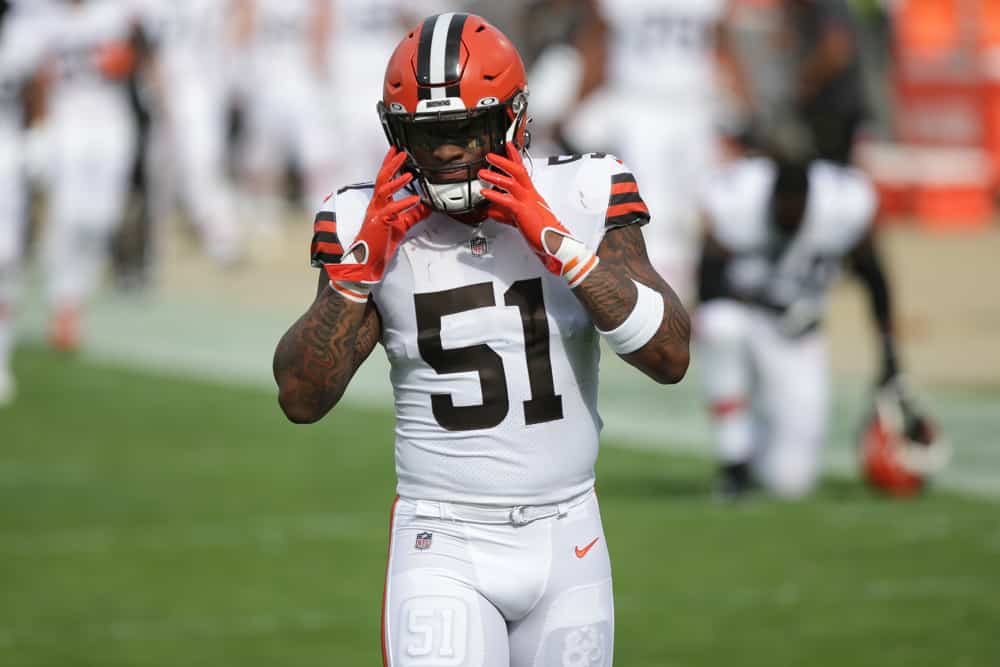 Former Texans defensive end J.J Watt has been the talk of the NFL since his release from Houston.
Though we have not yet heard anything from Cleveland Browns GM Andrew Berry or Coach Kevin Stefanski, there is one current Cleveland Brown who wants J.J. Watt on his team in 2021.
Browns linebacker Mack Wilson is the latest who took to Twitter to "woo" Watt.
"Let's make it happen..@JJWatt @Browns @MylesLGarrett" Wilson said.
Let's make it happen.. @JJWatt @Browns @MylesLGarrett ! pic.twitter.com/55vGJtsvev

— Mack Wilson (@5mackwilson1) February 17, 2021
There has been so much talk about Watt teaming with the Browns defense and specifically Myles Garrett that many wonder if Watt's arrival in Cleveland is imminent.
Other Advocates Of The Watt To Cleveland Idea
Portland Trailblazers guard and native Ohioan CJ McCollum used social media to extend a Cleveland invite to Watt this week also.
Figured I waited enough days for things to chill out. You're more than welcome to come to Cleveland to play for my @Browns . Defense would be sensational. Just a thought @JJWatt . Let me know if you need anything in Ohio. Plus we get plenty of snow. Blessings

— CJ McCollum (@CJMcCollum) February 16, 2021
Browns legend Joe Thomas also is behind the idea.
That's a good look…just saying'🔥🔥🔥🏆🏆🏆🍻🍻 https://t.co/DjA1S8e6hK

— Joe Thomas (@joethomas73) February 13, 2021
JJ Watt Is A Wanted Man
Obviously, Cleveland is not the only NFL team that is rolling out its red carpet for JJ Watt.
All you have to do is Google his name, and you can find out the story.
The Steelers, Raiders, Titans, and Broncos come up as possibilities.
Pittsburgh sandwich franchise Primanti Bros has even jumped in the foray to get Watt to join the Steelers.
.@_TJWatt + @DerekWatt34 – if you can get @JJWatt to Pittsburgh, we'll rename ourselves WATT BROS. #ForRealForReal #HereWeGo pic.twitter.com/qOz4Dp2WNv

— Primanti Bros (@primantibros) February 13, 2021
One Month To Go
Free agency signings do not happen until March 17 when the 2021 NFL league year officially begins.
That means there is another month of speculation.
The Right Price
Watt wants to go to a winning team and probably for his asking price.
He has made over $118 million in the past decade.
We don't know if he will be willing to take a pay cut to go to a legitimate competitor.
He is nearing his 32nd birthday, and his physical style of play has taken its toll.
Watt has missed 32 games in the past 5 seasons.
His leadership in the locker room would be a definite plus, but can his body make it through a 17 game regular NFL season which is happening for the first time in 2021.
There are more questions than answers right now regarding J.J. Watt's future, but we are likely to find out much more next month.