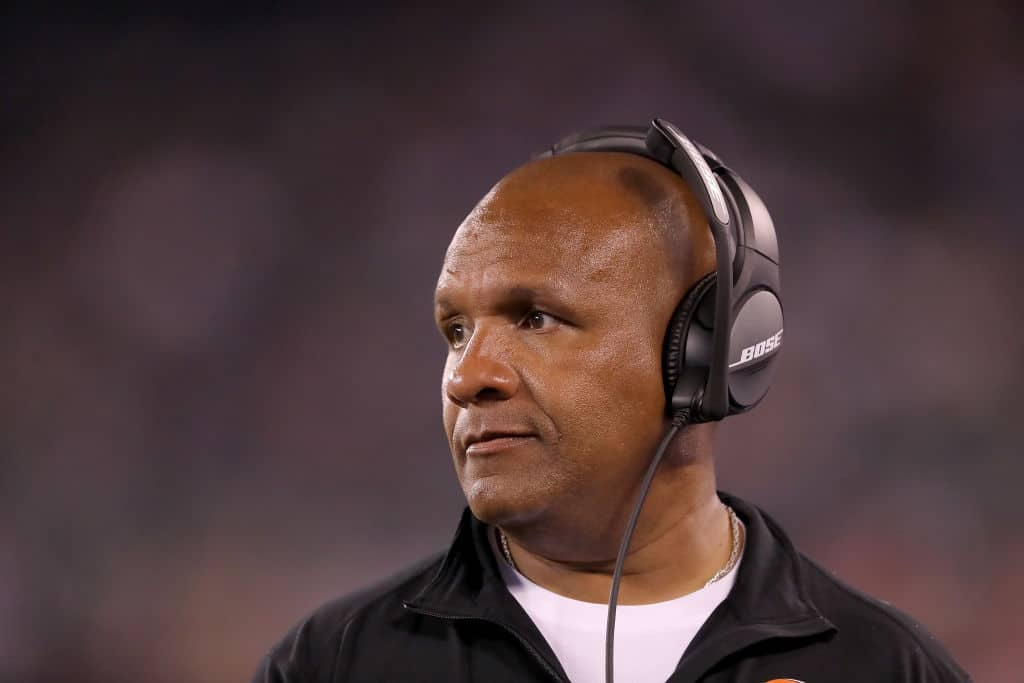 It is a new day with the same old theme.
Former Cleveland Browns head coach Hue Jackson is stirring trouble.
Jackson is now causing trouble at Grambling with what would be described in the best-case scenario as a questionable hire as his offensive coordinator just four days ago.
Here is what we know.
1. Jackson Has A Foundation Working To Help Sexual Trafficking Victims
The Hue Jackson Foundation was started in 2017 with the mission of combatting human trafficking.
His foundation works to defend victims of trafficking including those who have been sexually abused.
The foundation collaborates with charities in the Cleveland area including the Salvation Army and the Renee Jones Empowerment Center.
Hue Jackson's decision to answer tough questions about the hiring of Art Briles via Hue Jackson Foundation letterhead leads to tough questions about the Hue Jackson Foundation. https://t.co/b8TvX7pZj2

— ProFootballTalk (@ProFootballTalk) February 28, 2022
2. At Grambling, Jackson Hired Art Briles As Offensive Coordinator
Briles was fired as Baylor's head coach in 2016 because he did not follow through with the school's procedures for investigating sexual assault allegations.
This was an interesting hire given Jackson's philanthropic work with sexual abuse and trafficking.
Always a good option: Don't even hire Art Briles in in first place.

— Nicole Auerbach (@NicoleAuerbach) February 28, 2022
3. His Foundation Issued A Statement
In an effort to minimize the controversy, Jackson's foundation issued a statement attempting to explain the hire.
Pleas Read this statement. #forgiveness #redemption#enlightenment #GramFam pic.twitter.com/XWstabSdll

— HueJacksonFoundation (@HueJacksonFDN) February 25, 2022
Per the Hue Jackson Foundation, it was a justified hiring because of the Grambling protocols and the idea of forgiveness and redemption for all parties.
This issue and the corresponding statement were not received well by Doug Williams, Super Bowl MVP and probably the most well-known alumnus of Grambling.
Grambling legend Doug Williams, who has been vital in getting a research center built on campus, wanted no part of his alma mater hiring Art Briles. Earlier today a source told @TheAthletic "Doug Williams has the influence to change things…" https://t.co/lfAZG6wDrx https://t.co/USX0s2OFlU

— Bruce Feldman (@BruceFeldmanCFB) February 28, 2022
Williams went as far as to say he could not support his school given the hiring of Briles.
4. Briles Resigned
Proof that things were going from bad to worse, Briles resigned on Tuesday afternoon just four days after the announcement of his hiring.
The groundswell and controversy surrounding him and what looked like an apparent conflict of interest for Grambling and Jackson was too much.
"The only place that Art Briles should have a job is in Hell." – @Stugotz790 pic.twitter.com/X2fE7EBv5X

— Dan Le Batard Show with Stugotz (@LeBatardShow) February 28, 2022
This is not how Grambling wants to be represented in the news and sports headlines pages.
Conclusion
There is so much about this story that does not make sense.
Certainly, there were other competent offensive coordinator candidates.
Why Jackson chose Briles given all of the extenuating circumstances is odd.
His attempts to justify or make the hiring seem like a logical one made things worse for Grambling and attracts a lot of skepticism about his charity.
In the end, Grambling was drug through the headlines for all of the wrong reasons courtesy of Hue Jackson.
Browns fans are all too familiar with Jackson's shenanigans so this will not be surprising news.
He is famous for deflecting blame or responsibility for any bad decision, but he is the first person to crave praise or recognition for good things.
I don't understand how Hue Jackson has a job as a head coach anywhere.

— Adam the Bull (@AdamtheBullFAN) February 28, 2022
The biggest mystery in this whole story is why Grambling hired Jackson and after this week why he is still employed.
Once again, Jackson showed bad judgment; no one in Cleveland is surprised by that.