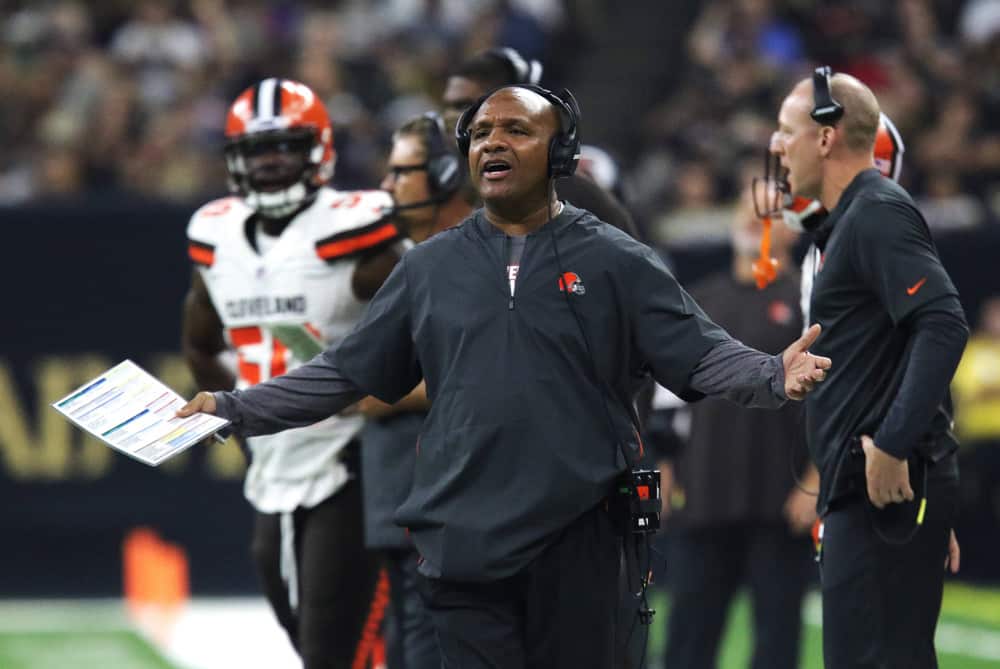 Former Cleveland Browns head coach Hue Jackson continues to make the rounds of various media outlets.
He continues to paint a bad picture of the Cleveland Browns organization he was part of.
In his latest appearance, he mentions a familiar name in the Browns front office.
Jackson Says Executive Team that included Andrew Berry lied to him
Jackson's latest accusation is that the ownership and the executive team lied to him, including Browns current GM Andrew Berry.
During Jackson's tenure from 2016-2018, Berry was the vice president of player personnel.
He calls out Berry by name in this interview saying he lied to him.
The specifics on how Berry lied to him are not elaborated upon here.
Jackson says he was contractually bound to the Browns and was not able to "speak his truth" until now.
He also does not care if he coaches in the NFL again given the information he is sharing.
A book is allegedly in the works, and there is plenty of documentation he claims to have of all the assertions he is making.
What Did They Lie About?
First of all, Jackson says he was offered a contract extension, but the Browns did not want to go public with it.
Hue Jackson just said on @ESPNCleveland that he got a contract extension from the Browns after his record was 1-23. He says he wanted to go public with it but the team didn't.

— Ben Axelrod (@BenAxelrod) March 29, 2021
Contract extensions tend not to stay secrets in the NFL; there are plenty of media members investigating the activities of teams.
Jackson then started explaining how he was reportedly lied to.
"They were going to be football plus analytics, but it was football vs. analytics.''
Say what?
Who Cares?
I am really struggling to understand why he is given so many opportunities to speak disparagingly about his former team.
Hue Jackson throwing bombs at Browns ownership & mgmt right now on 850 ESPN Cleveland.

— Tony Grossi (@TonyGrossi) March 29, 2021
Does anyone really care now?
He appears to be a person who cannot accept any responsibility for the failings of the team while he was the head coach.
We are years removed from his tenure so what does all of this prove.
Maybe I am missing the point or don't understand the nuances of his side of the story.
The best thing about this story is how the Cleveland Browns ownership and management have handled it.
#Browns not commenting on former coach Hue Jackson's claims.

— Tom Withers (@twithersAP) March 29, 2021
Hopefully, the Browns' continued silence makes this story go away sooner rather than later.