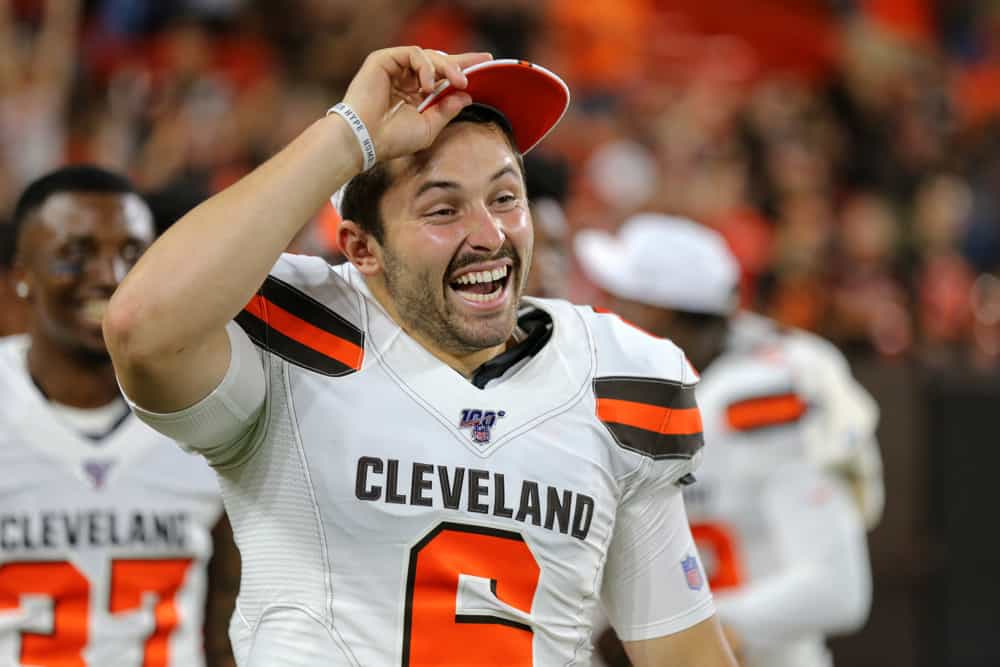 Cleveland Browns quarterback Baker Mayfield is never at a loss for words in person or on social media.
No one was surprised that he had a reaction to New York Giants legend Michael Strahan apparently fixing his trademarked gap toothed smile since Baker himself has a small gap between his front teeth.
I mean… if @michaelstrahan did it.. I gotta do it right? https://t.co/jLWzShHmSq

— Baker Mayfield (@bakermayfield) March 31, 2021
April Fool's Joke?
Many on social media believed Strahan is pulling off an elaborate and early April Fool's joke.
Strahan has sported the signature gap between his front teeth throughout his playing and television careers.
His video came out 36 hours before April Fool's Day which added to the suspicion.
Strahan will turn 50 in November so perhaps this is an early birthday present to himself.
Is The Video Real?
No one really knows if Strahan's recent video is authentic.
Just last week, he appeared to pay homage to the gap on social media.
I rock my gap with pride! It's who I am! Which of my friends do you think can rock it with me??? 😂😂 swipe right. @anthonyanderson you are missing out my brotha! #ItDoesntFitEveryone @DeionSanders @TomBrady @GStephanopoulos @RobinRoberts @JayGlazer pic.twitter.com/UJilJUhv7n

— Michael Strahan (@michaelstrahan) March 23, 2021
Conspiracy theorists also point to Strahan's December 2012 interview with Elle where he addresses his trademark gap.
When asked if he was self-conscious about it, Strahan said:
"I was really close to closing it up. I was at the dentist having him do mock-ups. I thought about it, man…I was in my twenties. I was playing with the Giants. There's so much pressure to be perfect. You can fix everything now. For me, I made the conscious effort to say "This is who I am." I'm not perfect. I don't want to try to be perfect. At this point, I don't think my kids would recognize me without it. They'd be like, "Who is this stranger in the house? Call 911!"
Baker Mayfield
Mayfield's gap is a lot less prominent, and frankly Cleveland Browns' fans do not care if he keeps or sheds it this offseason.
All they care about is Mayfield being ready for his fourth year in the NFL and with the Browns.
There is a lot of hope and promise in Cleveland these days, feelings that were missing for decades.
Mayfield is responsible for some of that.
The important thing is he needs to keep bringing it each Sunday beginning in September, with or without the gap.