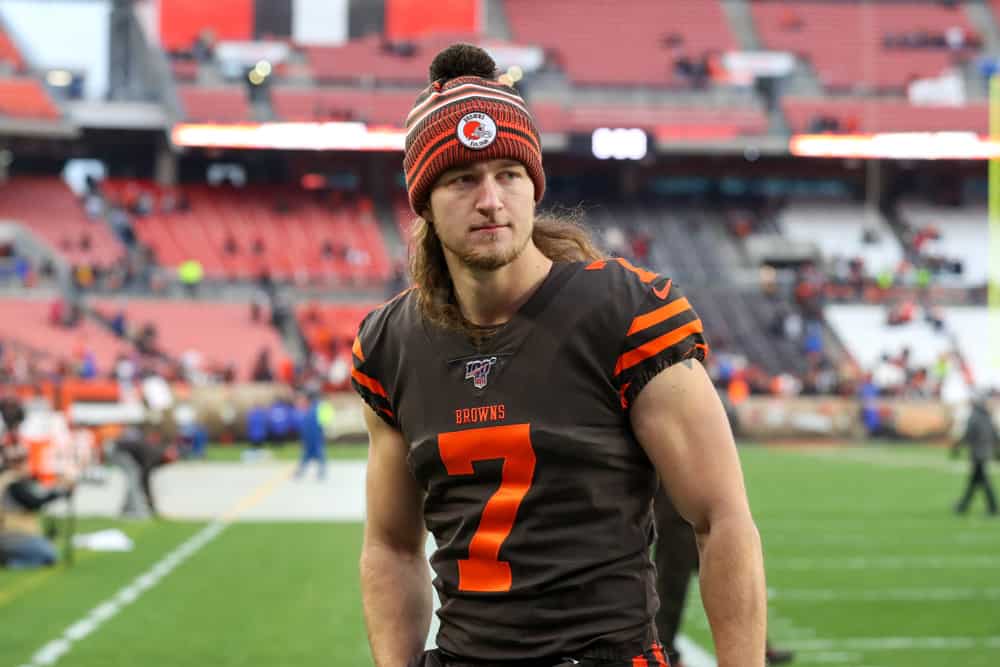 In the fourth quarter of Sunday's 33-29 loss to the Kansas City Chiefs, punter Jamie Gillan made a three-and-out Browns drive even worse:
Browns punt blocking on this play was excellent. He could have got that punt off still. Jamie Gillan just panicked.pic.twitter.com/G87L5cUdjZ

— Tim x opTIMus 🎮 (@timschuerger) September 12, 2021
Gillan's blunder on his first punt attempt of the season led directly to a Chiefs score.
It also led to an 0-1 record to start the Browns season.
Looking back, Gillan knows he made a "massive mistake":
Jamie Gillan: "I made a massive mistake that cost that game… Things happen, right? It hasn't changed my outlook in practice or my personality… I'm still just a happy-go-lucky, likes-a-pint-or-two person." #Browns

— Hayden Grove (@H_Grove) September 17, 2021
The Browns had a two-point lead at the time, but they did not for long.
Fewer than two minutes later, Patrick Mahomes threw an eight-yard touchdown pass to Travis Kelce.
The touchdown pass was exactly three minutes after Mahomes' 75-yard touchdown to Tyreek Hill.
After Gillan's fumble, the Browns failed to get out of their side of the field for the rest of the contest.
With the loss, Cleveland continued its struggles in Week 1 games.
Many fans and analysts, including Rex Ryan, have placed blame on the 24-year-old punter.
The former Dolphins and Bills head coach was not particularly nice to Gillan by saying, "Get a haircut and learn how to catch a long snap."
Even after dropping the long snap, Gillan could have regained himself.
He could have punted instead of trying to run out of trouble on the 4th-and-12.
It was pretty evident that Gillan had the time to punt after picking up the ball.
Kevin Stefanski agrees with that sentiment.
Kevin Stefanski Said Gillan Should Have Punted After the Drop
Stefanski saw what we all saw, and the second-year head coach knows Gillan should have punted:
#Browns coach Kevin Stefanski said Jamie Gillan could have punted after dropping the snap and he knows that

— Nate Ulrich (@ByNateUlrich) September 13, 2021
It is unfortunate that this occurred in the fourth quarter of such a high-profile game in Week 1.
However, it was good to see that Gillan had a successful punt for 52 yards on the next Browns possession.
Mecole Hardman caught the punt at the Chiefs 20-yard line and ran it to the 27-yard line.
With the Browns falling in the game against Kansas City, Gillan left Arrowhead Stadium knowing he hurt his team though.
Gillan Apologized on the Team Plane
Gillan and Stefanski appear to be on the same page because they both know Gillan made a mistake.
Gillan then apologized on the team plane.
He, Stefanski, and special teams coordinator Mike Priefer seem to be ready to turn the page:
Gillan apologized to both Priefer and Stefanski on the team plane and both coaches gave him their full support as he continues forward. #Browns

— Hayden Grove (@H_Grove) September 17, 2021
Gillan seems like a good team player.
It is great to see that the coaching staff is supporting him.
In his third NFL season, he does need to show improvement though.
From 2019 to 2020, he improved in his touchback percentage, according to Team Rankings:
2019: 7.9 percent (25th in NFL)
2020: 5.2 percent (ninth)
Unfortunately, here is how he was in terms of punts landing inside the 20-yard line (source):
2019: 44.4 percent (ninth in NFL)
2020: 29.3 percent (28th)
His mixed results thus far could put him on the chopping block in the future if he has any more fumbles soon.
He had just one fumble and one punt blocked during his first two NFL seasons.
Gillan already has one fumble thus far in 2021.
We will have to see if Gillan can redeem himself in Week 2 against the Houston Texans and beyond.