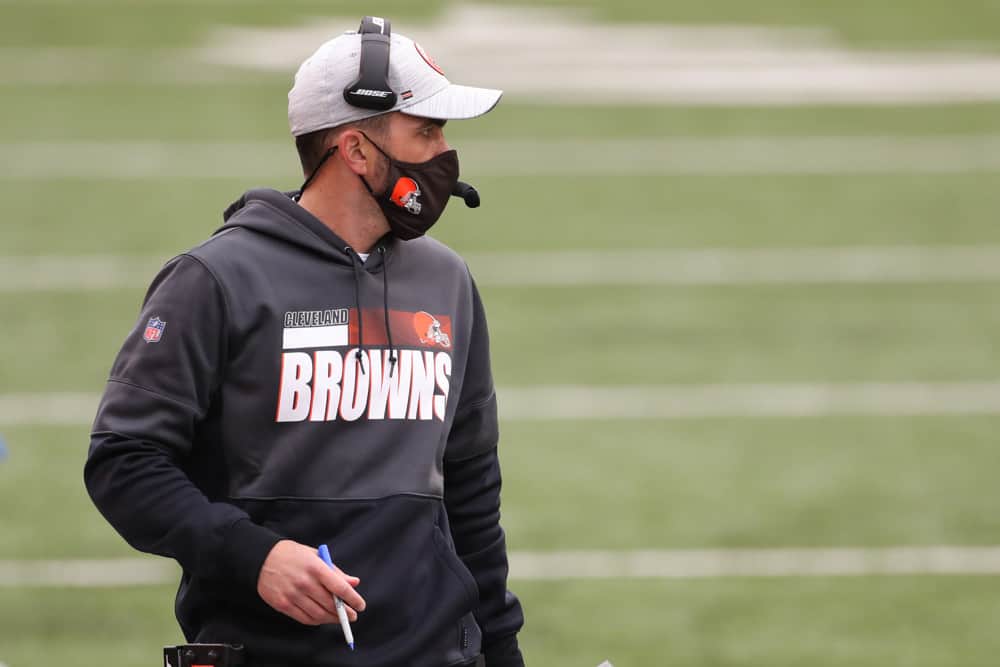 CBS Sports NFL insider Jason La Canfora believes Cleveland Browns first-year head coach Kevin Stefanski has completely changed the franchise's culture in Berea, Ohio.
The Browns (5-2) are off to their best start since 1994.
La Canfora spoke about the Browns' early-season success during a guest appearance Wednesday on 92.3 The Fan's "Baskin & Phelps" show.
"They are no longer a team that's going to beat themselves with any regularity," La Canfora said. "Their talent is flourishing by and large. They have a cogent identity."
La Canfora predicted the Browns would make the 2020 playoffs with the NFL's expanded postseason format.
"Over time, we're going to find if they can beat very good teams or elite teams with some regularity, but right now, they're in that next tier," La Canfora said.
Stefanski, 38, has the best record so far this season among first-year NFL coaches or coaches in their first year with their new teams:
Stefanski, Cleveland Browns: 5-2
Matt Rhule, Carolina Panthers: 3-4
Mike McCarthy, Dallas Cowboys: 2-5
Romeo Crennel*, Houston Texans: 1-2
Joe Judge, New York Giants: 1-6
Ron Rivera, Washington Football Team: 2-5
The asterisk* indicates interim head coach.
"Even in a pandemic and even with obviously, incredibly limited windows to talk to players and to put together an operation, everything I heard about Kevin Stefanski from early on was just that it's a complete departure from Freddie Kitchens in terms of organizational skills, in terms of management skills, in terms of delegation skills, in terms of just organization and just having a cerebral approach," La Canfora said. "There was no longer a sense that things could change minute to minute. Players knowing what's expected of them."
La Canfora outlined how the Browns are using quarterback Baker Mayfield differently this season.
"The quarterback was going to be a point guard, not a three-point shooter," La Canfora said.
It includes distributing the ball quickly out of Mayfield's hands, using multiple tight-end sets and running the ball.
"More than anything else, we're going to try to road grade people," La Canfora said. "They still got a ways to go on defense. Baker is still a work in progress, but there is plenty of clay to mold there."
La Canfora listed the Baltimore Ravens, Pittsburgh Steelers, Kansas City Chiefs and Tennessee Titans as the top teams in the AFC.
"Teams like that, that might be a tall ask right now, but that's a tall ask for most of the league," La Canfora said.
The Browns lost to the Ravens 38-6 in Week 1 and lost to the Steelers 38-7 in Week 6.
La Canfora said he does not think the Browns offense will look much different with Odell Beckham Jr. out for the rest of the season with a knee injury.
On Wednesday, La Canfora ranked the Browns' most important players.
"Outside of the quarterback and outside of maybe Myles Garrett, like I would have put Nick Chubb third. I don't know about you guys," La Canfora said. "Maybe I might have even talked myself into putting Nick Chubb higher."
La Canfora did call Beckham a "great" receiver and admitted a player like Rashard Higgins doesn't have the same big-play ability as OBJ.
Instead of immediately acquiring a receiver to replace Beckham, La Canfora said the Browns would be better off getting a linebacker or safety.
"I think the offense will be ok," La Canfora said.