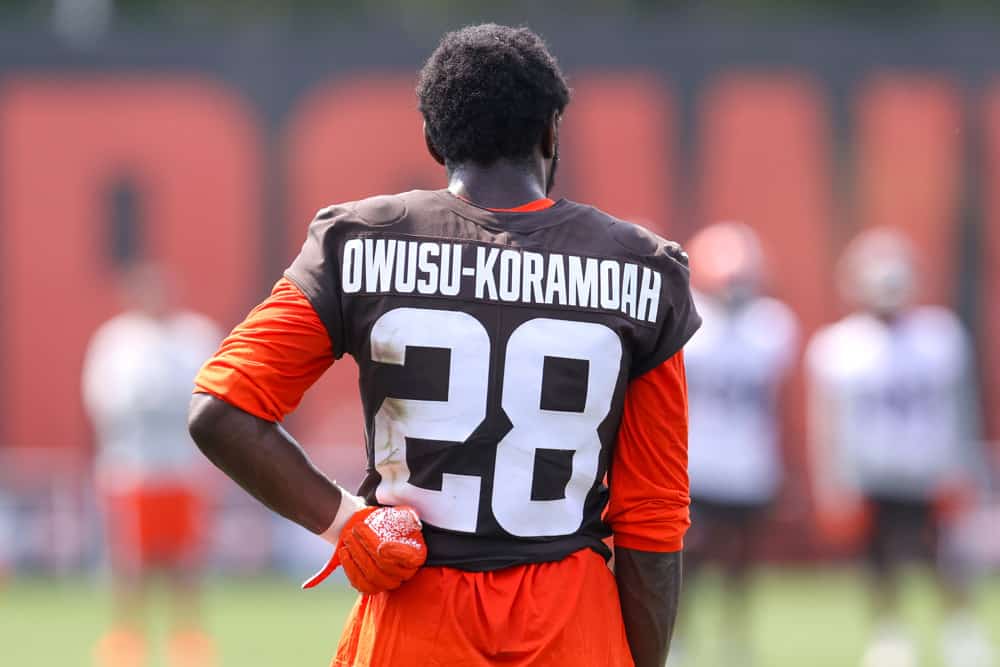 Not too long ago, the Kansas City Chiefs and Cleveland Browns were playing each other in the postseason.
Sadly for Cleveland, the Chiefs were able to pull away with the close victory.
The Browns shouldn't be ashamed about their performance and exceeded expectations last season.
However, they've revamped their team over the offseason with the hope to go deeper into the playoffs.
One player who could make a significant impact is rookie linebacker Jeremiah Owusu-Koramoah.
Get Ready Kansas City
It was obviously frustrating to watch backup quarterback Chad Henne ice the game during the playoffs.
Cleveland was so close to victory, but the Chiefs pulled away in the end.
This time around, the Browns are going to be ready, especially on the defensive side of the ball.
They added JOK and defensive back Greg Newsome II with their first two selections during the NFL Draft.
Also, they signed safety John Johnson, defensive end Jadeveon Clowney, and linebacker Anthony Walker in the offseason.
Obviously, the Browns made it a focal point to add more firepower on the defensive side of the ball.
These players are hungry to win and JOK is ready to show the Chiefs what he can do.
"If you want to be the best, you're never satisfied." – #Browns rookie linebacker Jeremiah Owusu-Koramoah pic.twitter.com/ldDNGJxEMa

— Jeff Schudel (@jsproinsider) September 6, 2021
The Browns want to show everyone they can be the best, but they have to get through the Chiefs to do that.
Owusu-Koramoah is not backing down from the challenge and is ready for the Chiefs.
The rookie linebacker is likely going to be tasked with stopping six-time Pro Bowl tight end Kelce.
However, the Browns knew this coming in and have hopefully made the correct adjustments.
"It's not foreign to me to have some type of matchup that's as such," Owusu-Koramoah said, referring to Kelce. "I watched a lot of film, had to watch a lot of film to be able to be ready for a guy that's as talented as him. "So we'll be ready. I'll be ready and as a team we're looking forward to game planning and correcting stuff. I'm expecting to have a big role — nickel, some base, stuff like that."
This Week 1 matchup between these two teams should be a treat for all fans at home and in the stands.
Although, it will be a test to see if the Browns are really ready to take the next step.
Look Out For JOK
This time around, the Browns are unlikely to see veteran backup Henne in the game.
Superstar quarterback Patrick Mahomes is healthy and one of the toughest players to slow down in the NFL.
The Browns traded up on draft day in order to select JOK out of Notre Dame.
Obviously, the Browns know what kind of potential he has and believe he could be a long-term answer at linebacker.
Sadly, JOK missed part of training camp due to COVID and a freak workout accident.
Despite that, he is healthy and ready to go for the Week 1 matchup.
Owusu-Koramoah knows the difficulty of the challenge ahead, but is keeping a solid mindset.
"It's not about how you start, right?," Owusu-Koramoah said.  "It's about how you finish, so we'll see about that."
Regardless of the outcome, fans are certainly going to be treated to an excellent matchup on Sunday.