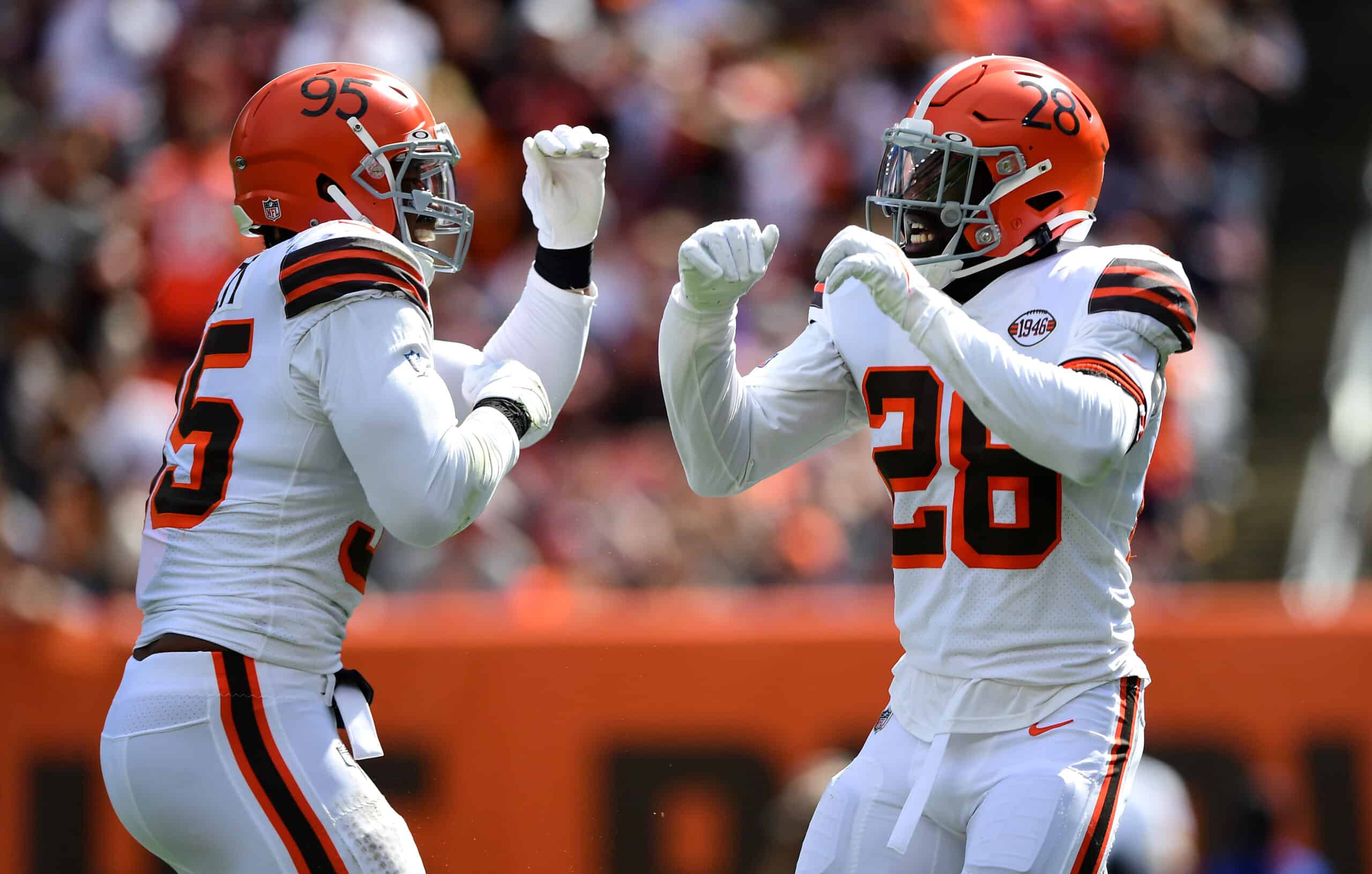 After 12 games, an evaluation of the Cleveland Browns 2021 draft class can already begin.
One of the most obvious draft steals is linebacker Jeremiah Owusu-Koramoah out of Notre Dame.
Remember the hoopla surrounding his draft stock dropping because of some undisclosed medical issue?
That had to be the reason that teams let him drop into the second round.
No wonder the Browns felt as though they won the lottery when they traded up from 59th to 52nd to select him.
JOK is playing like a first-round pick.
JOK In 2021
Owusu-Koramoah is Pro Football Focus's highest grade rookie defender.
JOK🔥

Jeremiah Owusu-Koramoah is PFF's highest graded rookie defender. pic.twitter.com/VhSLVwTQAE

— Cris Collinsworth (@CollinsworthPFF) December 2, 2021
He has played 335 snaps in 2021.
Even injury could not stop his momentum.
After missing three games with a high ankle sprain, he came back and picked up right where he left off.
Previously Named PFF Rookie Of The Week
Owusu-Koramoah was PFF's Rookie of the Week in Week 3.
PFF's Rookie of the Week

Jeremiah Owusu-Koramoah 💪💪 pic.twitter.com/faabFWHorY

— PFF (@PFF) September 28, 2021
That was one of his best games of the season against the Chicago Bears.
He had four tackles, one tackle for a loss, a half sack, and one quarterback hit.
#Browns LB Jeremiah Owusu-Koramoah's Sunday in review:

– 4 tackles
– 1 TFL
– 0.5 sack
– 2 PD
– 1 QB Hit
– 93.9 PFF grade

Monster. pic.twitter.com/lJNfmYTbZx

— MoreForYouCleveland (@MoreForYou_CLE) September 27, 2021
Playing Like A Veteran
Obviously, Owusu-Koramoah is outperforming many of his rookie peers on the defensive side of the ball.
An argument could be made for either JOK or Dallas Cowboys linebacker Micah Parsons to take NFL Defensive Rookie of the Year honors at the end of this season.
However, he is also holding his own against established NFL players.
Through Week 12, he is ranked third among all linebackers (minimum 300 snaps) with an 80.8 grade, according to PFF.
Highest PFF graded LBs thru Week 12:

1) De'Vondre Campbell, 81.2
2) Alexander Johnson, 81.1
3) Jeremiah Owusu-Koramoah, 80.8
4) Micah Parsons, 79.4
5) Shaq Thompson, 78.0
6) Bobby Wagner, 75.3
7) Demario Davis, 75.1
Darius Leonard, 75.1
9) Matt Milano, 72.1

(min. 300 snaps) pic.twitter.com/b4C5k3PmIA

— Mike Kennedy (@MikeKennedyNFL) December 1, 2021
Speed And Versatility
The reasons the Browns drafted him were for his speed and versatility.
Both of these skills have been on display this season in various situations.
One guy is playing in FastForward. #Browns pic.twitter.com/jTYbutw4tn

— OBR Film Breakdown (@TheOBRFilmBDN) December 2, 2021
All we heard during the draft, "you have to have a plan if you take JOK"…yup, I'm sure 31 other teams don't need his versatility. Off to a really solid start! https://t.co/Leywgw9ZaI

— Chris Rose (@ChrisRose) September 27, 2021
In a bizarre NFL season with a lot of inconsistent play, Browns rookie linebacker Jeremiah Owusu-Koramoah has been a bright spot for this team.