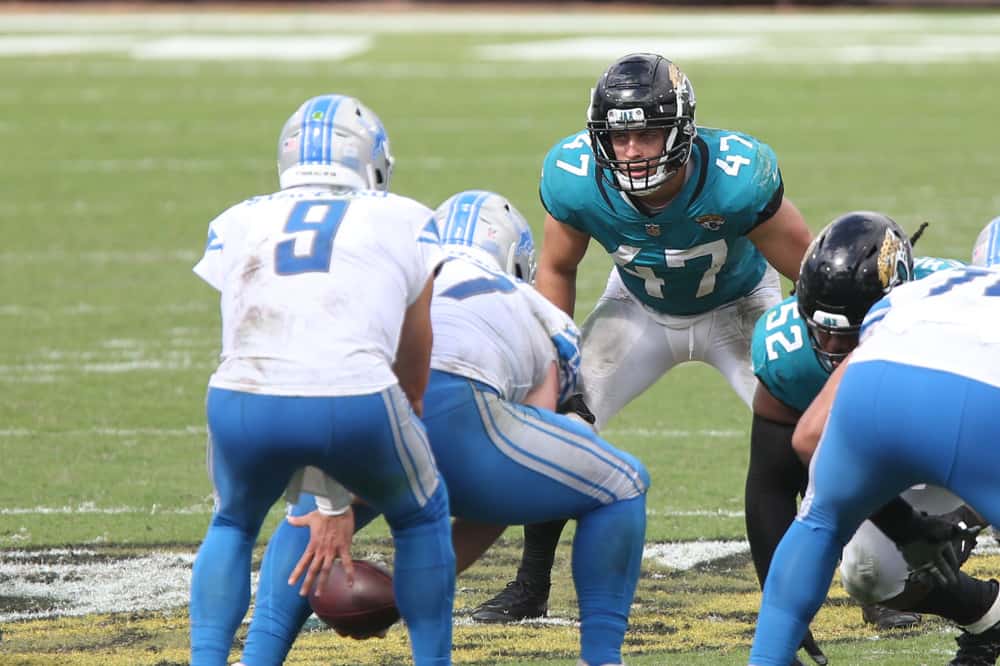 The Cleveland Browns will see a familiar face on the other side of the ball this weekend in Jacksonville.
Joe Schobert was drafted by the Browns in 2016 and played with them through the end of the 2019 season.
Schobert started every game of the 2019 season for the Browns and finished with a career-high 4 interceptions and 1 fumble recovery.
The Browns made no offer to re-sign him so Schobert signed a 5 year $53.75 million dollar contract with the Jaguars in the offseason.
Schobert Has No Intel
Joe Schobert admittedly has no intel to offer to Jags Coach Doug Marrone.
Besides the players, everything else has changed since he left.
Schobert told Jags media outlets.
"The only thing that I personally would (bring to Sunday) is just the personnel aspect because I've gone against the guys,but they have a whole new scheme, a whole new system with the coaching staff who came in."
For once, the massive turnover in Cleveland has its benefits.
"Other than the personnel and the players and what their demeanors are like and playing against them for four years. I don't have a whole lot of the ins and outs of the actual offensive scheme and the lingo or the jargon they might be using."
#Browns QB Baker Mayfield on facing former teammate and #Jaguars linebacker Joe Schobert: Smart player, looking forward to facing him, our terminology is different now, so it won't be the same for him

— Nate Ulrich (@ByNateUlrich) November 25, 2020
Marrone Praised Schobert 
Clearly, Schobert has found a new home in Jacksonville, and his skill set is much appreciated by his head coach.
When asked about Schobert, Marrone said:
"A guy who works hard, comes in here every day and plays through little bumps and bruises, and that is something that I think we all appreciate out of all of the players who do that."
Who Does Schobert Want To Tackle?
Schobert is eager to take down none other than RB Nick Chubb.
With a poker face, Schobert explained his reasoning.
"I think he just has this reputation as being a good guy, but Nick's the worst. People don't know that about him. He's the worst person. He always stole my stretch (from Browns Assistant Strength and Conditioning coach) Dale Jones. I'd always try to get a stretch after practice and Nick would always jump me in line and try to steal my stretches. I mean so if there's anyone I could hit, it'd be Nick."
#Browns RB Nick Chubb said it'll be "fun," looking forward to playing against former teammate and #Jaguars LB Joe Schobert.

— Scott Petrak ct (@ScottPetrak) November 25, 2020
The Jags Will Need To Stop The Run
All kidding aside, Schobert knows that his defense will need to stop the dual-threat running attack of Nick Chubb and Kareem Hunt.
He assessed his former teammates' strengths.
"Nick is more downhill, a one-cut type of running, good contact balance.  Kareem can make you miss. It's a one-two punch that can really run you over. But we've faced a lot of good running backs this year. I'm confident in our guys."
The Browns vs. Jaguars game is at 1 pm on Sunday afternoon.
Jacksonville is 1-9 and seeking their second win of the season.
With a win, Cleveland goes to 8-3 and stays alive in the playoff discussion with both of its division rivals, Baltimore and Pittsburgh, playing each other on Tuesday night.