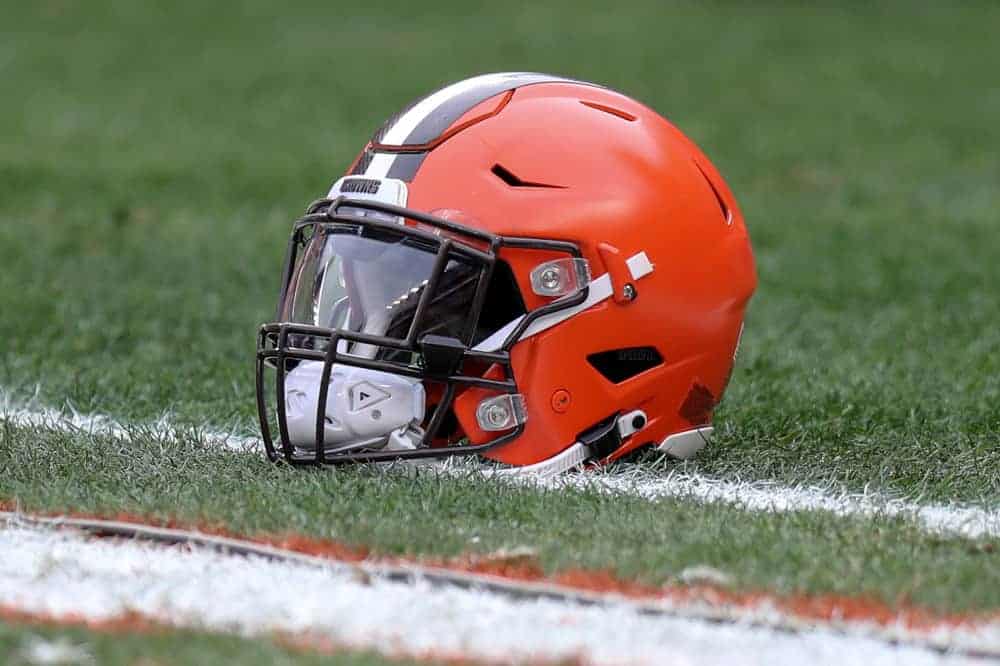 The 7-3 Cleveland Browns meet the 1-9 Jacksonville Jaguars on Sunday.
The Browns enter the game riding a two-game winning streak and Jacksonville is hoping to end a 9 game losing streak.
The Browns now sit in second place in the AFC North while the Jags sit in the AFC South basement.
Will the Browns move to 8-3?
Let's take a look at our writer's bold predictions for this Sunday's matchup
Writer: Pat Opperman

If there was ever a week to face the Jacksonville Jaguars, this is it.
The Cleveland Browns' ranks are thinning each day as Covid claims more of the roster.
But Kevin Stefanski doesn't strike me as the type of coach who will allow his charges to feel sorry for themselves.
More importantly, Jacksonville doesn't seem ready to rally, even if they sense an injured opponent.
Cleveland has too much on the line to let down.
And they still have important parts ready to carry them to victory.
It might be tempting to let Baker Mayfield throw against the Jags' defense.
But this is a week for clock control.
Nick Chubb and Kareem Hunt should have a shot at topping 100 yards each, doing their bit to keep the Browns' defense off the field.
I wouldn't be surprised to see the wide receivers involved in the running game, too.
When the defense is out there, Olivier Vernon and company have to put some heat on quarterback Mike Glennon.
Joe Woods might want to drop as many folks back as possible to help cover the losses in the backfield.
But blitzing against the third passer of the season in Jacksonville is just as helpful.
Joe Schobert said earlier this season he was happy to finally be 1-0.
Let's see how he feels about 1-10.
Cleveland wins handily, even with a chunk of its troops watching on TV.
My Prediction: Browns 27, Jaguars 16 
Writer: Jake Luppino

The Cleveland Browns will look to improve their winning streak to four this weekend as they take on the Jacksonville Jaguars.
All year long, the Browns have rode the coattails of their power run game.
This week, I see the same story being played out.
Nick Chubb Will Have A Big Day
Chubb is currently averaging 95.8 yards per game on the ground (ranked 3rd in the league).
Since returning from his injury, Chubb has shown no signs of rust and is in store for another big game against this Jacksonville defense.
This Jaguars rush defense ranks in the bottom half of the league.
Baker Mayfield should be able to work off the run game, potentially having himself a big day.
Regardless, the Browns should have no problem moving the ball.
Defense Will Force 3 Turnovers
As it currently stands, the Browns rank 4th in the NFL in turnover differential (+6).
Last week, the Pittsburgh Steelers were able to force all kinds of turnovers against this weak Jacksonville offense.
Granted, the Browns will without Myles Garrett again this week.
But, that shouldn't be a problem as Olivier Vernon showed flashes last week.
If Vernon and others are able to apply pressure as they did last week or produce results remotely close to that, they should be able to force multiple turnovers in the backend.
Last week, Denzel Ward had one interception in the red zone when guarding Alshon Jeffrey.
This week, I got Ward intercepting another ball.
I also have this defensive front forcing two fumbles.
Ultimately, I see the Browns winning big in this matchup.
My Prediction: Browns 28, Jaguars 10 
Writer: Wendi Oliveros

We arrive at Week 12 with a Browns team that had a great Week 11 win against the Texans to go 7-3 on the season.
Preparations began for the Jacksonville Jaguars game.
Then, the bad news started trickling out of Berea.
Myles Garrett can't play against the Jags.
Denzel Ward is injured and out.
Joe Jackson, Sione Takitaki, and Porter Gustin all have COVID-19.
This puts the defense in a bit of a vulnerable position so for the Browns to win this game, the offense needs to get it done.
That means the keys to the game are:
1. Get out to an early lead
The Browns need to jump out to a quick lead.
Veteran Mike Glennon is getting the start at QB for the Jags so building a quick lead will force Glennon to put the ball in the air.
They will find out how ready Glennon is given that he's the third QB the Jags have played this year.
Minshew and Luton preceded him.
2. Keep on running
It sounds like a broken record, but this is the path to victory for the Browns.
Keep successfully running Chubb and Hunt, and wins are more attainable.
3. Win time of possession
This goes along with a successful running game.
The Browns need to keep the chains moving and hold on to the ball.
Their somewhat depleted defense would probably appreciate that this week.
My Prediction: Browns 31, Jaguars 21 
Writer: Ben Donahue
Now things are getting interesting!
Last Sunday's 22-17 victory over the Eagles put the Browns at 7-3.
Better yet, they have passed the Ravens for second place in the AFC North.
Next up is the lowly Jacksonville Jaguars, owners of a 1-9 record.
This is a game Cleveland could win, but it could become a trap game.
Will the Browns dismiss the Jags while looking ahead to Tennessee?
I doubt it.
Jacksonville is having a rough year and I don't just mean their win-loss record, I also mean health-wise.
For the past three weeks, last year's media darling, quarterback Gardner Minshew, has been sidelined with a thumb injury.
In his place, rookie Jake Luton has gone 0-3, passed for 624 yards, two touchdowns, six picks, and a quarterback rating of 42.7.
The latest word is that Mike Glennon will take over for Luton and try to stop the bleeding.
Glennon last started a game in 2017 when he was with the Bears.
As of today, Minshew, tight end James O'Shaughnessy, receiver Laviska Shenault, guard Andrew Norwell, and corner Sidney Jones are all doubtful for Sunday.
Another half dozen Jacksonville players are questionable, on injured reserve, or limited IR.
Meanwhile, Glennon will throw to receiver DJ Chark, the team's unquestioned number one pass catcher.
Even with the revolving quarterback situation, Chark has still managed 41 catches for 534 yards and four touchdowns.
James Robinson is Jacksonville's leading rusher with 762 yards, a 4.4 yards per carry average, and five trips to the end zone.
#Jaguars rookie RB James Robinson

▪️ Run Grade – 83.5 (T-5th)
▪️ Runs of 10+ yards – 24 (T-2nd)

(among all NFL Running Backs)#DUUUVAL pic.twitter.com/gfLwqHiAXg

— PFF JAX Jaguars (@PFF_Jaguars) November 24, 2020
Defensively, the Jags are near the bottom of the league in both passing yards and rushing yards given up.
Against the pass, Jacksonville gives up 282.2 yards per game.
Against the rush, they give up 129.1 yards per game.
All told, the team has allowed 29.8 points per game, which is the third-most in the NFL.
This translates to another victory for Cleveland.
Nick Chubb and Kareem Hunt would be more than enough for the Jacksonville defense to handle.
However, this game would be the perfect opportunity to let Baker Mayfield pass the team to a victory.
Against such a woeful opponent, Mayfield should have the opportunity to throw for over 300 yards for the first time this season.
That may give him the confidence to let fly the rest of the year.
Here's hoping the Browns focus on having a complete game against the Jags before they face the Titans on December 6.
My Prediction: Browns 24, Jaguars 10 
Writer: Mark Bergin

The Jacksonville Jaguars fooled everyone in September into believing they weren't as bad as initially perceived after a 27-20 win over the Indianapolis Colts in Week 1.
The Jaguars (1-9) haven't won a game since then.
With the #TankForTrevor [Lawrence] sweepstakes in full swing, ESPN's Football Power Index shows the New York Jets (66%) and Jaguars (32.%) have the best odds to land the first overall pick of the 2021 NFL Draft.
With due respect to Gardner Minshew II and his mustache, the Jaguars would be foolish to pass on Lawrence if they have the opportunity to draft him.
The Jaguars are beat up.
Minshew has missed time with a thumb injury, defensive end Josh Allen is expected to miss significant time with a knee injury, cornerback D.J.
Hayden has a knee injury, left guard Andrew Norwell has an arm injury and safety Daniel Thomas will be put on IR after breaking his arm.
Also, cornerback Chris Claybrooks is undergoing further tests on his groin.
Even without star defensive end Myles Garrett (COVID-19) and cornerback Denzel Ward (injured calf), I think the Browns take care of business against the Jaguars.
My Prediction: Browns 31, Jaguars 17