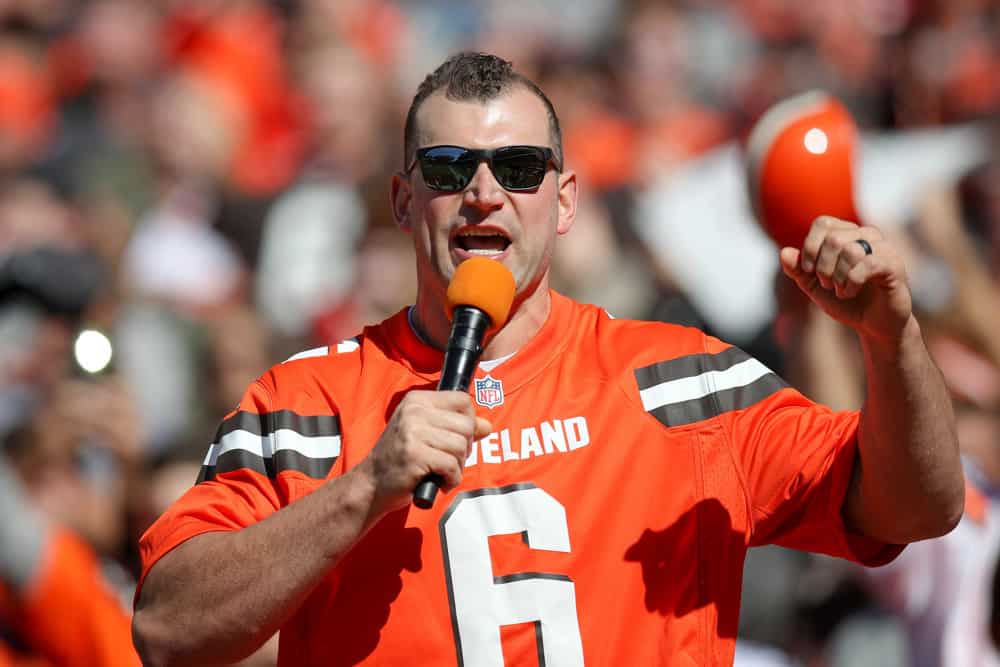 Former Cleveland Browns left tackle and future Hall of Famer Joe Thomas may have found his true calling.
The 10-time Pro Bowler dominated Mount Olympus yet again during Monday night's showing of the second episode of season two of "The Titan Games," an NBC reality competition show hosted by Dwayne "The Rock" Johnson.
Thomas beat out Kaleb Redden for his third victory in as many runs on Mount Olympus, which is a 10-obstacle race.
"I don't count that as a loss," Redden told "The Rock" in an interview after the race. "I just competed against Joe Thomas. I watched this guy play in the league for 10 years. I mean if I lose to an NFL great, I still feel like that's a pretty alright deal."
Thomas and Redden then hugged.
"Being a runner-up on Mount Olympus guarantees Kaleb a shot at redemption as a competitor in next week's Central Regional Finals," said "Titan Games" commentator Alex "Goldenboy" Mendez.
Mount Olympus features hurdles, a log lift, a sky bridge, a cage crawl, a drop jump, dragging a 300-pound ball and chain and using a sledgehammer to uncover a relic from the "Titan Tomb."
The competition is divided into three regions: Central, East, and West.
One man and one woman reign over each region as "Titans."
Next week, Thomas will advance as the men's Titan for the Central Regional Finals.
Fitness consultant Dani Speegle will serve as the woman's Titan in the same region.
Speegle beat out Chantae McMillan on Monday night's show.
If Thomas wins the Central round, he would advance to the show's finals, where he would meet the winners of the East and West regions.
The show's champions — one man and one woman — will win $100,000, which would be donated to charity if a professional athlete like Thomas wins.
Other celebrity contestants on "The Titan Games" include former New York Giants wide receiver Victor Cruz, mixed martial artist Tyron Woodley, "American Ninja Warrior" contestant Jessie Graff, professional boxer Claressa Shields and three-time Olympian snowboarder Hannah Teter.
If Thomas wins the competition, he has not said which charity would receive the donation.
Thomas' charitable efforts are noteworthy as he remains the only player in Browns history to be named the team's Walter Payton Man of the Year multiple times.
The team honored Thomas with the award in 2010, 2012, and 2016, and he was a finalist for the 2012 NFL Walter Payton Man of the Year Award.
Last week on "The Titan Games," Thomas beat Denver firefighter Matt Chan and Franklin County (Ohio) sheriff's deputy Steven Shelby.
In May, Thomas tweeted a side-by-side video of the action: One side of the video showed his daughter circling a barstool while the other showed Thomas unraveling a lever to release the sky bridge on the Mount Olympus course.
"Like father like daughter apparently," Thomas wrote in the tweet.
"#TitanGames 2037?" the show's Twitter account tweeted back.
#TitanGames 2037? 😎 https://t.co/Wt07qyJzgx

— The Titan Games (@nbctitangames) May 27, 2020
Thomas now weighs about 250 pounds, which is down from his 325-pound playing weight when he played for the Browns from 2007-2016.
Thomas' 10,363 consecutive snaps played is the longest streak in NFL history.
The next episode of "The Titan Games" is set to air at 8 p.m. ET Monday, June 8.
After @nbctitangames, we're chatting as a family & the question of the day was…

"If you could pick one superpower, what would it be?"

We got the usual; flying, x-ray vision, super strong, etc.

Then my sons turn…

"I want to be able to pee salsa!"@AmericanMensa material

— Joe Thomas (@joethomas73) May 26, 2020