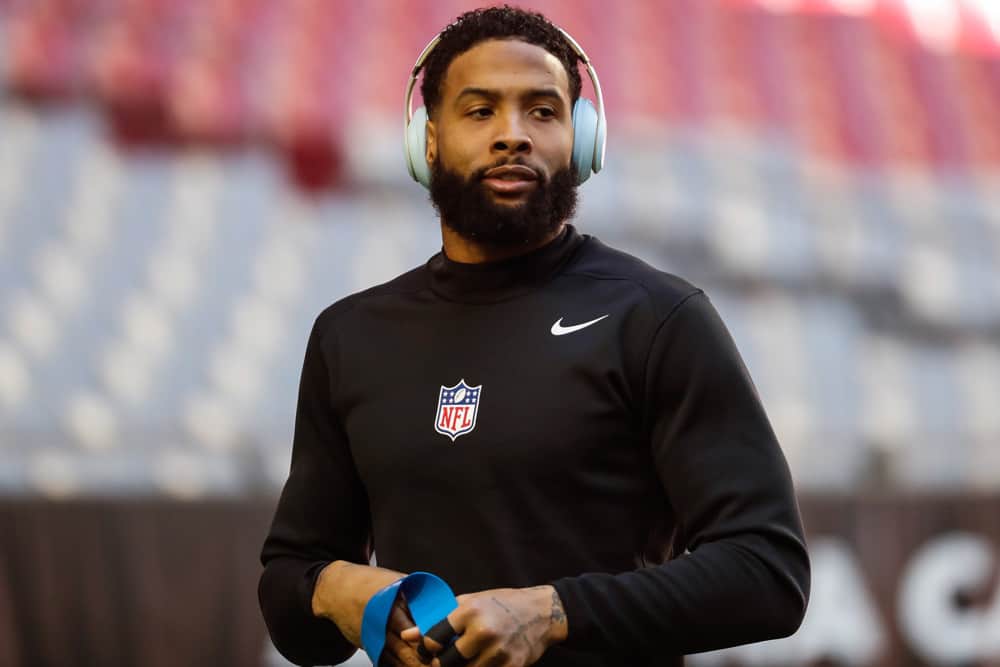 George Floyd's death as a result of the harsh, inhumane treatment while in the custody of Minneapolis police on May 25, 2020 has taken a weary nation fighting a pandemic into an ages old battle against racism.
While nationwide protests have erupted in many major cities, professional athletes have used their social media platforms to speak out on the injustice.
Cleveland Browns WR Odell Beckham Jr. unintentionally created a Twitter controversy around his reaction.
To begin with, his initial tweet occurred 5 days after the murder which did not please his followers.
Couple that with a Twitter back-and-forth with Philadelphia 76ers star Tobias Harris, and OBJ is visibly frustrated.
Respectfully family, if you're silent, we don't know what side you're on. And if we don't know what side you're on, it is safe to assume you're on the other side… https://t.co/YLDFs4EdFk

— Tobias Harris (@tobias31) June 1, 2020
It's safe to say that OBJ does not want to distract from the atrocity that should remain in the center focus of all Americans, the murder of George Floyd.
He has expressed his disdain for Twitter in the past and has committed to a Twitter hiatus; however, he got back on to clarify his thoughts.
I definitely feel you brother & that's why we having this dialogue to educate & not attack each other. I wish there was another way too, but the reality is it's going to be a lifelong, ugly protest. White people have 2 care as much as we do about stopping police brutality &

— Chris Williamson (@CWilliamson44) May 31, 2020
Takeaways
OBJ took his time to comment because he was trying to convey the appropriate message; silence did not mean he condoned the action.
In sports, OBJ is flamboyant and showy, but in this case, he was not intending to be.
As OBJ tweeted, this is a time for unity and for standing together; actions that can begin on social media and extend into daily life in the world.
OBJ was criticized for his grammar and use of commas on Twitter which was unfair and petty given the gravity of the situation.
Are Athletes Role-Models?
This Twitter flap with OBJ reminded me of the 1990's heated discussion with Charles Barkley that resulted in a Nike commercial.
Barkley, in his peak with the Phoenix Suns, was asked if he was a role model.
He emphatically responded, and the narrative ended up in the commercial.
"Just because I dunk a basketball doesn't mean I should raise your kids."
Colin Kaepernick
Floyd's murder brings us back to the controversy that has stalled (and possibly ended) Colin Kaepernick's career.
He began his peaceful protest by taking a knee during the National Anthem at the beginning of the 2018 season.
Kaepernick's kneeling represented a peaceful protest to racism in the United States.
His action drew ire among fans, fellow players, and owners.
But the irony that Kaepernick was peacefully protesting a problem that is now bigger than ever, and it likely cost him his career.
Times are hard, but it's gonna take everybody to make a change. pic.twitter.com/I9wpH7DvL4

— Myles Garrett ⚡️ (@MylesLGarrett) May 31, 2020
Conclusion
At this point u either chose to be apart of the solution or you'll remain a part of the problem. The chose is yours. But let's make the right chose so our kids kids wont have to grow up in this world we've creaTed. I'm pray for PEACE. I pray for resolutions. I pray for NO MORE

— Odell Beckham Jr (@obj) May 30, 2020
OBJ's tweet puts it all in perspective.
It does seem we look to our athletes and celebrities for their opinions on these issues when they happen.
They are human, just like the rest of us.
So we need to remember that first and foremost.
We also need to know that change occurs person by person, community by community, and so on.
Athletes and celebrities cannot direct that change.
Politicians and elected officials can, and perhaps that's where we as Americans should be looking for leadership.
If we don't agree with the leadership these officials are offering, we need to vote for candidates who will institute the change we want.