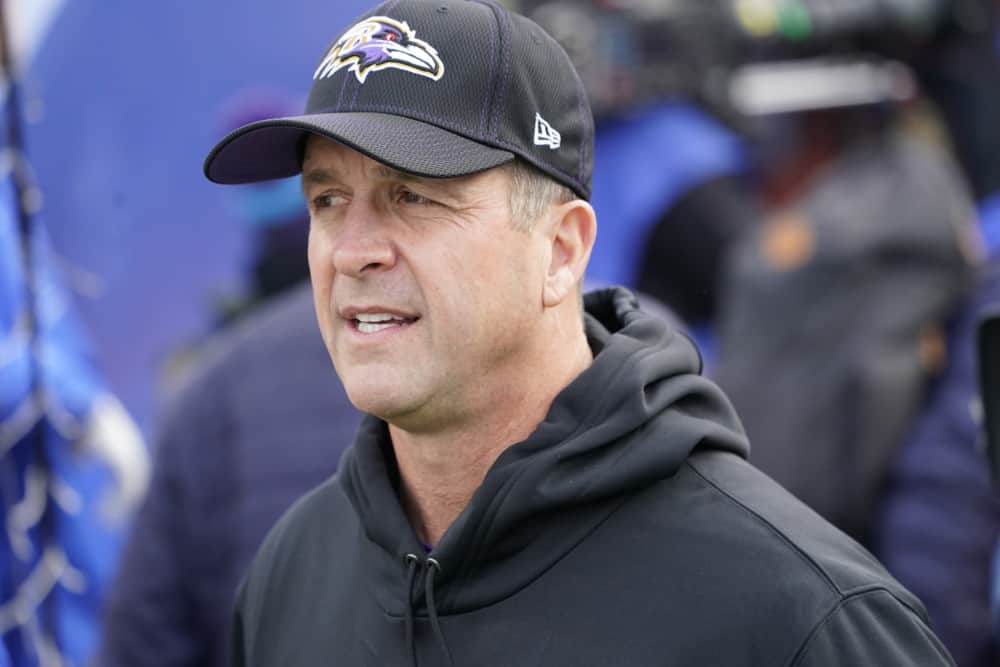 The Cleveland Browns take on the Baltimore Ravens in a pivotal Week 14 matchup on Monday Night Football December 14.
Since 2015, the Browns have only won 3 out of 12 of the head-to-head matchups, 2 of those in overtime.
In 2019, the Browns pulled off the upset at Baltimore in Week 4 by the score of 40-25 and followed it up by losing the next 4 games.
But everyone knows that the 2020 Cleveland Browns are different.
Though they fell easily to the Ravens in the season opener by a score of 38-6, they have improved each week.
Ravens Coach John Harbaugh knows the Ravens are facing a tough opponent come Monday night.
He said he knew after their week 1 win over the Browns, that the Browns were going to be a good football team.
"I said after the season opener that they were a good football team and a lot of you just rolled your eyes if I recall," he said on Thursday.
Harbaugh on Browns: "I said after the season opener that they were a good football team and a lot of you just rolled your eyes if I recall."

— Jeff Zrebiec (@jeffzrebiec) December 10, 2020
Harbaugh Has Talked Up The Browns In The Past
John Harbaugh is not a loose-lipped coach that gives opponents bulletin board material the week leading up to the game.
Prior to the Week 1 game, Harbaugh talked about the Browns running game.
"They have, by their own account, the two best 'backs in football. Not just this year, but going back historically, that's been said in their camps. I can see why. They have two great running backs. The run game is going to be important to them.''
Of course, there is a subtle dig in there with the words "by their own account".
But the difference in Week 14 is that the Browns running game is among the best in the NFL.
Week 1 Issues
In Week 1, Chubb and Hunt rushed for 132 yards which wasn't bad considering the Browns were behind 24-6 at halftime.
3rd and 4th down conversions
But the Browns had a bigger issue, converting on 3rd and 4th downs.
They were 3-12 on 3rd down and 0-3 on 4th down.
Turnovers
Baker Mayfield threw 1 interception.
There was also a horrible fumbled fake punt by Jamie Gillan.
Browns attempt a fake punt and punter Jamie Gillan fumbles. He wasn't getting first down anyway. LJ. Fort forced fumble and Anthony Levine Sr. recovered it. Ravens take over on Browns 26.

— Jeff Zrebiec (@jeffzrebiec) September 13, 2020
And Nick Chubb had a fumble.
Meanwhile, the Browns defense recovered only 1 fumble, but Lamar Jackson was error-free all day throwing 3 TD passes.
Missed Extra Point And Field Goal
The Browns scored 1 TD, but then kicker Austin Seibert missed the extra point, and he missed a field goal.
He was out of a job the next day, and Cody Parkey has been solid.
Browns cut Austin Seibert after kicker misses FG, XP vs. Ravenshttps://t.co/SCpIMxUiOP pic.twitter.com/j8jGB7WHuV

— Around The NFL (@AroundTheNFL) September 14, 2020
Rookie Head Coach Debut
It was a rocky start for Coach Kevin Stefanski.
But it is not entirely surprising that it turned out that way.
With no preseason and Baker executing his 4th new offense in 3 years, there were bound to be growing pains.
The important thing is that the Browns have learned and grown as the season progressed.
Besides the Ravens game and the weather-crazed Raiders game, Coach Stefanski and Alex Van Pelt's play calling has been on point.
I am beyond hyped for the Browns vs. Ravens. Browns are in such a good rhythm right now that goes beyond athletic ability of the team; there is a true appreciation for Coach Stefanski…this is a complete football team. Winter is coming for the North. #dawgcheck #believeland

— RJR (@dontbrued) December 10, 2020
Browns Are Still The Underdogs
Despite being at home, 9-3 on the season, 2 games ahead of the Baltimore Ravens, and in sole possession of 2nd place in the AFC North (behind division leader Pittsburgh at 11-1), the Browns are still underdogs in this game.
The Ravens are favored by 1 point.
That's proof just how difficult it is to beat the Ravens and reigning 2019 NFL MVP Lamar Jackson.