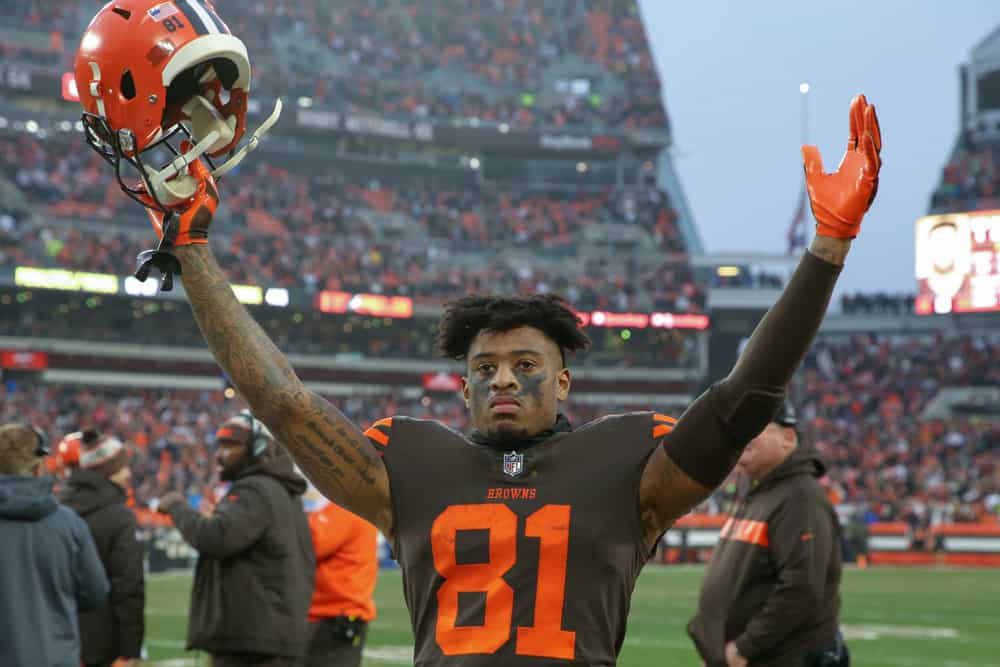 During the offseason, wide receiver Rashard Higgins took a chance on the Cleveland Browns.
He signed a one-year deal worth $910,000 because he believed in what the Browns were building.
That was much less than what he could've made elsewhere, but Higgins wanted to be part of the Browns organization.
It appears the team is now rewarding him for his loyalty with a long term extension.
The two sides have reportedly begun discussing a possible extension to keep Higgins in Cleveland.
My understanding is preliminary discussions have already begun between the #Browns and WR #Rashard Higgins on a contract extension.

— IG: JosinaAnderson (@JosinaAnderson) December 9, 2020
This seems like a smart idea for Cleveland to keep Higgins around long term.
A new contract for Higgins could be an indication that the Browns are thinking of Mayfield in the long-term as well.
Higgins & Mayfield 
Since the beginning of Mayfield's NFL career, it seemed like the two players had a connection together.
To be fair, both of them received plenty of reps together in the second-team offense while Mayfield was a rookie.
The two of them have been a pretty solid duo since Mayfield took over as the starting quarterback.
In 2018, Higgins finished with 39 receptions, 572 yards, and four touchdowns in 13 games with Cleveland.
Sadly, last season was an absolute disaster for Higgins altogether.
Higgins was battling a knee injury and then-coach Freddie Kitchens appeared to have something against him.
However, Mayfield and Higgins were able to get back on track during the 2020 campaign.
Higgins currently has a 133.4 passer rating when targeted which ranks seventh in the league.
#Browns Rashard Higgins' 133.4 passer rating when targeted ranks 7th in the NFL among 113 WRs with qualifying targets pic.twitter.com/hkFQAhH4d5

— PFF CLE Browns (@PFF_Browns) December 9, 2020
The two players were able to rekindle their chemistry, which is great news for the Browns offense.
This season, Higgins has 25 receptions, 400 receiving yards, and three touchdowns through 10 games.
The injuries to KhaDarel Hodge and Odell Beckham Jr. have opened up a door for Higgins.
Heading into Week 14, Higgins has two performances with 95 receiving yards or more already.
For some reason, the two of them are a dynamic duo together, so the Browns need to make sure that Higgins stays in Cleveland.
A New Deal For Higgins?
It's great to see a player picking an organization over money and it benefiting them in the end.
Higgins had a rough 2019 campaign, but the team brought him back because they believed in him.
Honestly, Higgins could've played elsewhere, but wanted to stick it out in Cleveland and build a winning culture.
The Browns have certainly seen enough in order to reward Higgins with a new contract.
He won't land a deal anywhere close to Jarvis Landry or OBJ, but the two sides should be able to come to a reasonable agreement.
Clearly, having Higgins in Cleveland is beneficial to Mayfield and the Browns offense.
It's unclear what kind of condition Beckham will be in next season after tearing his ACL earlier in the year.
Having a guy like Higgins on the roster long term is a smart idea for Cleveland.
He's not a superstar receiver, but has great chemistry with Mayfield and the two of them continue to succeed together.
Hopefully, the two sides will be able to come to an agreement to keep Higgins around in Cleveland long term.